24 ways to a happy holiday
This year, there are more healthy options than ever before available in Hong Kong — everything from gifts that give back to tree-lover's gift wrap, real restaurants serving real food, holistic holiday gatherings, vegetarian and vegan feasts and a veritable bounty of ways to relax, refresh and rejuvenate after we have over-indulged in celebrations with friends and family.
Save yourself a little time in the mall with a quick visit to the heartbeat directory, consider a zero-waste gift and remember to support local small businesses whose year will be made in these coming few weeks.
While it is easy to get dazzled by tinsel and flashing lights, it only takes a moment to remember that the theme of the season is family. It is a time of year when many special memories are created with people we don't see often. Equal in love is the family we came with and the family we choose for our self.
The secret to a happy holiday is to approach each of our activities with thoughtfulness, kindness and love.
Other essays : Conscious Shopping | Timeless Gifts | More or less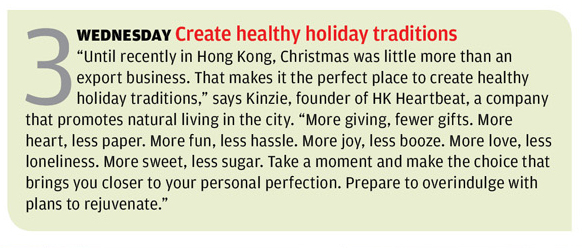 ---
On the 4th day of Christmas, my true love said to me – come to a heartbeat party …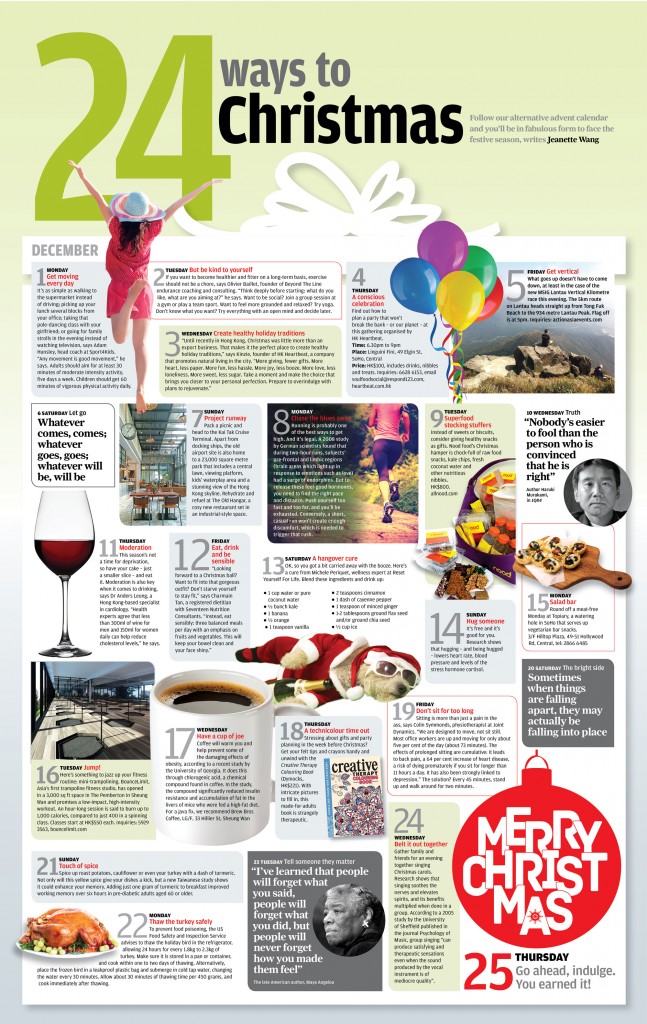 Until recently in Hong Kong, Christmas was little more than an export business. That makes it the perfect place to create healthy holiday traditions. More giving, fewer gifts? More heart, less paper? More fun, less hassle? More joy, less booze? More love, less loneliness? More sweet, less sugar? Take a moment with each decision and make the choice that brings you closer to your personal perfect. When you choose the chocolate, enjoy every bite. Prepare to overindulge with plans to rejuvenate. Take a minute now. Close your eyes. Imagine the end of January. Look back on your holiday. Choose that.