This week, we look back to see ahead.
We are beginning our 15th year and celebrating another new year with an important birthday.
Last week, I reflected on our beginning and as I begin another year I have been reflecting on my beginning. I was born on this day in 1962 in the original zero-waste household. It was a little house on the prairie with an outdoor toilet, no hot running water, a wood stove in the kitchen and a tin bathtub that hung on a nail outside for Saturday night baths. My mom was not yet 25 with a newborn baby girl, a boy 1, another girl 2 (me) and 2 boys 4 and 6, washing diapers in the ringer and hanging them out to freeze-dry. Food came from her now-famous garden, milk from the cows, eggs from the chickens, meat from the cattle that were grass-fed in the pasture and finished with grain grown in our fields. My first culture shock came 6 years later in 1968 when we moved into the new house 20 feet away just in time for baby girl number 3 who became my primary responsibility. Along with a fully modern home came the arrival of Roundup in the 70s, bringing with it a change that effects everyone today.
In my early years, my lifestyle was of my pioneer grandparents and I have lived through most the progress that is being promoted furiously in places that have largely escaped the influence until now. When I reflect on those early days, I recognize the lifestyle of simple luxury we yearn for today. My personal story is tangled up with emotions and memories but it mirrors the story of us. Life was simple but difficult. We made it complicated so it could be easier and now it is more difficult. Our convenience is killing us and no amount of success, economic or otherwise, will change the fact that our reliance on toxic chemicals for everything from food to fabric is making us sick. Not only are we poisoning ourselves and our children, we are poisoning the land below us, the air above us and the water that surrounds us. My dad used to walk out into his field to check the crops. My nephew would die within hours if he walked out into those same fields too soon after spraying. Our neighbor learned this the hard way when he did not heed the warnings on the label. Many family dogs have been lost and I would rather not think about the mice and the rabbits and the gophers and the deer and the crows and the robins and the blue jays and the chickadees and the grasshoppers and the butterflies …
Today, we are turning back the clock with organic labels and paying for the privilege.
In Hong Kong, I watch with both surprise and wonder as health and wellness trends while consulting businesses are launched to decode sustainability. We have some ground to cover in our understanding of what it means to live light and be well. Local residents are saving the tram, greening Des Voeux Road to promote pedestrians, gathering to Imagine Peace, recycling with Redress, re-thinking moon cakes and preparing for another Wellness 360 event.
As the cool autumn breeze ushers in the change of season, it is the perfect time to change our mind.
What is your favorite simple luxury?
Naturally,

Founder & Publisher
www.heartbeat.com.hk
natural life in the fast lane
Listen to your own heartbeat.
Luxury: The lust for comfort, that stealthy thing that enters the house as a guest, and then becomes a host, and then a master." – Kahlil Gibran"
---
Dogstar Academy Awards
Be a best friend to man's best friend.
Gather your Extreme Hollywood finest and join Hong Kong Dog Rescue for the Annual Fundraising Gala Dinner from 6pm until late on Saturday 19 September 2015. The red carpet will be rolled out at the Aberdeen Marina Club Ballroom 6pm when guests can sip pre-dinner cocktails while having fun with the many side entertainments or checking out the fabulous auction items for both live and silent auction during the evening. Live entertainment will keep the party mood going during a delicious 3-course dinner. The primary goal of the Dogstar Academy Awards is to raise one million dollars to support ongoing daily operations and to help us save more lives. Event sponsorship is now available and donations are welcome for auction, lucky draw and table prizes.
QUICK LINK : HKDR Gala Fundraiser
CONTACT : Hong Kong Dog Rescue (Gala Event Team)



EMAIL : events@hongkongdogrescue.com WEBSITE : Hong Kong Dog Rescue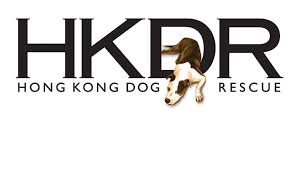 ---
Work-Life Balance Week
Join the annual campaign 26-30 October 2015
Findings from the 2006-2014 surveys show that Hong Kong employees are dissatisfied with life balance and it impacts their productivity, health and relationships with family and friends. They believe more can be done to address the situation. Organizations can demonstrate their commitment to work-life balance and raises awareness of work-life balance as a critical business issue. Since 2008, hundreds of participants across Asia have organized activities and initiatives during the week and throughout the year. Participants receive free access to a series of publications supporting their strategy, including Work-Life Balance in Hong Kong Case Studies (2007), Work-Life Balance: The Guide (2009) and Driving Cultural Change to Achieve Work-Life Balance (2011). Register now and start planning a week that will drive change in your organization and you community.
QUICK LINK : Life Balance Week 2015
ORGANIZER :  Community Business |


WEBSITE : communitybusiness.org.hk
CONTACT : Andrew Tsang | EMAIL :  andrew.tsang@communitybusiness.org | TEL : +852 2201 1832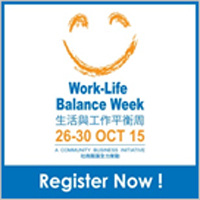 ---
Events in Hong Kong this week
Listings with links are sponsored – submit your event by Friday.
15 The Other Hundred Entrepreneurs | Global Institute for Tomorrow
16 (12:30-2pm) Homeopathic Tips for Students | IMI
16 (6-8pm) GlobalGoals and How to Support Them | Green Drinks
16 (6:30pm) Biotherapy – An Introduction | SOL Wellness
16 (7-10p) Conscious Connective Breathing | The Sanctuary
16-14 Oct (7:15-8:45pm) Meditation & Yoga Workshop | A Day With Fé
17 (10am-1pm) Middle Eastern Vegetarian Cooking Class | Olive Leaf
17 (10:30am) Healthy Living In HK Coffee Morning | Healthy Living Asia
17 (6:30-8:30pm) Naturally Happy Children | Balance Health
17 (7:30-9:30pm) Dinner Meetup at Sakura Veggie | Meat Free Hong Kong
18 (10am-2pm) Make Your Own Room Fragrance | Balance Health
18 (12pm) Yogic Lunch | Pranayum
18-19 (12-6pm) Autumn Market | Luxe Nova Lifestyle Studio
18 (6:30-8:30pm) Raising Children with Awareness | All About You Wellness Centre
18 (7:30-8:30pm) Archangels Healing | The Healing Centre of Hong Kong
18 (7:30pm) Raw and Vegan Private Dinner | request details
18 (8-10pm) Rock My Soul | Carsten Holz
19 (9am-4pm) Bamboo Building Workshop | Growing Smart
19 (10am) Clean Pak Sha Wan Day | request details
19 (10:30am-3pm) Visit to HK Perma Club | Slow Food
19 (2pm) My Spiritual Journey: Helen Barton | request details
19 (2-6pm) 12 Chakras | The Healing Centre of Hong Kong
19 (7:30-9:30pm) 852 Freedom Campaign Film and Book Launch | The Mekong Club
19 2015 HK Cleanup Challenge Kickoff | HK Cleanup
19 HKDR Gala Fundraiser | Hong Kong Dog Rescue
19 Born to be Free Fundraiser | Suzette Ackerman
19-20 Imagine Peace Festival | request details
19-20 Decoding Dreams | All About You Wellness Centre
20 (6pm) How Did Life Begin? | Ling Yoga and Wellness
20 The Shadow in the Moon | Asia Society Hong Kong
21 (12–1:45pm) Energy Transitions in Asia | request details
21 (12:30-2pm) Nutrition and Children's Brain Development | IMI
21 (4:15-6:45pm) A Vision for Des Voeux Road Central | Asia Society Hong Kong
21 (7:30-9:30pm) Introduction to Divination | Lightworkers Center
21 (7:30pm-8:45pm) Kirtan | Cristina Rodenbeck
22-24 (11:30am-9pm) Get Redressed Secondhand Pop-up Shop | Redress
Coming up
October 6  Forced Labour & Responsible Recruitment
October 7 Learn to Breathe Optimally
October 10-11 Women's Wisdom, Empowerment and Healing
October 21 HK Vegfest 2015
October 27 Sustainability is everyone's business
October 30 – 1 November Awakening of Love
October 26-30 Life Balance Week
November 1 The Wellness 360 Fair
---
Personal Membership
Clean, green, inspired, sustainable, organic benefits … naturally
HK heartbeat is Hong Kong's first and only natural living community and we have been publishing fresh content and making local connections since 2001. Our vibrant personal and business network has hundreds of active members making conscious everyday choices and sharing with their friends. Times have changed since we started and it is getting even easier because now we are connected with us on social media. Discover clean, green, healthy products, services and programs. Stay in touch with what's new and what's on. Get a little help from the Natural Concierge to find what you're looking for. Enjoy private offers and join us at tastings and talks hosted by businesses where you will meet people who share your interest in all things natural.
QUICK LINK : Personal Membership


CONTACT : Kinzie
TEL : +852 6628 6253
EMAIL : kinzie@heartbeat.com.hk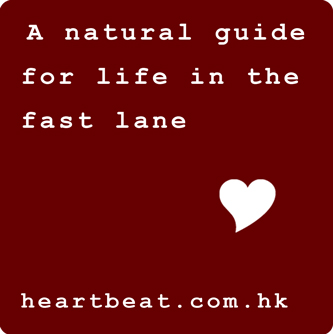 ---
Fresh directory listings
Contact our Natural Concierge for an email introduction.
Tian Yan Nei Gong Centre – Classes and private sessions to integrate body and mind > details
Beyond O2 – Alkaline oxygen water filtration systems for home and office > details
The BodyTalk Clinic – Holistic therapy based on quantum physics and kinesiology > details
Mind Body Colon Cleansing Centre – Detox and regain energy> details
Oxyvital – Medical air quality solutions to purify indoor air to WHO standards > details
Red Doors – Hosting a community of practitioners offering skills, expertise and energy > details
Balance Health – Natural clinic integrating conventional and complementary medicine > details
Charlotte Douglas – Homeopath & Yoga Teacher; Holistic approach to health and fertility > details
Living Alive Conscious Events – Spreading conscious capitalism with creative events > details
Maya Café – Mediterranean style vegetarian, vegan and raw food > details
SpiceBox Organics – Organically grown specialty food products free of harmful chemicals > details
Berry Time – High quality health foods from around the world at reasonable prices > details
Body Awakening – Cleansing and detox kit, probiotics, green food, organic supplements > details
Aquasana Hong Kong – drinking, shower and whole house filters > details
Holistic Pet Help – holistic food, health care and grooming products for companion animals > details
Kamalaya Wellness Sanctuary & Holistic Spa – integrating healing therapies from East and West > details
Register for a listing | Connect with our business members
---
Fresh content and connections for conscious everyday choices
Hong Kong's first natural network has connected thousands of individuals, businesses and organizations since we launched in 2001, sharing fresh content and authentic connections for clean, green, healthy living products, services and programs. With everything from acupuncture to zero-waste solutions, our members have everything you're looking for — even when you're not sure what you're looking for — chemical-free health and beauty, lifestyle services, whole food, sustainable fashion, eco-style, green gadgets and more … naturally.
Photo by Kinzie