Each month, we bring you a round up of talks, workshops, seminars and conscious living programs hosted by members of Hong Kong's first and only natural community. With events, programs and activities to satisfy your interest in and curiosity about everything from acupuncture to zero waste, we've got something for everyone.
We make it easy for you to stay in touch with what's new and what's on in Hong Kong … naturally.
1 (2:45-5pm) Meditation Easter Camp for Kids & Teens
1 (7:30pm) Helping the Homeless – Happy Valley
2 (10am-5pm) 1-Day Retreat: Dana (Generosity)
2 (9:30-11pm) Dinner and a Movie: Cooked by Michael Pollan
3 (12-8pm) Sustainable Fest
3 (1-2:30pm) Taste East-West Plant Food Cooking
3 (3-4:30pm) Secrets of Natural Walking
5 (10-11am) Morning Tea Meditation
5 (12:30-1:30pm) Design in the Age of Networks (and Sustainability)
6 (9:30-10:30am) Crystal Class for Kids
6 (10am-6pm) Stock your Store (Trade Event)
6 (6:30-8pm) The Art of Understanding Art
6 (7pm) East European Orthodox Easter
6 (7-9:30pm) Urban Permaculture Systems
7 (2-4:30pm) Farmer Reskilling Course
7 (7-9pm) Authentic Relating Games Night
9-10 (10am-6pm) Wellness Fair at Repulse Bay
9 (3-6pm) Meditation Workshop with Kirti
10 (11am-7pm) 14th Hong Kong Holistic Fair
11 (7:15-8:45pm) Shamballa Connection
12 (6-9pm) Express Yourself
13 (7:30-9pm) Kirtan Evening with Dipa
14 (8pm) Helping the Homeless – Sham Shui Po
16 (3-6pm) Meditation Workshop with Kirti
17 & 24 (2-8pm) Animal Communication Workshop
17 (2-3:30pm) Free Community Drum Jam at the Harbour
More : Visit the April calendar
Coming up | last month | request details
May 18 (7:15pm) Ride of Silence Hong Kong 2016
June 4-7 Ayurvedic Yoga Massage Training
November 24-26 Smart Mobility in Smart City
The website calendar is updated with events as we receive them. Schedules are subject to change without notice — request details if you wish to confirm with the organizers. Contact us to submit your event for a listing — the weekly deadline is Friday for Tuesday's email newsletter.
---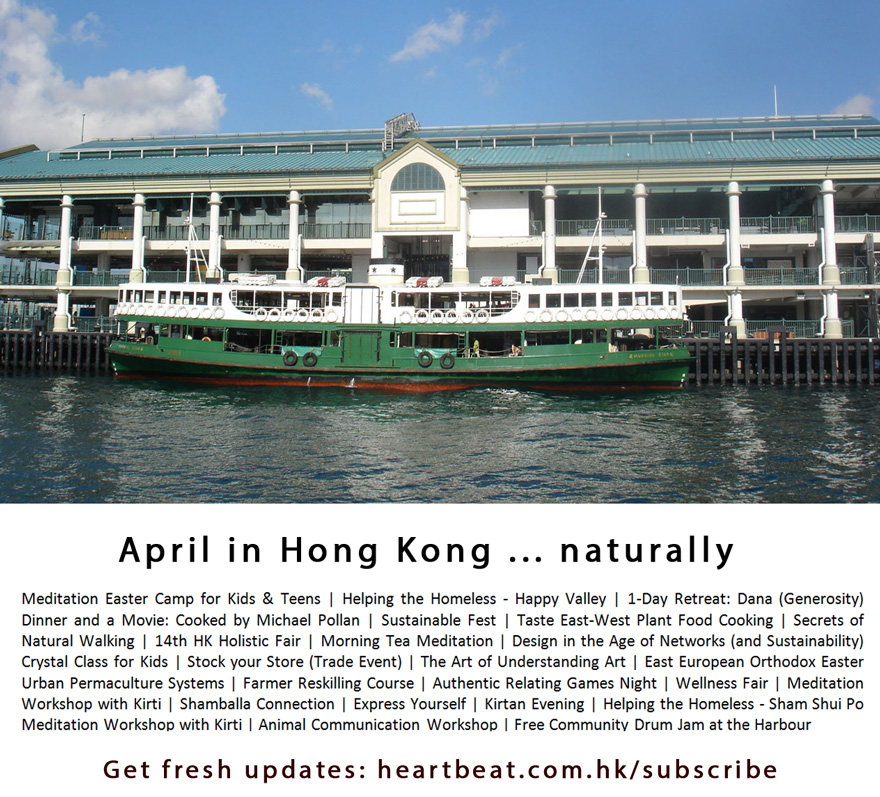 Photo by Kinzie