Ring up your friends and head for the beach to celebrate the International Day of Peace at the 3rd Annual Imagine Peace Festival — a non-profit celebration of inner peace through arts, music and movement with activities for all ages. Peace begins with us …
20-21 September
PLACE : Pui O Beach – how to get there
ADDRESS : Pui O, Lantau Island, HK
TIME: 6pm Saturday – 6pm Sunday
BYOB: Bring your own refillable water bottle
Join Saturday for an evening of music, dance and performance and start early Sunday with the Earthdance global peace prayer and pancake breakfast followed by a wide choice of mind and body workshops, creative playshops, performances music and art shows plus food stalls and a community flea market hosted by Treasure Island and Mavericks with a variety of free activities throughout the festival. All organizers, space owners, participating artists, teachers and speakers are donating their time for a common cause with the support of local organizations and companies. Book a tent with us if you wish to enjoy the night under the stars in our camping area. Ring up your friends and head for the beach to enjoy a celebration of community in the countryside.
EVENT DETAILS download the program | Facebook | www.imaginepeace.today
2-DAYS ( 24-hour full access pass) : HK$280 in advance – buy tickets online | HK$300 at the door | Under 12 free
DAY PASS (Saturday or Sunday) : HK$160 in advance – buy tickets online | $180 at the door | Under 12 free
Please bring a reusable water bottle – free filtered water will be available on site. Consider packing your own plate and utensils to enjoy the food and drinks for sale from the festival and flea market food stalls.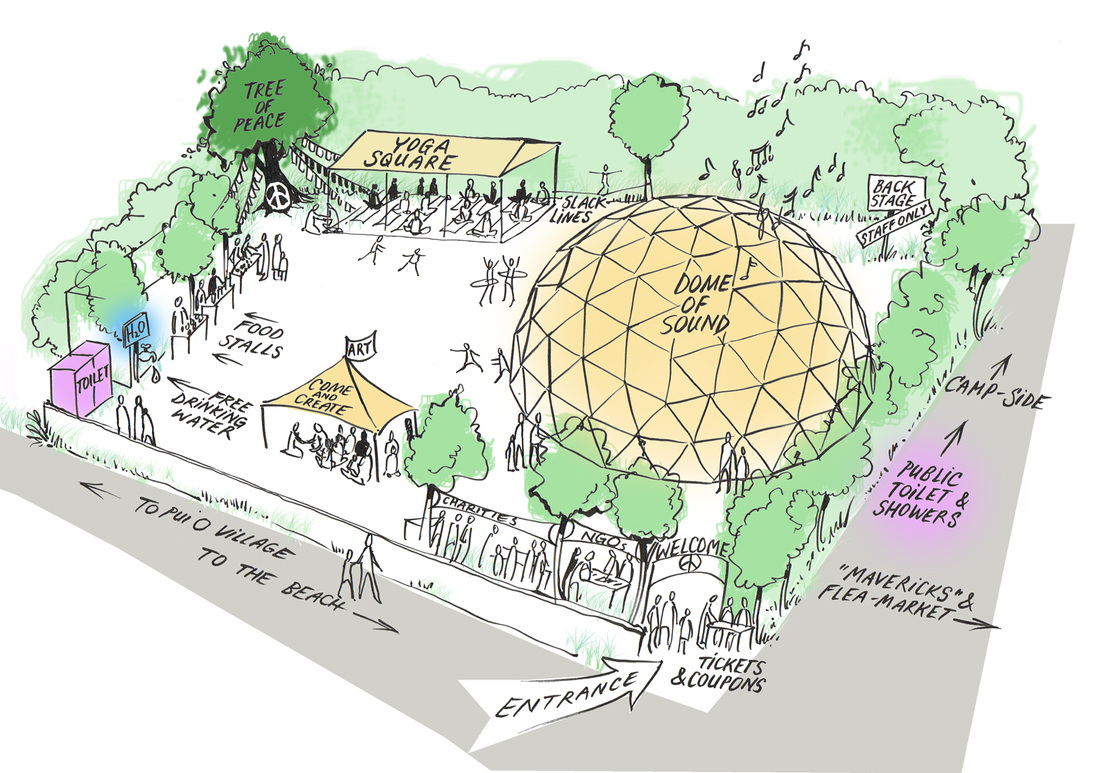 Additional activities and performances will be announced at the event …
Saturday 20 September @ Dome of Sound
6-6:45pm > Opening Ceremony
6:45 -7:15pm > AcroYoga with Yoga Bam Bam and DJ
7:15-7:45pm > One Harmony
8-8:45pm > Pui O Merge
9–9:45pm > Mitu's Tribe
9:45–10pm > Suzette Ackerman Belly Dance
10-10:45pm > Salvaje
10:45-11:30pm > New Tonic Press
11:30pm – end > DJ Kris Sawatsky (Twisted Donut)
Peace celebrations will continue on the beach with a bonfire and drum circle.
Sunday 21 September
The following activities will be held throughout the day @ comeANDcreate
– Drum making workshop with Mitu Tupas
– Make a Headpiece from Nature with Liina Klaus (age 3+)
– Painting with Pui O's nature with Leslie Lachine
– Painting for beginners with Susan Lynette Sales-tupas
Additional activities and performances will be announced on the day …
8-8:30am > Earthdance Peace Prayer with Maggie Blue Dome of Sound
8:30-9am > Vipassana Insight Meditation with Sage Dome of Sound
9-9:30am > DJ Venus @ Dome of Sound
9am > Pancake breakfast @ Yoga Square
9:30-10:30am > Crystal Bowl Healing with Martina Lee @ Dome of Sound
9:30-10:30am > Yoga with Kristy Janvier (adults) @ Yoga Square
11am-12pm > Hatha Yoga Flow with Kate Little @ Dome of Sound
11-11:30am > Circle game with Aya Masunaga @ Yoga Square
11:30am-12pm > Kids' Yoga with Asami Shinohara @ Yoga Square
12-12:30pm > Drum Jam with Kumi Masunaga @ Dome of Sound
12-1pm > Yoga with Bobo Po (all ages) @ Yoga Square
12:30-1pm > Magic Show with Michael Wong @ Dome of Sound
1-2pm > Yoga with Claudia Whitney and DJ @ Dome of Sound
1:30-2:30pm > Tantrick Clowns Workshop with Maggie Blue (adults) @ Yoga Square
2-2:30pm > Hoola Hoop with Adrienne Ng (all ages) @ Yoga Square
2-3pm > Acroyoga Jam with Michael Hazen (all ages) @ Dome of Sound
2-3pm > Yoga and Kirtan with Kirin Wong (adults) @ Yoga Square
3:30-4pm > Zumba with Corinne (adults) @ Dome of Sound
4-5pm > Celestial 天上 presents HK Dub Station by Peter Milward @ Dome of Sound
4-5pm > Re-energise with Pilates by Jill Marshall @ Yoga Square
5-5:30pm > Aerial silks with Tessa Yung & Ea Nitsche Holm @ Dome of Sound
5:30pm > Closing ceremony @ Dome of Sound