Connect with our local community and share the latest in sustainable living, holistic wellness, real beauty, whole food, eco-chic fashion, social engagement, cultural heritage, nature conservation, responsible development, conscious creativity, renewable energy, fair trade, practical innovation and more … naturally.
Membership: Personal | Professional | SME | Company
"Just want to say that, to me, reading what you write is one of the great benefits of being a member. In your most recent letter-to-all, as closing, you wrote: 'It is essential that we make the effort to nurture our connections in the real world with meaningful intent for positive change.' Jubilations! for HK having you." Wong
---
Join: Community | Personal | Business | Social | Connect
---
Everything is connected … listen to your own heartbeat.
Fresh content and local connections for conscious everyday choices since 2001
"Thank you very much for your email newsletter that I enjoy reading for its style and content. It's important to consolidate a force, a group of scarce in number of nature-lovers … for support & sharing. This is a busy place people running for their livings. Certainly, it's encouraging and inspiring to see your newsletter."
Allen Lee, HK Organic Resource Centre … read more
---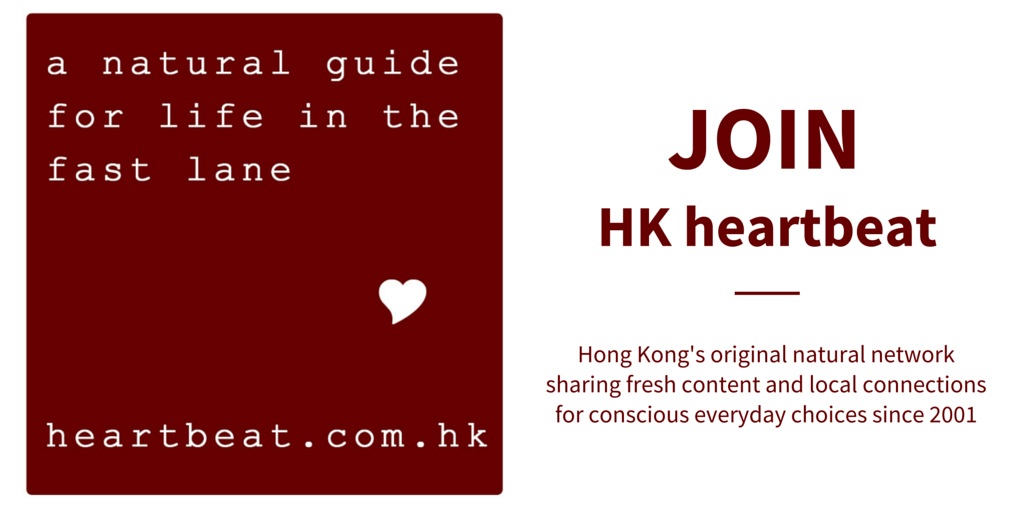 ---
Find what you're looking for …
even when you're not sure what you're looking for
Enjoy connecting with others who share your appetite for authentic and straightforward information about products, services and programs available in Hong Kong in support of conscious everyday choices … naturally.
Nice to find networking events in HK with people interested in the personal development/spiritual fields so I can mingle with people & learn and share with them. Dina
I love what you're doing with heartbeat. Tom Hilditch, Publisher – Expat Parent Magazine, Southside Magazine, Sai Kung & Clearwater Bay Magazine
---
Business Membership
Business membership is open by application to individuals, companies and organizations offering natural lifestyle products, services and programs. Business membership is subject to approval … details
Connect with like-minded members
parents nurturing the leaders of tomorrow
local heroes protecting our natural treasures
passionate pioneers of health and wellness
writers and publishers spreading the word
decision makers in the corporate world
sustainable businesses entrepreneurs
community leaders inspiring action
Share the love …
"Lots of businesses come and go but you keep going strong. You are to be congratulated!" Sandi Butchkiss
"All the best to your efforts helping others to sync their Heartbeats with Nature's." Ann
"I'm so impressed by your incredible listing of events in Hong Kong – it's extremely thorough and really helpful for planning ahead. Thank you for all the time and effort you have put into it. You have my full support and gratitude." Robin Tassie, Founder of Yoga Central"
Robin Tassie, Founder of Yoga Central