LOHAS Expo & Vegetarian Food Asia
Food, beauty, health, nutrition and lifestyle products
People throughout Asia and around the world are looking closer at the impact we have on our environment and on society and safety issues are driving demand for more clean, healthy sustainable food products. 
Over 200 booths from Hong Kong, Korea, Taiwan, Japan, Malaysia, China and the Philippines
Industry experts to share the latest market trends at the LOHAS Forum and VFA Onsite Forum
Master chefs demonstrate vegetarian dishes at the Vegetarian Kitchen
Hong Kong Kimchi Business Conference & Kimchi Making Workshop
LINKS :  LOHAS Forum | Vegetarian Kitchen | HK Kimchi Conference | Exhibitors | More …
The 4th edition LOHAS Expo and the first and only trade fair for vegetarian and healthy food – Vegetarian Food Asia – will be held on February 5-7 at the Hong Kong Convention and Exhibition Centre (Halls 5F-G). This is a regional sourcing platform for trade, visitors and consumers with over 200 exhibitors and 12,000 trade buyers expected from around the region. Get practical tips from global industry leaders and experts to grow business at the LOHAS Forum and meet numerous of master chefs at the Vegetarian Kitchen and learn cooking tips. Last year, the LOHAS Expo attracted more than 10,000 visitors over 3 days to meet over 100 exhibiting companies. Visit the fairs to find out more.
DATE : Thur-Sat 5–6 Feb | 7 Feb (Trade + Public)
TIME : Thur-Fri 10am–6pm | Sat 11am–7pm
PRICE : Free for Trade Buyers | HK$10 public entry
PLACE : Hong Kong Convention and Exhibition Centre
ADDRESS: Hall 5F & G, 1 Expo Drive, Wanchai, Hong Kong
TEL : +852 3520 3615
EMAIL : lohas@baobab-tree-event.com | veg@baobab-trree-event.com


WEBSITE : lohasexpohk.com | vegfoodasia.com
LOHAS Expo 2015 & Vegetarian Food Asia 2015 offer an ideal platform for anyone who is interested in unlocking business potential of the LOHAS market. Together, the events are a regional platform for trade, visitors and consumers with 200 exhibitors and 12,000 trade buyers expected from around the region.
A wide range of vegetarian and healthy food
Vegetarian restaurants from Hong Kong at Veg Street
Express Registration for EatSmart@restaurant.hk Campaign
The biggest-ever Korean Pavilion with over 50 exhibitors
---

LOHAS HEALTHCARE – Natural & Organic Products
– Nutritional Products
– Dietary Supplements
– Natural Healing & Therapies
– Alternative Healthcare
LOHAS LIFESTYLE – Eco Living Products
– Green Home Furnishings
– Energy Saving Home Appliances
– Eco Friendly Cleaning Products
– Eco Clothing & Apparel
– Electric & Hybrid Vehicles
– Eco Tourism & Travel
SUSTAINABLE ECONOMY – Social Responsible Investment
– Environmental Management
– Eco Labeling
Vegetarian Food Asia 2015
 – Beverages
– Biscuits & Snacks
– Bread & Baked Products
– Chocolates & Snacks
– Fruits & Vegetables
– Herbs & Spices
 – Honey
– Ice Cream – Nuts & Dried Fruit
– Oils
– Raw Food
– Rice & Noodles
 – Seasonings
– Seeds & Plants
– Tea & Coffee
– Vegan Supplements

Stay tuned at vegfoodasia.com for the forum updates.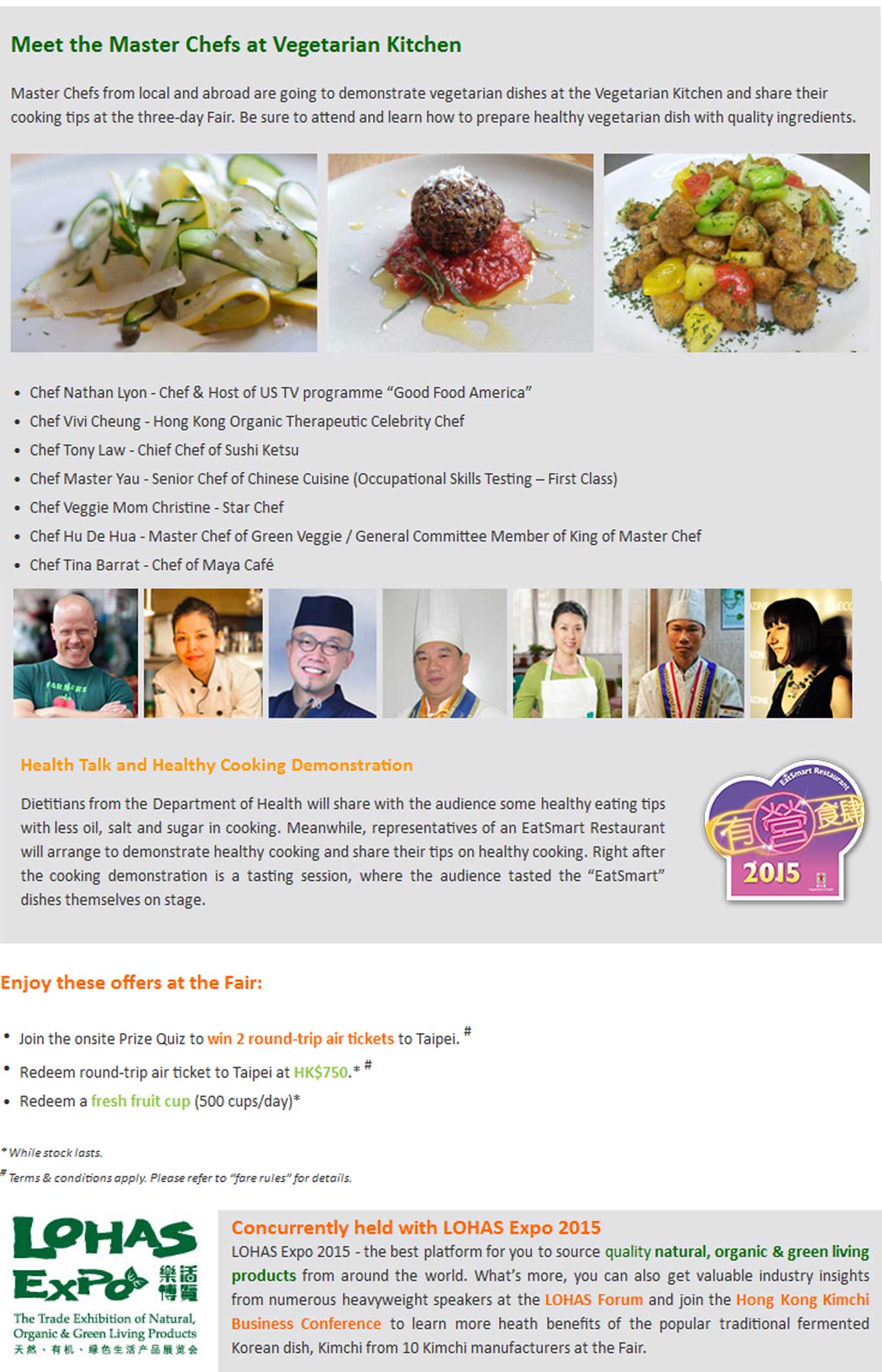 Visit the official website of LOHAS Expo 2015 lohasexpohk.com for details.