Connect with our social network and meet people in our local community who share your interest in sustainable living, holistic wellness, real beauty, whole food, eco-chic fashion, social engagement, cultural heritage, nature conservation, responsible development, conscious creativity, renewable energy, fair trade, practical innovation and more … naturally.
"Thank you for this inspiring newsletter. I'm away from HK but your inspiration is global." Falguni Mather
Getting it done | Falguni Mather … read more
---
Membership is available by application:
Community (free) — enews and web access
Personal — detailed updates and member offers
Business — listings, website promotions and rates
Fresh content and connections for conscious everyday choices since 2001
Inbox
The original email
The first newsletter
On privacy
We make every effort to encourage constructive dialogue, conduct our promotions in an authentic manner and deliver our communications with respect for your time and attention. We will never share any contact details without permission with anyone inside or outside our community for any reason. Not ever. Period. We do our best to prevent spam and we will never add any email address to our mailing list without asking first or being asked to do so.  We value privacy more than most and we host all member database information, mailing lists and and email publishing software on our own server.
Everything is connected … listen to your own heartbeat.
---
Find what you're looking for …
even when you're not sure what you're looking for
Connect with others who share your appetite for authentic and straightforward information about products, services and programs available in Hong Kong in support of conscious everyday choices … naturally.
"Nice to find networking events in HK with people interested in the personal development/spiritual fields so I can mingle with people & learn and share with them." Dina

"I can see things changing – even small things can make the world of difference and we're feeling really positive, mostly thanks to people like you who keep positively plugging away." Jo Rowek, Founder, Living Lamma

"I love what you're doing with heartbeat." Tom Hilditch, Publisher – Expat Parent Magazine, Southside Magazine, Sai Kung & Clearwater Bay Magazine
---
Business Membership
Business membership is open by application to individuals, companies and organizations offering natural lifestyle products, services and programs. Business membership is subject to approval … details
Connect with like-minded members
parents nurturing the leaders of tomorrow
local heroes protecting our natural treasures
passionate pioneers of health and wellness
writers and publishers spreading the word
decision makers in the corporate world
sustainable businesses entrepreneurs
community leaders inspiring action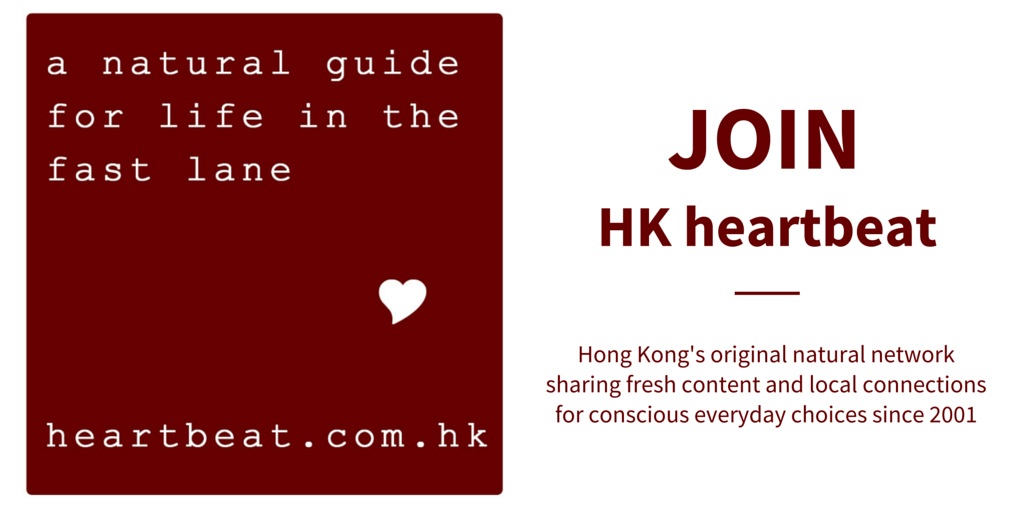 Share the love …
"Lots of businesses come and go but you keep going strong. You are to be congratulated!" Sandi Butchkiss

"All the best to your efforts helping others to sync their Heartbeats with Nature's." Ann

"It must have spending a lot of time, energy and passion in preparing the HK heartbeat. It's such a great job you've done." Surdham Lam, Founder & Owner of Flow Community Bookshop

"I'm so impressed by your incredible listing of events in Hong Kong – it's extremely thorough and really helpful for planning ahead. Thank you for all the time and effort you have put into it. You have my full support and gratitude." Robin Tassie, Founder of Yoga Central"
---
HK heartbeat was born in 2001 with the newsletter. Equally popular with new arrivals and local residents, the heartbeat weekly newsletter provides information to raise awareness and support conscious everyday choices.
"Keep delighting us with your words" Fe Valkerens
We inspire you to recover your own natural wisdom and explore the luxury of balance — from natural health & beauty to organic food and fashion to personal growth to ethical business and socially responsible finance to eco-development and gadgets, travel and more.
"Thank you for providing such a fresh approach and for introducing all natural products and services available in the city yet awaiting to be discovered by all Hong Kong people. The regular updates help us to lead our lives in a natural way and become healthier – both mentally and physically – despite the hectic and stressful pace all city people are having." Sanja Dujic, Edible Arrangements
---
HK heartbeat is the first and only community sharing fresh content and local connections for conscious everyday choices in Hong Kong since 2001 … naturally. Choose what you want and when you want it — subscribe here.
---