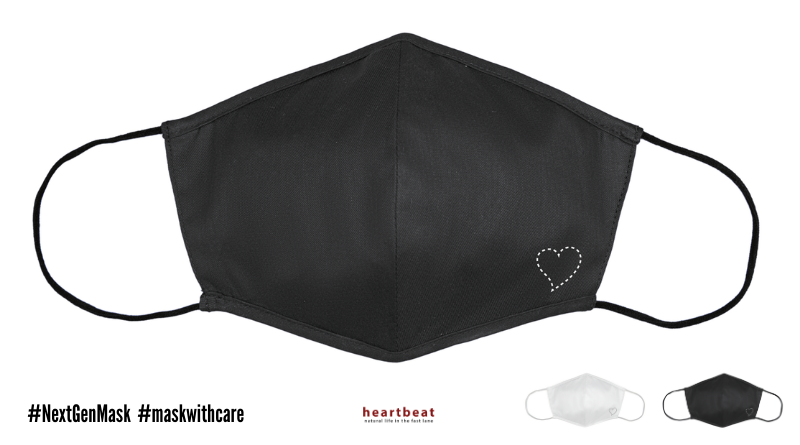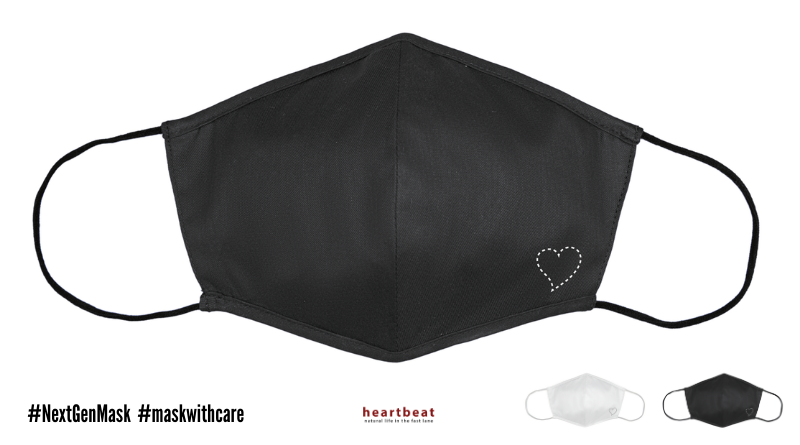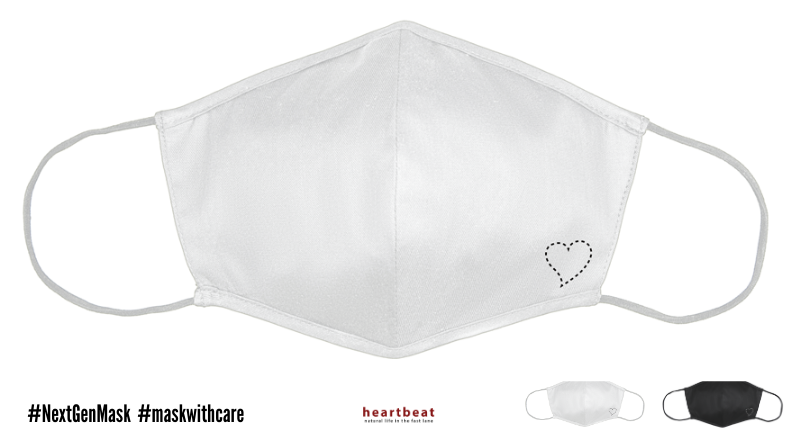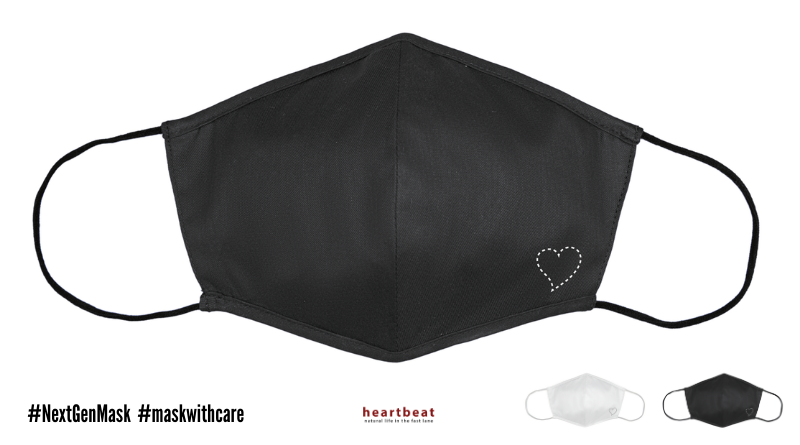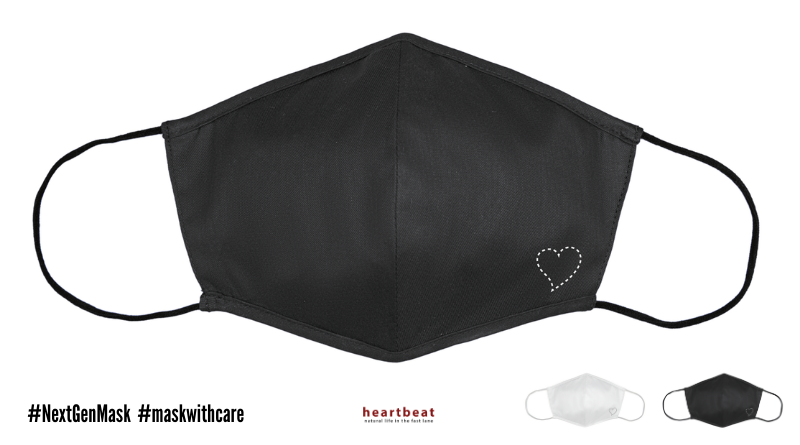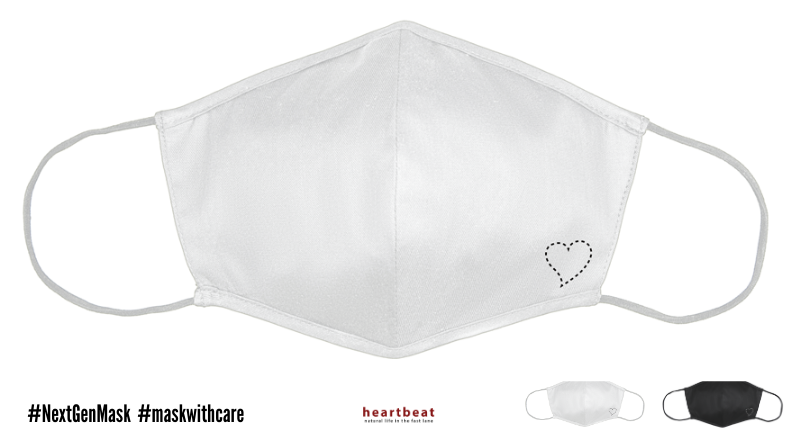 A one-time price of
$138.00
will be added to your order.
Description
Specifications

Enjoy the look and the feel of this new lightweight, durable cotton mask while stopping the spread of disposable masks ending up in the landfill and  washing up on shores. Choose durable over disposable and share the love for our little blue planet ... read more
NextGen EcoSmart mask - single/set

Ethically sourced fair trade 100% Egyptian cotton
Award-winning Oekotex certified SilverPlus

®

microbial protection
Zero waste and zero plastic packaging and packing
Constant compliance tracking at all levels of supply chain
Packing is paper based unlike most who still use plastic
Recycled paper from used envelopes for retail packaging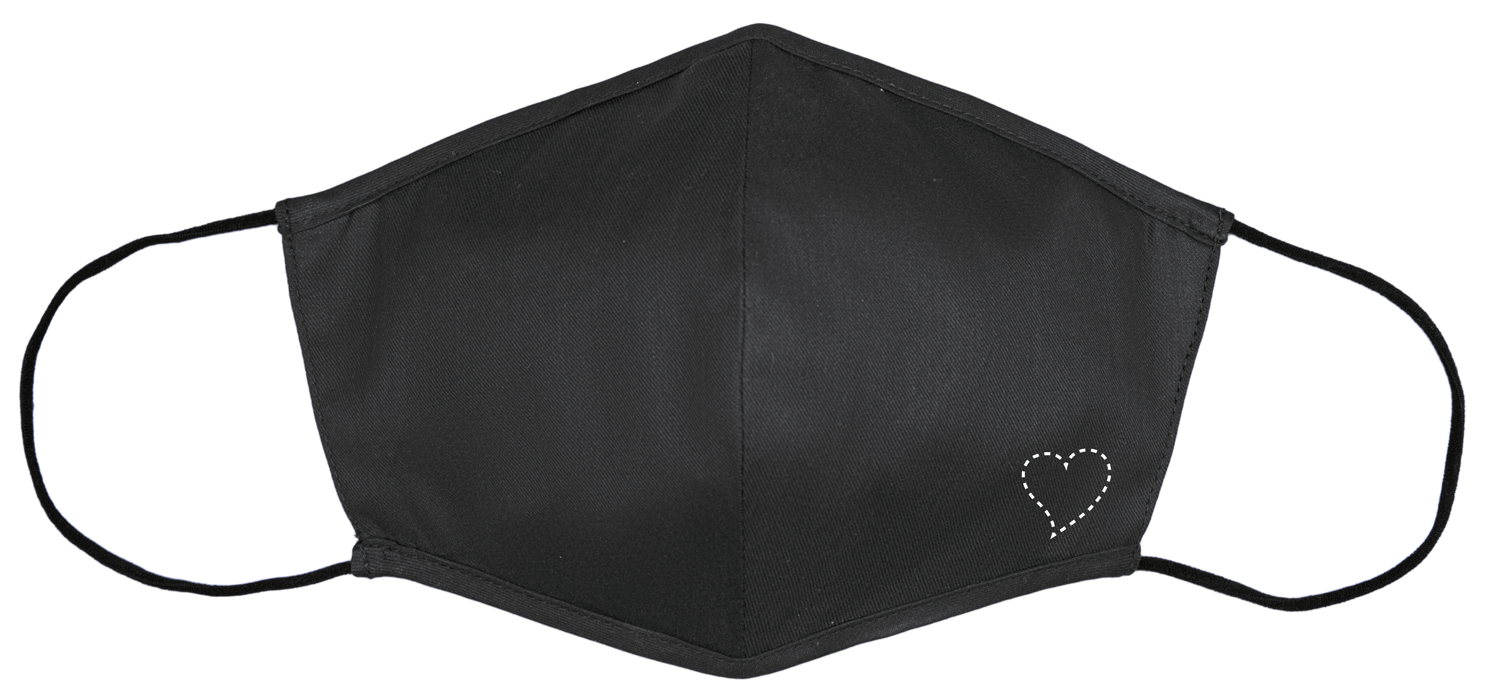 Lightweight, breathable, durable, reusable mask with embroidered heartbeat logo made from from ethically sourced, 100% Egyptian cotton treated with Silverplus® antimicrobial protection
Antimicrobial (adjective): destructive to or inhibiting the growth of microorganisms, including bacteria, viruses and fungi
Silverplus® is an antimicrobial treatment used in fabrics to stop the growth of microbes, including the SARS-CoV-2 virus that causes Covid-19 disease.

Save over 70% vs everyday disposable masks
Delivery: Orders are fulfilled in batches. The first batch is expected to be shipped in early November. Free worldwide shipping by post is included.
Enquire about group orders.

This product is 
a game changer.
I love everything about this story — from how Golden Times Group sources ethical 100% Egyptian cotton for the biodegradable fabric produced by one of the finest mills in Italy to the award-winning Silverplus®  nanotech antimicrobial protection it's treated with — to the look and the feel of this comfortable, lightweight, durable mask and the gazillions of masks that won't end up in the landfill or find their way to waterways when people everywhere begin to recognize the value of making the choice of durable over disposable in a gesture of love for our little blue planet ... read more
Ethically sourced fair trade 100% Egyptian cotton
Award-winning Oekotex certified SilverPlus

®

microbial protection
Zero waste and zero plastic packaging and packing
Constant compliance tracking at all levels of supply chain
Packing is paper based unlike most who still use plastic
Recycled paper from used envelopes for retail packaging
Enjoy the look and the feel of this new lightweight, durable cotton mask while helping to stop the spread of disposable masks ending up in the landfill and  washing up on shores. Choose durable over disposable and share the love for our little blue planet ... read more


100% Oekotex certified fair trade Egyptian cotton
Two layers of 100% cotton fabric
Produced with Silverplus® technology
100% biodegradable elastic ear loops
Flat center seam in the front for comfort
Washable and reusable (active to 100 washes)
Zero-waste packaging from recycled envelopes
Hand washable with regular soap and water
Please note
These masks are not meant to be used as medical equipment
Due to the personal nature of the product, returns are not accepted
Care
Hand wash with simple soap and lukewarm water
Machine wash cold in a mesh bag for longer life
Wear as a regular mask after 100 machine cycles
Hang dry to dry -- these masks love sunshine