---
Green Glass Green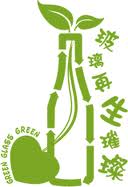 TEL : +852 5316 2907
WEBSITE : greenglass.org.hk
Reducing the amount of the waste glass dumped at landfills by returning glass with the natural value it deserves through volunteer collection programs and public awareness campaigns and compiling a glass recycling resource book for green/social advocates
- Read this article in the The New York TImes.
- Find a glass recycling collection point near you.
- Sign this petition -- how many glass bottles/jars can you recycle each week?
- Send your message in a bottle to Environmental Protection Department, Waste Management Policy Division, Room 4522, 45/F Revenue Tower, 5 Gloucester Road, Wan Chai
- Volunteer on Thursdays and Saturdays to collect glass bottles from participating bars in Soho and Wan Chai -- not a pretty job but an eye-opener for everyone who gets involved. Given that the main obstacle to glass recycling is the collection cost, this is a perfect example of where volunteers can make a significant impact.