Advertise in HK's only holiday guide for parties and presents with presence.
Every year, we share tips, tricks and suggestions for a conscious holiday with our growing network of shoppers seeking eco, organic and fair when making preparations. You can make life easy by helping people find your natural gifts, event ideas and party fashions that don't cost the earth.
Tips, gifts and party ideas … naturally
Our members make conscious choices in all their purchase decisions and every year they ask our advice on clean, green, healthy gifts. We provide the answers they are looking for in our annual feature and a selection of seasonal offers and holiday celebration ideas.
Our readers rely on HK heartbeat to identify authentic businesses and advertising is subject to approval —  we do the homework so our readers save time. We are in our 15th year of sharing fresh content and local connections for conscious everyday choices. I suggest including a promotional offer we can use to track your response.
Here are your options:
Online edition only
EDM + online edition
Here's what is included:
Email listing in the Conscious Holiday Guide (eDM and/or website)
Links to your online shop, Facebook, email or an optional sponsored feature
Sponsored Post (up to 100 words plus image) + listing in the PDF download
Artwork production for approval (send 200 x 300px image and draft text)
Social Media Exposure — we share on Facebook, Instagram, Twitter, etc
Newsletter — we announce the guide to subscribers on November 24
Here's what's not included:
No outside advertising on the feature
No external pop-ups asking for likes, subs, etc
No hype or fear-based, stress-inducing language
No advertorial to confuse advertising with editorial
Here's are the booking details:
Rates from HK$1,880 suit businesses of all sizes
Bookings are accepted on a first-come first-served basis
Adverts will be added to promotions as they are booked
Now is the perfect time to advertise with HK heartbeat.
We will prepare the listing for you, so your decision is easy. All you need to do is arrange payment and we'll take care of the rest. The feature will be promoted by email and online, including a news release to our media contacts, mentions in our weekly newsletter, ads on the website and posts to our 8,000+ social media followers.
For details, get in touch or call Kinzie on +852 6628 6153.
---
Here's some more useful information:
Our traffic has increased 100% over the past year with nearly 10,000 visits to the website. Our membership is now more than 5,000, including social media followers and members. For the first time since we started publishing in 2001, we cleaned up our list. From zero on 1 October, more than 800 subscribers replied to our email, asking to resume delivery. Now, our list is more targeted than ever and open rate reached a new high of 42%.
"Yes, please, I would like to continue receiving your newsletter, even as i sign off from numerous mailing lists!" Annie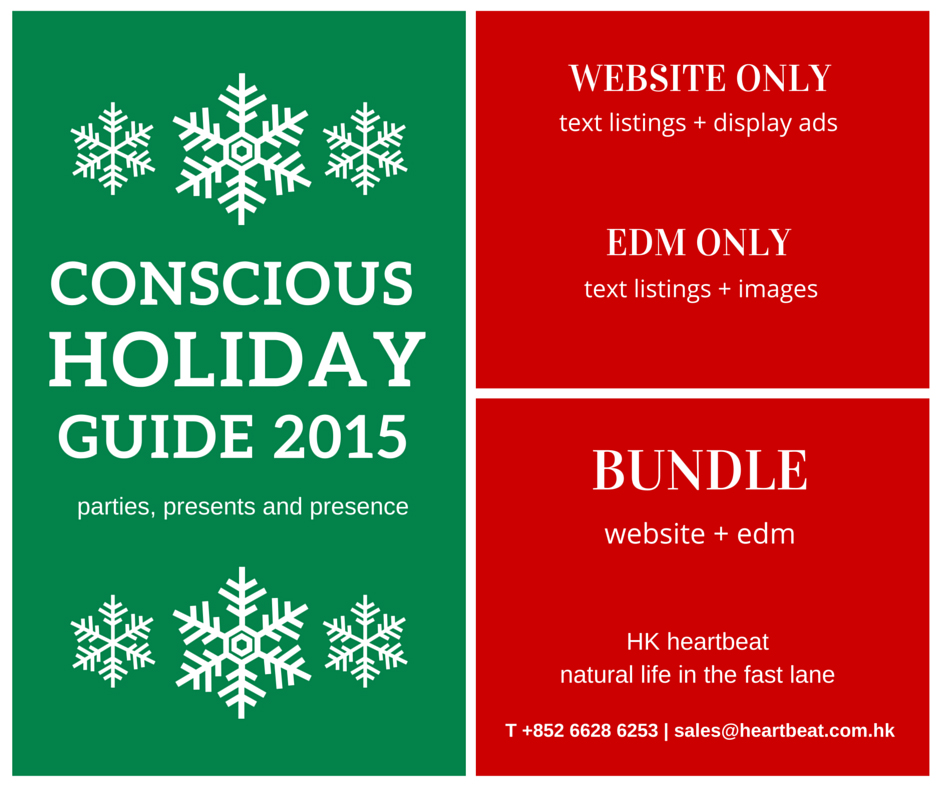 ---
As the volume of information available and mixed messaging reaches an all-time high, we scroll through endless emails, posts, tweets, pins, pics, messages and status updates, often relying on our friends to find the truth behind the hype. At HK heartbeat, we consciously prepare listings are stripped of fear-based language to share content we think is useful.
Our business members are professionals whose passion is their business
We continue to promote positive change in Hong Kong and beyond
Updates are always available on the website directory
We value your time and we are here to make your promotions a little easier.
Here's to more balance with less effort … naturally.