Before we get caught up in finger pointing and assigning blame, there are some things we all need to know about the environmental disaster currently happening in Hong Kong. The contaminated palm oil will continue to reach our shores in the weeks and possibly months to come.
The community is asking for answers — many are reaching out in search of valid information while others are offering to join the volunteers cleaning up the toxic mess and many more are wanting to know how to help.
Since our post about this incident last last week, we have become aware of the growing confusion.
With an abundance of mixed messages out there, we will do our best to keep you informed and up to date.
– This is an actual disaster.
– The palm oil is contaminated.
– Volunteer help is urgently needed.
– Children need to be kept away from beaches.
– Dogs and wildlife are at risk from consumption.
– The danger to public health cannot be underestimated.
Guangdong authorities only realized it might affect the city after volunteers had begun a clean-up.
Original news reports quote authorities stating that palm oil is a food product that is natural, easily biodegradable and not toxic to humans or wildlife and that marine parks have not yet been affected.
"There is no need to worry … palm oil is 'just like normal marine refuse' that has to be removed from the beaches to ensure cleanliness."
Based on the posts, pics and videos shared on social media by our community members, this is simply untrue.
A quick internet search early last Sunday morning about previous palm oil spills revealed useful information.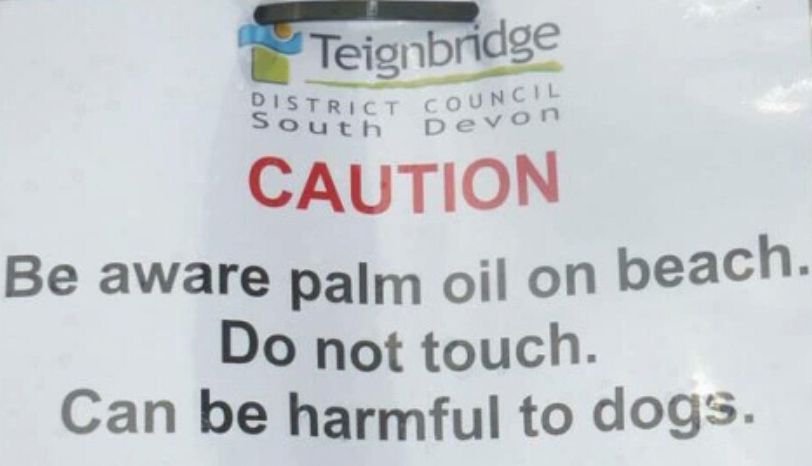 Daily Mail – 5 April 2016: Deadly mounds of congealed palm oil being washed up on British beaches, pose a serious threat to children and animals over the summer months.
Cornwall Live – 27 March 2017: Everything you need to know about deadly palm oil after substance washes up on St Agnes beach
Reuters – 16 July 2017: Malaysia, Indonesia may take EU plan to curb palm oil imports to WTO
Nature – 27 November 2016: Challenges in preventing pollution from ballast water highlight reforms needed in global shipping regulation
We generally support optimism but when combined with a lack of relevant facts, blind optimism can make a problem worse when misleading information leads to public confusion resulting in people taking uninformed and unnecessary risks.
The palm oil is melting at 35 degrees celsius on the surface layers of beaches and hardening in the cool layers of sand below. The material is absorbing toxins (including diesel, fuels and microplastics) and is filthy by the time it arrives on shore. As it breaks down, it attracts micro-organisms that are hazardous to health, particularly in small children and dogs.
"We have already had a few volunteers with cases of diarrhea after contact with the palm oil." Gary Stokes
The main spill has not yet reached Hong Kong.
---
---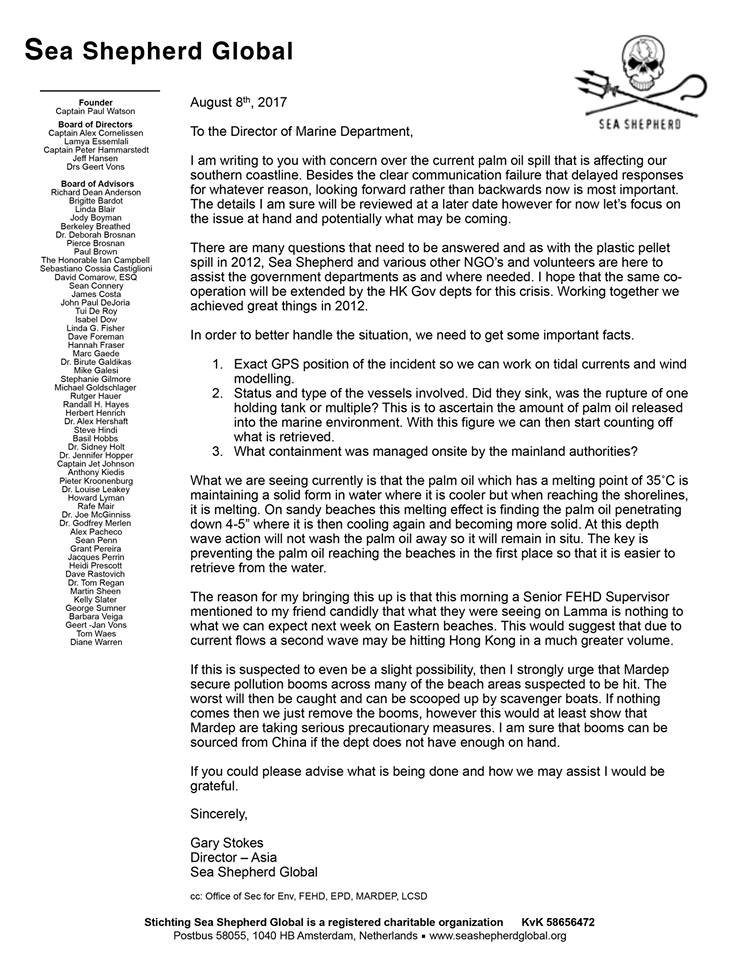 From Forest Destruction to Marine Destruction: Hong Kong's Palm Oil Spill
---
HKSAR Press Release: Progress of cleaning up palm stearin
Saturday, August 12, 2017 – Issued at HKT 20:08: As at 12 noon today, the government departments collected some 194 tonnes (194 000 kilograms) of palm stearin recovered on the sea surface and at the beaches, of which around half of it was scavenged from sea.  In addition, the EPD also provided assistance and support to a number of organisations conducting cleanup of palm stearin on Lantau, Lamma Island and Southern District.
---
Words of warning
"We need to get the info out that this is not cool to be taking home." Robert Lokyer, Volunteer Clean-up Coordinator
Posts are circulating from parents suggesting that having kids volunteer with the palm oil cleanup could be educational. Volunteer organizers are suggesting that children not go near local beaches.
Regardless of their age, awareness, intelligence or ability to take the necessary precautions, children are physically smaller than adults and therefore more vulnerable to the effects of the toxins absorbed by the palm stearin, protective gloves or not.
Here is advice from one of the lead volunteers:
"It is, and would be, extremely irresponsible to have young children assist in this cleanup. Direct contact should be avoided as this has already started to rot and Bactria culture form. Some cleanup workers, including myself, have been ill from this. [Symptoms include] diarrhoea, nausea, vomiting and some have reported dizziness. Normally after direct contact and reporting onset 4 to 6 hours after contact and lasting around 12 to 20 hours. It's like a big magnet sucking all the crud from the water and as an organic substance it is functioning like a huge petrie dish for bacteria." Robert Lockyer, Volunteer clean up coordinator
Instead of taking the kids out to volunteer, have them undertake their own research and write to the government or media.
---
Watch
Al Jazeera: Hong Kong Palm Oil Spill An Environmental Disaster

---
In the news
Monday 7 August 2017

4:25am: CBS – Crash at sea leaves beaches covered in congealed palm oil
8:35am: The Guardian – Hong Kong closes busy beaches after palm oil spill clogs coast
6:49pm: HKFP – Dead fish wash ashore and citizens pledge clean-up as 'snow-like' palm oil spill prompts beach closures
9:50pm: EcoWatch – 11 Beaches Closed in Hong Kong After 9,000-Ton Palm Oil Spill
Tuesday 8 August 2017

10:55am: Washington Post – Video: Palm oil spill causes Hong Kong beach closures
3:25pm: Reuters – Hong Kong closes 13 beaches as stinking, congealed palm oil washes ashore
5:18pm: HKFP – Palm oil spill: Hong Kong gov't closes more beaches as minister vows to hasten clean-up
8:12pm: Channel News Asia – Anger mounts in Hong Kong over massive palm oil spill
9:45pm: SCMP – Swimmers spotted on closed Hong Kong beaches despite palm oil spill
Wednesday 9 August 2017

7:00am: SCMP – What we still don't know about the oil spill affecting Hong Kong beaches
10:27am: Reuters – Hong Kong cleans up 93 tonnes of palm oil; beaches smothered by spill
12:47pm: HKFP – Palm oil collected from spill could be 'upcycled' into candles and soap, NGO says [No, it cannot]
9:03pm: SCMP – Hong Kong government seeks legal advice for damage claims over palm oil spill
Financial Times – China slammed for delayed alert on palm oil spill
Thursday 10 August 2017

8:24pm: SCMP – Government's optimism over palm oil spill 'ludicrous' say volunteers cleaning up Hong Kong's beaches
Friday 11 August 2017
9:40am: HKFP – Video: Volunteers brave the heat to battle palm oil slick at Hong Kong's beaches
12:02pm: Reuters – Hong Kong scoops up 158 tonnes of palm oil; reopens five beaches
10:11pm: Sea Shepherd Global – From Forest Destruction to Marine Destruction: Hong Kong's Palm Oil Spill
Saturday 12 August 2017

2:08am: EcoWatch – Hong Kong's Palm Oil Spill Is Wreaking Havoc on Marine Life
---
Mixed messages
There is growing concern that local residents are unaware of the health implications.
My concern is people are making candles, soap, taking it to "burn" and "cook" (don't think cook human food) Soaps – direct skin contact.
Candles – burnt residue, fire, fumes, splatter whilst making abs burning. Etc
This stuff is now best disposed of asap. And public told that the "palm oil is contaminated" do not use and avoid direct contact. Robert Lockyer, Volunteer clean up coordinator
My concern is that people aren't being told that the palm oil arriving on our beaches is contaminated after absorbing all the other shit we dump into the sea. It most certainly is not food grade. I just got back from the beach which is closed, but busy. When I asked, people said they weren't concerned because they aren't eating it – not realizing that it is easily absorbed through our skin. That's why it's so popular with skin care and cosmetic companies. It took some patience, but I could tell the moment they understood me because they immediately went over and talked to their kids and left the beach area. The red flag is hoisted and lifeguards are all hanging out at their station as usual, the regular announcements are being made – lifeguard services will be suspended in 15 minutes, dogs are not allowed, etc. – but no mention is made that the beach is contaminated. It looks like a normal Saturday in summer. There are loads of tiny pieces at the high tide mark left behind by the cleaners' rakes. Near the piles of black bags, there are telltale piles of melted goop where they have leaked during loading.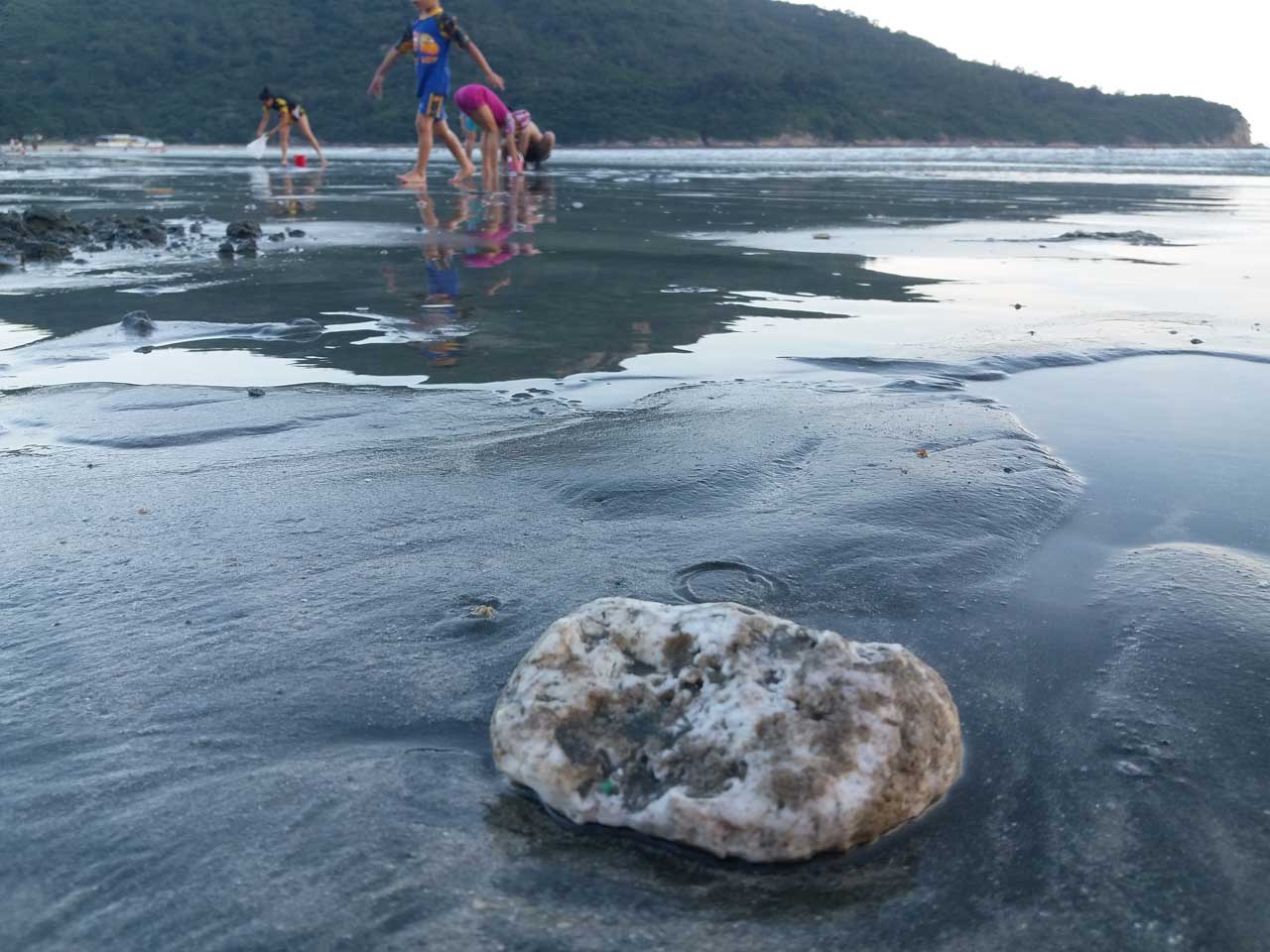 ---
Who to contact
Reporting hotline: Tell Me 1823
This service can be accessed by mobile, desktop, phone, email, fax, text and post
—
Carrie Lam
Write to congratulate Carrie and ask (nicely) for the disaster recovery plan.
"I pledge that I will do my utmost to … safeguard Hong Kong's core values through 'caring', 'listening' and 'acting'"
Chief Executive
Email: ceo@ceo.gov.hk
http://www.ceo.gov.hk/eng/
—
Matthew Cheung Kin-chung
Chief Secretary for Administration
"I will also take the initiative to care and listen more, act more proactively to respond to the aspirations and needs of the community …"
Email: cso@cso.gov.hk
http://www.cso.gov.hk/eng/home/home.htm
—
Environmental Protection Department
Pollution complaints & enquiries hotline: 2838 3111
Online form: http://www.epd.gov.hk/…/report…/reportpollution.html
Email: clean_shorelines@epd.gov.hk
Email: hotline_s@epd.gov.hk
Hong Kong Island & Islands Regional Office (South)
—
Direct contacts
Wong Kam-sing – kswong@enb.gov.hk
Elvis Au – elvis_au@epd.gov.hk
---
What we can do
---
19 August: A Plastic Ocean Film Screening
20 August: 10 Year Anniversary Beach Cleanup and Family Fun Day | Plastic Free Seas
---
In the stream
https://www.facebook.com/photo.php?fbid=10156409088262506&set=p.10156409088262506&type=3&theater
---
---
---
---
---
---
---
---
---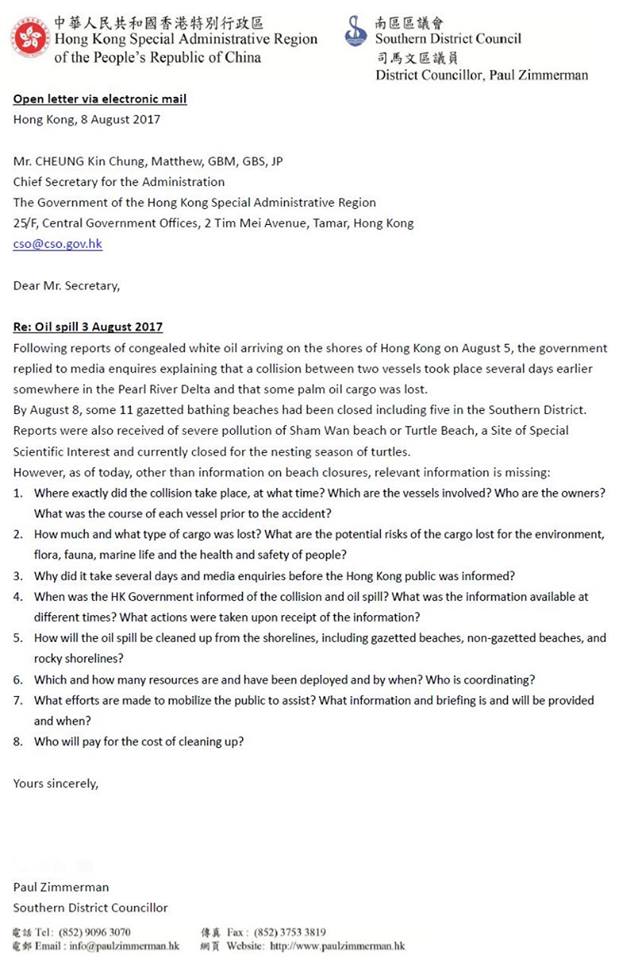 ---
---
---
---
August 11 at 11:08am: There is so much oil coming in. The poor subcontractors on gazetted beaches can't cope. Instigate some sort of intervention withq EPD and get more volunteers and equipment!! Urgently! For example, Hung Shing Yeh needs a digger and more workers! Please come and see!!!! And help!!!!! Roz Keep
---
The government specifically stated that it has not reached or affected any marine reserves or protected areas.

Cape D'Aguilar is a no go zone for the public so volunteers shouldn't go here to clean up this palm oil. Lamma Island beaches need cleanup volunteers.
---
---
---
---
---
---
---
---
---
Join this Facebook group to see the following posts.
---
---
---