DATE : Saturday 12 February at 10am-2:30pm
PRICE : Free Admission (HK$100 bike rental available)
PLACE : Depart Cadogan Street Temporary Garden in Kennedy Town; ride to Shau Kei Wan Typhoon Shelter
ENQUIRIES : HK Cycling Alliance
EMAIL : harbourfrontbikeride5 at gmail dot com
Ride For a Pollution-Free Hong Kong
Add your voice (and wheels) to the call for a cycle path along the Hong Kong island harbourfront and open our harbourfront to leisure, transport and tourism for a healthy lifestyle. Governments around the world are investing in cycling as a sustainable mode of transport, improving air quality and creating liveable cities. The Hong Kong government has been expanding and improving the bicycle trail network in the New Territories to meet the demands of residents. Urban areas are in need of cycling infrastructure. "A Green Harbourfront Cycle Path for Hong Kong Island" has been campaigning since Since 2007 and in early 2009, the Development Bureau announced the first section of the trail on the new Central reclaimation. The 4th Harbourfront Bike Ride for Pollution Free Hong Kong aims to promote other bike trails on Hong Kong Island and continue on our journey towards a green future for Hong Kong.
When I see an adult on a bicycle, I do not despair for the future of the human race."
Route & Schedule
See detailed route on this Google Map
10:00 – Bike renting riders arrival to collect bike
10:30 – Assemble Cadogan Street Temporary Garden; collect event riders' signatures/ press briefing
11:00 – Depart from Cadogan Street Temporary Garden, Kennedy Town
12:00 – Miray Tower, bike path request document hand-in to Transport and Housing Bureau
12:45 – 15 minute break at Golden Bauhinia Square; Kowloon riders join at Wan Chai Star Ferry Pier
13:00 – Depart from Golden Bauhinia Square
13:30 – Hand document to Planning Department requesting bike path
14:30 – Arrive at Shau Kei Wan Typhoon Shelter
14:40 – Close of event / Rental bike return (fee refund for first 200 riders)
Bike Rental
200 bikes are available if you need a bike to join the ride
– HK$200 for bike rental (transport included)
– Bike pick up at departure point, Kennedy Town
– Bike return at destination, Sai Wan Ho
Rental Instructions
– Deposit HK$200 per bike into HSBC account: 607 133063 888 (Thanks to Andrew Brill for the use of this account)
– Email your bank receipt to bikerenting at gmail dot com with the rider(s) full name(s)
– We will send you a Registration Confirmation to use when you pick your bike up at the start of the ride. Please bring it with you.
Organized by
– Hong Kong Cycling Alliance – hkcyclingalliance@gmail.com
– HKCI.net – support@hkci.net
– Ho Loy – waterfrontbikeride@gmail.com
Supported by
– Roundtable Responsible Travellers
– Designing Hong Kong
– Ourbusterminal.org
Legislators
– Hon. Albert Ho Chun Yan
– Hon. Wong Shing Chi
– Hon. Kam Nai Wai
District Councilors
– Central & Western District Councilor – Mr. Kam Nai Wai
– Southern District Councilor – Mr. Paul Zimmerman
– Northern NT District Councilor – Mr. Frank Chan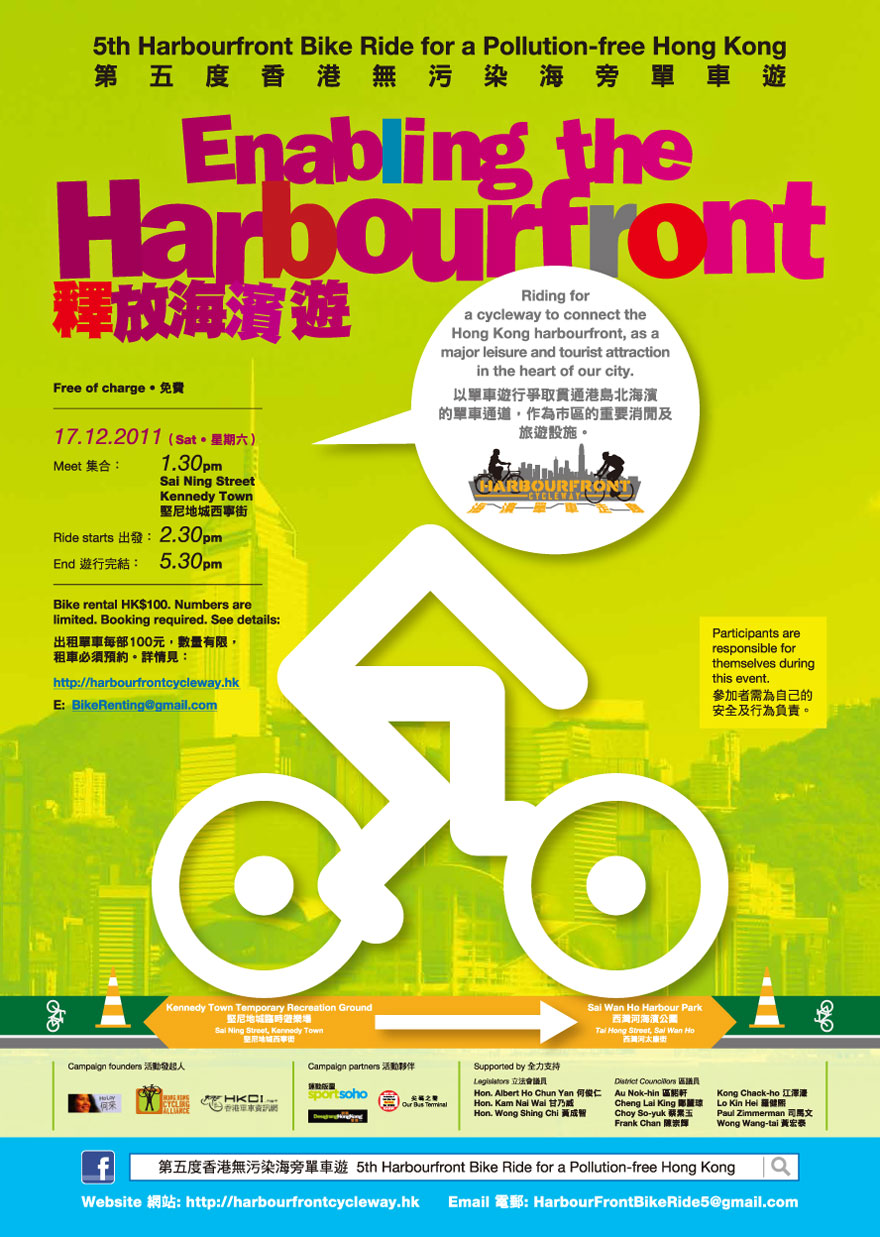 POSTED : 21-Jan-11