Release your Neck & Shoulder Tension with Doris Baer
This afternoon workshop is presented by Senior Nei Gong Teacher Doris Baer. The program includes Nei Gong exercises to improve and strengthen women's health along with discussions on women's health.
DATE : Sunday 13 November 2016
TIME : 1oam-5pm
PRICE : HK$1,500
PLACE : Tian Yan Nei Gong Centre
ADDRESS : 3/F, Friendship Mansion, 345 Hennessy Road, Wan Chai
ENQUIRIES : Doris Baer
TEL : +852 2871 0430
EMAIL : doris@tianyanneigong.com
WEBSITE : tianyanneigong.com
Learn simple everyday exercises to release tension and strengthen this chronic problem area as a preventative measure.

POSTED : 17-Oct-16
---
Tian Gong Nei Gong Centre
We teach the ancient Chinese art of Nei Gong. The origin of all Chinese energy work, Nei Gong is practiced for excellent physical health and deep relaxation, personal growth and spiritual development. Courses on all levels with a free trial class, individual sessions, healing and therapy sessions, teacher certificate courses Visiting Master Teacher Christel Wilk conducts teacher training courses, gives workshops on specific topics and teaches how to consult the I Ching. She also offers healing sessions for body, mind and spirit. As part of Sacred World Journey's trips we practice Nei Gong in sacred places around the world.
---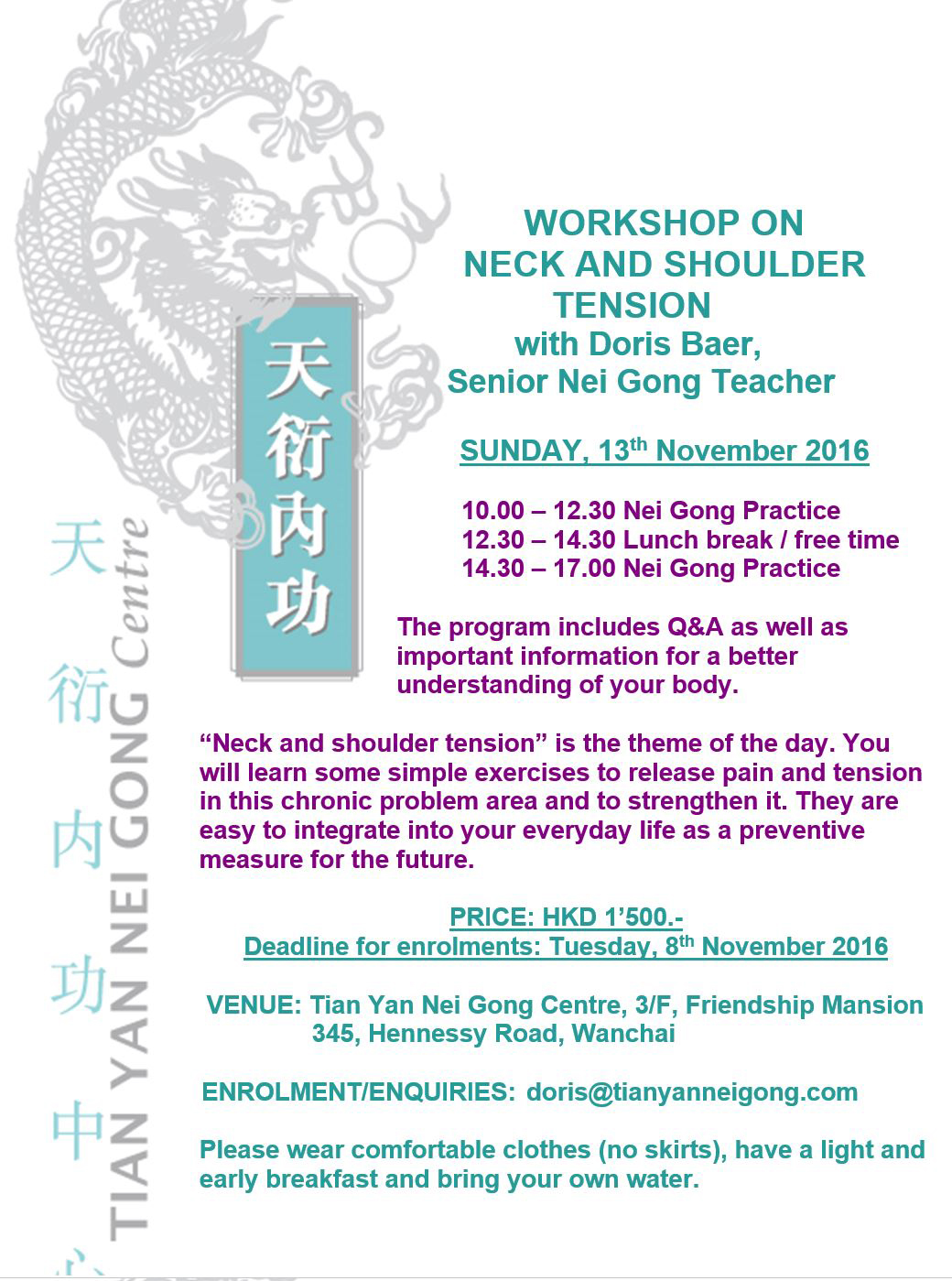 ---