Food, beauty, health, nutrition and lifestyle products
Explore the LOHAS – Lifestyle of Health & Sustainability adventure in Hong Kong at the annual event highlighting natural products from around the region and beyond.
LOHAS Expo is the leading trade expo promoting organic, health and green living products in Hong Kong since 2012. The event attracts a diverse array of well-known enterprises and brands from around the world, including China, Taiwan, Korea, Japan, Australia, Philippines, France and USA with workshops and celebrity chefs introducing a healthy lifestyle.
LOHAS Expo 2023
DATE : Friday-Sunday 3-5 February 2023
TIME : Fri-Sat 10:30am-7:30pm; Sun 11am-8pm
PLACE: HKCEC
ADDRESS: Hall 3F&G, 1 Expo Drive, Wan Chai
TEL : +852 2466 9663
ORGANIZER : Exhibition Group Ltd
EMAIL : contact@lohasexpohk.com
WEBSITE : lohasexpohk.com
REGISTER : online booking

People throughout Asia and around the world are looking closer at the impact we have on our environment and on society and safety issues are driving demand for more clean, healthy sustainable food products.
LOHAS Expo, Asia's leading trade platform for natural, organic and green lifestyle products, will showcase more than 1,500 new products from 200 international exhibitors from United States, Canada, European countries, Japan, Korea and South-East Asia countries. Register for free as a trade visitor and mark your calendar for this renowned industry event.
---
LOHAS Expo is a regional sourcing platform for trade, visitors and consumers with over 200 exhibitors and 20,000 trade buyers expected from around the region. Get practical tips from global industry leaders and experts to grow business at the LOHAS Forum and meet master chefs with cooking tips at the Vegetarian Kitchen.
Visit the fairs to find out more.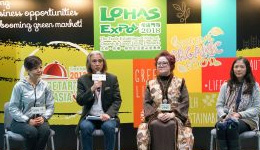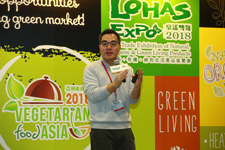 LOHAS Expo offers an ideal platform for anyone who is interested in unlocking business potential of the LOHAS market.
The market of organic food is growing. Figures show that around 96.8% of fresh food that Hong Kong consumes is imported from mainland China and overseas and only a small amount of domestic production supports major market suppliers. Food sustainability and animal welfare concerns feed demand from the expatriate market. Supermarket, hotels and restaurants provide an effective channel to introduce organic goods into the market.
Over 200 booths from Hong Kong, Korea, Taiwan, Japan, Malaysia, China and the Philippines
Industry experts share the market trends at the LOHAS Forum
Master Chefs demonstrate vegetarian dishes at the Vegetarian Kitchen
A wide range of vegetarian and healthy food
Vegetarian restaurants from Hong Kong at Veg Street

PRODUCT PROFILES
Natural & Organic Food & Supplements • Green Home & Lifestyle • Beauty & Health Care • Sustainable Economy • Wellness & Leisure • and more …

PAST SHOW HIGHLIGHTS

Onsite Forum • LOHAS beauty and Health Forum • Hong Kong LOHAS Awards • Green Beauty Salon Award • Healthy Workshop • and more …

Find Award-winning Products at LOHAS Expo
The best of natural and organic products are all in LOHAS Expo. Check out the winners – they may be your next best-sellers.

LOHAS Healthcare
Natural & Organic Products
Nutritional Products
Dietary Supplements
Natural Healing & Therapies
Alternative Healthcare

LOHAS Lifetyle
Eco Living Products
Green Home Furnishings
Energy Saving Home Appliances
Eco Cleaning Products
Eco Clothing & Apparel
Electric & Hybrid Vehicles
Eco Tourism & Travel

Sustainable Economy
Social Responsible Investment
Environmental Management
Eco Labeling

Vegetarian Foods
Beverage
Biscuits & Snacks
Bread & Baked Products
Chocolates & Snacks
Fruits & Vegetables
Herbs & Spices
Honey
Ice Cream
Nuts & Dried Fruit
Oils
Raw Food
Rice & Noodles
Seasonings
Seeds & Plants
Tea & Coffee
Vegan Supplements



Organizers
Exhibition Group Ltd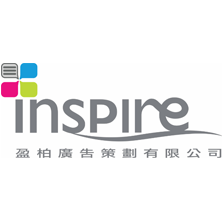 Inspire Advertising and Marketing
---
POSTED : 12-Oct-22