"This is a public health crisis"
"Clean Air Network on Friday that air pollution currently affecting Hong Kong is a public health crisis and called on the government to issue more stringent warnings to make people limit their exposure to it." RTHK News
"The Environmental Protection Department said children, the elderly and people with respiratory illnesses should avoid going outdoors."
Local experts are concerned that there doesn't seem to be enough immediate action by people to reduce their exposure to these hazardous pollutants.
"[The] street canyon effect, with tall buildings on the roadside, would trap all the air pollution produced. This situation would be more severe during lunch hours and off-work peak hours," Patrick Fung, CEO Clean Air Network
The issue raises concerns for the health and safety of residents likely to be impacted by another weekend of tear gas in residential neighborhoods as demands are made for demonstrations of the safe use of tear gas.
Pollution choking Hong Kong is a health crisis (RTHK 9 Aug 2019)
Toxic tear gas causing problems for journalists (The Standard 9 Aug 2019)
Reporters hit by tear gas complain of health woes (RTHK 9 Aug 2019)
Police urged to hold tear gas demos (RTHK 8 Aug 2019)
Most HK residents oppose new air-quality proposals (SCMP 1 Aug 2019)
Greenpeace launches Hong Kong pollution campaign (SCMP 19 July 2019)
Air pollution posing serious health risks (SCMP 12 Nov 2018)
Air pollution is "serious" health risk for second day (SCMP 18 July 18)
Public health warning as HK AQI reaches highest level (SCMP 17 July 2018)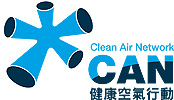 CONTACT : Clean Air Network
TEL : +852 3971 0106
EMAIL : info@hongkongcan.org
WEBSITE : hongkongcan.org/eng
CONNECT : Get in touch
LINK : read more
Sign the petition | Current air quality | GovHK
The Government has proposed a new set of AQOs (air quality objectives) and is launching a 3-month public consultation to gather public views on the proposed tightening existing AQOs that took effect in January 2014.
The new guidelines are set to be implemented between year 2020 and 2025.
The new review recommends: Slightly tightening the concentration limits of two types of air pollutants ——- Sulfur Dioxide (SO2) and Fine Suspended Particulates (PM2.5) from WHO Interim Target 1 to Interim Target 2
The review also advises: Significantly increase the number of exceedances allowed for PM2.5 from 9 times to 35 times annually
The AQO Review Coalition opposes the proposal to relax the number of exceedances and requests to withdraw it. We have published "DUSTY ATTACK – The Unseen Enemies" website providing more details about 5 key air pollutants and their harmful threats to our health and well-being. The Coalition also initiates an ONLINE PETITION against the proposal increasing the number of exceedances for PM2.5 in the new set of AQOs
POSTED : 09-Aug-2019
---