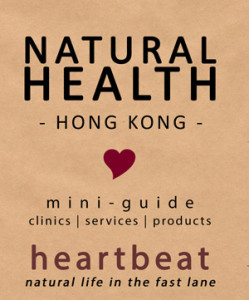 Today, we are delivering 5,000 free copies of the first in our new series of mini-guides for natural in the fast lane.
Click here to find where to pick up your free copy.
We invited our network of natural health businesses and professionals to participate in our new pocket-size print guides with fresh listings on the website. Hong Kong continues to attract talented natural health professionals whose passion for their work inspires us to experience their treatments, explore new approaches and re-visit time-tested traditional medical practices.
The state of our home is getting some long over-due attention. Air quality has moved to the top of the agenda. Overflowing landfills are bringing attention to our superstar status as the world's top producer of waste — a telltale sign of our preference for processed, packaged convenience.
Over-use of antibiotics and increase of allergies has local residents turning to homeopathy, whole foods, traditional eastern practices and lifestyle to address illnesses. Consumers are paying more attention to ingredients on food labels. We are looking at nutrition, rest and self-care in addition to physical work-outs and yoga. Old is new again. We are re-learning to balance work with our family, friends, social and personal life.
At heartbeat, we share content and connections for natural choices every day.
Listen to your own heartbeat.