Join in an evening of fun and friendship to celebrate another year of conscious choices and connect with people we haven't seen in far too long. The team at Linguini Fini is settling in and we are excited to welcome you into their fresh new space in the heart of Soho. 
A Conscious Celebration
DATE : Thursday 17 December 2015
TIME : 7-9pm (brief welcome at 8pm)
PLACE : to be announced
PRICE : HK$80 members | HK$180 guests
INCLUDES : drinks, nibbles and treats
RSVP : events@heartbeat.com.hk
NOTE : Advance booking is essential
ENQUIRIES : +852 6628 6153 – Kinzie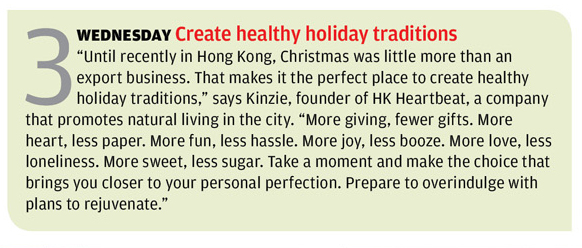 The season is upon us. We have begun accepting party invitations, making our list, checking it twice and preparing to host family and friends for celebrations of the heart. Indulge in festive treats and engage in inspired conversation in an enjoyable evening with plenty of love as we prepare to head into the silly season ready for everything.
Our business members will be on hand to share some of their favorite innovative, clever and inspired tips and tricks for original gifts, enjoyable entertaining and party going that will leave everyone feeling happy. Find out what goes into planning a conscious holiday season. Gain insights and practical ideas for creating happy memories that will last a lifetime.
---