I am falling in love with Hong Kong all over again.
While broadcasters continue to show dark, dramatic images, I have become obsessed with uncovering many human moments and touching stories of love and kindness pouring out of Admiralty, Mongkok, Causeway Bay, Central and Tsim Sha Tsui. The message is clear — we are Hong Kong people and we love Hong Kong.
Let's celebrate the peaceful achievements of these dedicated young people who have successfully united our community around a new feelings of pride and a renewed sense of identity. This has been done and it can never be undone. Their focused efforts, creative enthusiasm and focused energy is equal parts astounding and humbling. Their clear and consistent messaging is the envy of every public relations professional. Dialogues have begun between elders and youth, parents and children in dialogues that will forever change our relationships with each other. The world is watching the peaceful (and sometimes not-so-peaceful) actions of residents from all walks of life participating or opposing. Art is created, songs are sung and voices are heard.
One humid September night in our city that never sleeps, a new Hong Kong was born out of the clear and gentle determination of a few that sparked an outpouring of kindness and generosity from many. For me, this is a story about people, not politics and I could not be more proud of these students if they were my own sons and daughters.
#LoveAndPeace,


As a media professional living in my adopted home of Hong Kong since 1992, I encourage you to harness the power of positive messaging and spread the love — share your favorites wherever you find them and join supporters around the world to support the opening of Hong Kong's beautiful heart.
(Please be patient – media may take a minute to load)
---
#LoveAndPeace and connections
You can tweet directly to the crowds at the #OccupyHongKong movement at http://t.co/8fxeYBPhxf pic.twitter.com/rL3dmWTzoS #OccupyCentral — Andre Martin (@AndreMartin) October 13, 2014
---
#LoveAndPeace and the iconic skylines
Together, #HKers guard their city. Pic via Wan Leung #OccupyCentral #UmbrellaMovement #art #culture #hope #HongKong pic.twitter.com/DDDtUSxTyO
— Miss Vivienne Chow (@VivienneChow) October 14, 2014
---
#LoveAndPeace and a timely reminder
https://www.facebook.com/CraigALeeson/posts/10152784826920761
---
#LoveAndPeace and a letter
https://www.facebook.com/Malavern/posts/10154753395750094
---
#LoveAndPeace and yellow
https://www.facebook.com/photo.php?fbid=10203592114737783
---
#LoveAndPeace and reaching out
We fight for you- message for Hong Kong police on a protest barricade pic.twitter.com/upA0LhgBm9

— Alex Ogle (@Alex_Ogle) October 18, 2014
---
#LoveAndPeace and umbrellas in August
via @Alex_Ogle pic.twitter.com/1zKzDeIpUR

— 青萝卜 (@oiax) October 18, 2014
---
#LoveAndPeace and newspapers
Apparent supporter of protesters arrives, hands out newspapers to them pic.twitter.com/JLwQXBXYpG

— Benjamin (@Garvey_B) October 19, 2014
---
#LoveAndPeace and tears
The journalist's colleague cries as she helplessly films him being picked up police after they pepper sprayed him pic.twitter.com/5jg2gqCwHu

— Alex Ogle (@Alex_Ogle) October 18, 2014
---
#LoveAndPeace and animation
How #Chinese Media Report the movment? #WatchThis http://t.co/cTGBvSf88x #Funny #WeCanDoIt #EngSub

— Umbrella Movement (@hk928umbrella) October 18, 2014
---
#LoveAndPeace and SARS
Economist predicts impact of Hong Kong protests will be less severe than SARS http://t.co/VzDWh7SI3U pic.twitter.com/zPe3xlSnMT

— Wall Street Journal (@WSJ) October 17, 2014
---
#LoveAndPeace and front line smiles
Protesters with hands up face off with police tonight in Hong Kong @AFPphoto pic.twitter.com/5rUEGZU5QU

— Alex Ogle (@Alex_Ogle) October 17, 2014
---
#LoveAndPeace and Hello Kitty
A protester in front of Lung Wo tunnel. #OccupyCentral #UmbrellaRevolution pic.twitter.com/3g5FlIzlbC

— Freakingcat (@freakingcat) October 14, 2014
---
#LoveAndPeace and life on the street
Who needs a summer home when you can camp out in Mongkok #HongKongProtests pic.twitter.com/TqTN456rY4 — Demetri Sevastopulo (@AsiaNewsDemetri) October 14, 2014
---
#LoveAndPeace and the finger
Humour of HK Protesters. Sadly they are removed. #UmbrellaRevolution pic.twitter.com/YbtfKjs9oi — Umbrella News (@news_umbrella) October 14, 2014
---
#LoveAndPeace and the yellow umbrella
敬请关注纽约时报中文网香港专题页面,直击"占中"最新进展、现场图片:http://t.co/rvphwixihO #OccupyCentral #HongKong pic.twitter.com/M4ZtjVcegc

— 纽约时报中文网 (@nytchinese) October 14, 2014
---
#LoveAndPeace and a handshake
Carrie Lam comes over to shake hands with me promising a peaceful future for Hongkong #OccupyCentral #UmbrellaRevolut pic.twitter.com/kKaKRkvK1F — Freakingcat (@freakingcat) October 13, 2014
---
#LoveAndPeace and the birthday boy
#OccupyCentral leader Joshua Wong's birthday wish is safety for loved ones http://t.co/xWndOchxV8 pic.twitter.com/QXETDTGjEd — Channel NewsAsia (@ChannelNewsAsia) October 13, 2014
---
#LoveAndPeace and press freedoms
@appledaily_hk employees united to protect #hongkong freedom of press. #UmbrellaRevolution #OccupyCentral pic.twitter.com/Q8u9cr06TX — jo (@jwongsg) October 13, 2014
---
#LoveAndPeace and a Legco member
Pro-democracy Legco member Cyd Ho is in the mix. She's milling about crowd, quietly asking protesters to remain calm. pic.twitter.com/ZQQjWzueAx — Wilfred Chan (@wilfredchan) October 14, 2014
---
#LoveAndPeace and a bamboo revival
Now Hong Kong's famous bamboo scaffolders are helping to reinforce the barricades! #OccupyCentral #UmbrellaMovement pic.twitter.com/9RszubCTVb — Alex Hofford (@alexhofford) October 13, 2014
---
#LoveAndPeace and a road sign
— 小影 ☂ (@siuying) October 14, 2014
---
#LoveAndPeace and humanity
https://www.facebook.com/photo.php?fbid=10152802480291214&set=a.10150417651951214.415102.708946213&type=1&theater
---
#LoveAndPeace and little yellow umbrellas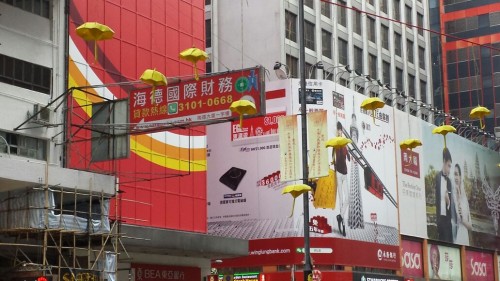 Photo credit: Cherie Sexmith (KNEF)
---
#LoveAndPeace and the bed
Mainland China had Democracy Wall. Mongkok has #DemocracyBed. #HongKongProtests pic.twitter.com/EOWxsgH5SH

— Demetri Sevastopulo (@AsiaNewsDemetri) October 14, 2014
---
#LoveAndPeace and sunrise
Dawn breaks on #occupycentral. Is it Day 17? Could be wrong-days blurring! CY said it can't go on forever…on day 11 pic.twitter.com/oZr4zsIuiN — Ivan Broadhead (@ivanbroadhead) October 13, 2014
---
#LoveAndPeace and constructions
Written on barricade: "Take 1 down, we build 10 more; take 100 down, we build 1000 more", at 6.20pm pic.twitter.com/JOEqkyPyGN via @Passiontimes — Judy Ngao (@Judy_Ngao) October 13, 2014
---
#LoveAndPeace and movie stars

---
#LoveAndPeace and planting seeds
The seeds of the #umbrellarevolution will one day bear fruit. pic.twitter.com/u5xmB2DkRI — Hong Kong Hermit (@breakandattack) October 14, 2014
---
#LoveAndPeace and a journalist tutor
RT @natwang3: Ask Ysabelle! Free help with English homework from TimeOut editor in admiralty. #OccupyCentral pic.twitter.com/qceuXFaviv — Andre Martin (@AndreMartin) October 11, 2014
---
#LoveAndPeace and the library
Library in #Mongkok #hongkong #protest. "Education is the great engine of development" by @NelsonMandela pic.twitter.com/K35ZmnyNYr — HKDemoNow (@hkdemonow) October 11, 2014
---
#LoveAndPeace and tiger moms
So this is how Chinese kids protest. Tiger moms be proud. pic.twitter.com/NqljTopdus — David Pierson (@dhpierson) October 13, 2014
---
#LoveAndPeace and visitors
First time in Hong Kong, Lele is a freelance photographer & gallery owner. "I want to sleep on the street with them." pic.twitter.com/b41N0A2VB8 — Alan Wong (@byAlanWong) October 13, 2014
---
#LoveAndPeace and accommodation
About 200 tents set up outside gov offices with sign 'welcome to stay overnight' #OccupyCentral pic.twitter.com/qhmuEciW9T — Stephanie Burnett (@Stephy_Burnett) October 13, 2014
---
#LoveAndPeace and prayers
旺角,給人禱告的殿 pic.twitter.com/tC0SIuMSj5 — 嚴敏華 (@FaningMonisor) October 13, 2014
---
#LoveAndPeace and economics
Harmful economic impact of protests a false notion http://t.co/LlWomdzd9T pic.twitter.com/lxNIbzICvV — EJ Insight (@EJInsightHK) October 13, 2014
---
#LoveAndPeace and keeping calm
A pro-democracy protester in Hong Kong stands his ground as a man jabs him in the throat @AFPphoto pic.twitter.com/PAolHux9bW — Alex Ogle (@Alex_Ogle) October 13, 2014
---
#LoveAndPeace and another Friday night
Wow. Admiralty tonight. This is what happens (again) when the HK government refuses to meet. Photo via @OCLPHK pic.twitter.com/ubf4LQFDSX — Joyce Lau (@JoyceLauNews) October 10, 2014
---
#LoveAndPeace and rush hour
What would usually be rush hour in Central Hong Kong. pic.twitter.com/TI1xuU0S97 — Joyce Lau (@JoyceLauNews) October 10, 2014
---
#LoveAndPeace and The Daily Show https://www.facebook.com/robert.i.ferguson/posts/10153244206182571
---
#LoveAndPeace and zip ties
Peaceful again on the streets of admiralty. Students are now picking up trash around barricades. pic.twitter.com/h176mKuc2R — Ed Flanagan (@edmundflanagan) October 13, 2014
---
#LoveAndPeace and Guan Gong
彌敦道出現新的關公打傘海報。「忠義之師 無敵旺角」#UmbrellaRevolution #HongKong #OccupyHK pic.twitter.com/w2tha3WFCk — HKDemoNow (@hkdemonow) October 13, 2014
---
#LoveAndPeace and morning class
#OccupyHK "@wilfredchan: 9:08am Morning class in Mong Kok. #OccupyCentral pic.twitter.com/A33e2U20kS" — cloudfarm (@cloudfarm) October 13, 2014
---
#LoveAndPeace and no limos
#OccupyCentral sees #HK movie stars swap limos for subway http://t.co/knFQQNFQ70 via @BloombergNews pic.twitter.com/dQV5Pq9xhc — Chris Anstey (@AnsteyAsia) October 13, 2014
---
#LoveAndPeace and joy
OccupyCentral #art week 2 v3 #香港デモ #UmbrellaMovement pic.twitter.com/TwrQ4qmCPq — 煇煇 (@01Micco) October 13, 2014
---
#LoveAndPeace and drawings
RT @ReadMatter: Front-line drawings and dispatches from Hong Kong and #OccupyCentral http://t.co/GNi9LAhDBX pic.twitter.com/cJ3rV5ngvh — Asep Maulana Rachman (@Asep_mlana) October 10, 2014
---
#LoveAndPeace and protest art
#HK1013 #HongKong #People #Never Die #UmbrellaMovement #OccupyCentral @hu_jia @OCLPHK @aiww — pic.twitter.com/I3OFwE1FSM — P H Yang Photography (@TravelFoto) October 13, 2014
---
#LoveAndPeace and tv stars
"Hong Kong people should love Hong Kong people." TVB stars saddened by #OccupyCentral protests http://t.co/tsbdjNgSL8 pic.twitter.com/1hB5Hinabw — Channel NewsAsia (@ChannelNewsAsia) October 13, 2014
---
#LoveAndPeace and photography
RT @csnl26: The Umbrella Man. backdrop Gov HQ #OccupyCentral #UmbrellaRevolution pic.twitter.com/JaxEzxm11F — Andre Martin (@AndreMartin) October 7, 2014
---
#LoveAndPeace and calligraphy
Getting all classical with ancient-style calligraphy: it says umbrella revolution, right? I can never read this style pic.twitter.com/KYjsSeR5HA — Ilaria Maria Sala (@IlariaMariaSala) October 8, 2014
---
#LoveAndPeace and comedy
More protest hilarity. Comedian John Oliver on Hong Kong. @iamjohnoliver @smakkers https://t.co/sf4yGQzGBz — Joyce Lau (@JoyceLauNews) October 10, 2014
---
#LoveAndPeace and another upbeat journalist
Ran through Tamar Park to catch an occupy sunrise, deliriously happy and not sure why. Truly incredible week here. pic.twitter.com/16gJMjwIm0 — Matthew Sheehan (@mattsheehan88) October 7, 2014
---
#LoveAndPeace and an afternoon nap
#HongKong protest numbers dwindle as talks make slow progress. Photo by @edwardesjones #OccupyCentral #AFP pic.twitter.com/VRrB9cpPLu — Stéphane Arnaud (@StephaneArnaud_) October 7, 2014
---
#LoveAndPeace and delivery boys https://www.facebook.com/photo.php?fbid=10152739762017579
---
#LoveAndPeace and artwork
@HK_Magazine's latest cover. I have a feeling this could be inspired by the pineapple cans in 'Chungking Express' pic.twitter.com/BeJfUnpC9e — Carmen Ng 吳嘉文 (@Carmen_NgKaMan) October 6, 2014
---
#LoveAndPeace and a pavillion
Protesters build a pavilion with small yellow umbrellas pic.twitter.com/ppWpDoASfI via @leohsu @shirleyZhaoXY #HongKong #OccupyCentral — Judy Ngao (@Judy_Ngao) October 12, 2014
---
#LoveAndPeace and rest
Bleary eyes, anxiety and instant noodles. Inside #HongKong's democracy campaign: http://t.co/lsQbwD8S8B pic.twitter.com/0tBdvvTo8l — WSJ Asia (@WSJAsia) October 7, 2014
---
#LoveAndPeace and happy
Original organiser Chan Kin Man says role of the 3 #OccupyHK initiators is now to protect/advise students h/t @OCLPHK pic.twitter.com/EPFewnul03 — Tom Grundy (@tomgrundy) October 7, 2014
---
#LoveAndPeace and a song
Another beautiful song: I Promise You an Umbrella #UmbrellaRevolution #OccupyCentral https://t.co/1GcIj9ebsz pic.twitter.com/z8i0rmPpNu — Ariel Tian (@ArielttDF) October 7, 2014
---
#LoveAndPeace and clean toilets
most clean n resourceful public toilet in #HongKong cleans n attends by students n volunteers #OccupyHK @SCMP_News pic.twitter.com/yabtlSWS0H — Emily Tsang (@ETemily) October 7, 2014
---
#LoveAndPeace and color
#UmbrellaRevolution #UmbrellaMovement #OccupyCentral #OccupyHK #HongKong pic.twitter.com/6OFppQ72k2 — Celestial Heights (@CelestialHghts) October 6, 2014
---
#LoveAndPeace in the shadows
The long shadow of the law, Mongkok. #OccupyHK pic.twitter.com/Nzn0GEOTBZ — Josh Noble (@JoshTANoble) October 6, 2014
---
#LoveAndPeace and the art
Protest art #OccupyCentral #OccupyHK pic.twitter.com/E9VYVirZom — don north (@donplusn) October 6, 2014
---
#LoveAndPeace and the wall
in/roshinidaswani: 贴出公民抗命的心里话 #occupyhk #occupycentral #umbrellarevolution #雨伞革命 pic.twitter.com/6f2a4weLN8 — aiweif an (@awfan) October 6, 2014
---
#LoveAndPeace and the MTR
Take a yellow umbrella with u #UmbrellaArt #HK #OccupyCentral #OccupyHongKong pic.twitter.com/JSPdebE4U0 — Miss Vivienne Chow (@VivienneChow) October 6, 2014
---
#LoveAndPeace and a quiet morning
Sunny and quiet in Admiralty. #OccupyHK pic.twitter.com/L0nlfjXT8M — Diana Jou (@diana_jou) October 6, 2014
---
#LoveAndPeace and a new dawn
Another dawn as #OccupyHK enters its second week. Monday (Oct. 6) morning, 5:59am: pic.twitter.com/aqcarJnsNm — Natasha Khan (@natashakhanhk) October 5, 2014
---
#LoveAndPeace and Monday
Monday morning, #hongkong. Only about 20 protesters in Causeway Bay. Asleep behind umbrellas to avoid bright sun. pic.twitter.com/X8Noducjtc — Juro Osawa (@JuroOsawa) October 6, 2014
---
#LoveAndPeace and healing art
Art heals. Photo credits to 健吾 #OccpuyHK #UmbrellaMovement pic.twitter.com/ZqPfZdbafV — 學聯 HKFS (@HKFS1958) October 5, 2014
---
#LoveAndPeace and magical moments
Incredible moment MT @DSLRinformer: Never seen anything like it: Thousands crowd Admiralty in #Hong Kong tonight pic.twitter.com/LSX40aTZYY — Emily Rauhala (@emilyrauhala) October 4, 2014
---
#LoveAndPeace and multimedia
New media artist Sampson Wong invented the interactive Add Oil Machine http://t.co/aqVIDjMJP5 at #OccupyHK pic.twitter.com/uuew9uSIqu — Tom Grundy (@tomgrundy) October 5, 2014
---
#LoveAndPeace and a new perspective
Thanks to closed roads at #occupycentral I was able to get this photo the other night. pic.twitter.com/1W2d2sV4Ol — PenguinSix (@PenguinSix) October 6, 2014
---
#LoveAndPeace and communications
Downtime at the occupy media center. pic.twitter.com/hlOskJuw13 — Chris Buckley 储百亮 (@ChuBailiang) October 6, 2014
---
#LoveAndPeace and sound advice
Refuse the shadows of the past. pic.twitter.com/TE7ZkuuyWk — Chris Buckley 储百亮 (@ChuBailiang) October 6, 2014
---
#LoveAndPeace and signs
Ok found one of my favorite signs at the Hong Kong democracy protests pic.twitter.com/KIjZmexVjc — Alex Ogle (@Alex_Ogle) October 1, 2014
---
#LoveAndPeace and a proposal
So romantic ! Marriage proposal from one student protester to another at protest site http://t.co/u0hC613wiH pic.twitter.com/kThrYitder — 煇煇 (@01Micco) October 5, 2014
---
#LoveAndPeace and the power centre
These students pooled $ to buy battery+cords to charge dozens of phones. Got it from "greatest site on earth": Taobai pic.twitter.com/GIZsDOLEQy — Matthew Sheehan (@mattsheehan88) October 4, 2014
---
#LoveAndPeace and providing comfort
#OccupyCentral organiser Benny Tai in tears near ov't HQ last night. via @hkdemonow: pic.twitter.com/gsDzq11qbg — Tom Grundy (@tomgrundy) September 29, 2014
---
#LoveAndPeace and smiles
Atmosphere at chief executive's office chill despite small protest presence. pic.twitter.com/mVRIhjh9yy — Chris Buckley 储百亮 (@ChuBailiang) October 6, 2014
---
#LoveAndPeace and a pillar of democracy
"Pillar of Democracy" outside Hong Kong Legislative Council. pic.twitter.com/aksQKpbkOr — Chris Buckley 储百亮 (@ChuBailiang) October 6, 2014
---
#LoveAndPeace and restaurant signage
Some photos from the other night at #occupycentral in #HongKong pic.twitter.com/yoMLr16gzg — PenguinSix (@PenguinSix) October 6, 2014
---
#LoveAndPeace and a new world record
New world record (US$8.5m) set for a LiuXiaodong at @sothebys #HK tonight. Title: "Disobeying the Rules" http://t.co/UiUBnFqENB #OccupyArt — Alexandra A. Seno (@alexandraseno) October 5, 2014
---
#LoveAndPeace and providing comfort
学連が政府に 集団的な攻撃を辞めないと 対話中止も #香港デモ #hongkong #umbrellarevolution http://t.co/Arr01G2erb pic.twitter.com/yn42rPh1j0 — HKDemoNow (@hkdemonow) October 3, 2014
---
#LoveAndPeace and public debate
MK has become a forum for debates between mainlanders and hk students. The upside of the protests. #OccupyCentral pic.twitter.com/1kMYaz0CZF — Natalie Wang (@natwang3) October 4, 2014
---
#LoveAndPeace and a celebrity endorsement
Chow Yun-Fat Speaks Out in Support of Hong Kong Democracy Protestors http://t.co/J6ULTpDnlq — Hollywood Reporter (@THR) October 3, 2014
---
#LoveAndPeace and cleaning up
Pro-#OccupyCentral protesters cleaning up roads in Mong Kok this morning; "CY Leung step down" banner back up now pic.twitter.com/sxzybDSsCT — Fion Li (@fion_li) October 4, 2014
---
#LoveAndPeace and a new local hero
The 17-year-old student who has emerged as an unlikely leader of Hong Kong's protest movement http://t.co/ZqiDP5DriY pic.twitter.com/UhXjTkeiW1 — The New York Times (@nytimes) October 2, 2014
---
#LoveAndPeace and student art
Artwork by cityU pupils. Barricade(=police)&umbrella(=protester). They said the two shud stay united. #OccupyCentral pic.twitter.com/f7DvI5ZUkv — Jeffie Lam (@jeffielam) October 1, 2014
---
#LoveAndPeace and street sleepers
A dream of yellow ribbons #hk pic.twitter.com/5zpltQVZx6 — Ilaria Maria Sala (@IlariaMariaSala) October 4, 2014
---
#LoveAndPeace and striking views
Pour suivre la situation à #HongKong —> @kjalee @jaomahony @Judy_Ngao @AgnesBun @DDesobeau & @Alex_Ogle pic.twitter.com/cftPS6L3Qd #AFP — Agence France-Presse (@afpfr) September 30, 2014
---
#LoveAndPeace and a quiet night in Central
Situation now at Central towards Admiralty #OccupyCentral #UmbrellaRevolution pic.twitter.com/JWuDuulpQA — Freakingcat (@freakingcat) October 3, 2014
---
#LoveAndPeace and sharing umbrellas
信報-艾青天:年輕人絕非警隊仇敵http://t.co/5J5qPSqtIO筆者呼籲前線警員冷靜克制,在你們面前是善良的市民,他們大都是對社會有理想、有盼望、願意作出承擔的年輕人;他們是你們當年加入警隊當刻立志保護的人,他們絕非暴民 pic.twitter.com/HhlbzcVBHR — 流雲 (@liuyun1989) October 6, 2014
---
#LoveAndPeace and sticky notes
#UmbrellaRevolution pic.twitter.com/JPs7ZQePvu — Kris Cheng (@krislc) October 3, 2014
---
#LoveAndPeace and getting some rest
Well, not everybody is awake. pic.twitter.com/0qvGdQOyWl — Ilaria Maria Sala (@IlariaMariaSala) October 4, 2014
---
#LoveAndPeace and design
How artists and illustrators in Hong Kong and beyond are using memes to supprt #OccupyCentral http://t.co/5OIPh2OQc9 pic.twitter.com/elCadmRcxx — Creative Review (@CreativeReview) September 30, 2014
---
#LoveAndPeace and rain
Rain can't stop the #UmbrellaRevolution, more ppl than before the downpour in #causewaybay @youngposthk #OccupyHK pic.twitter.com/f5WvA6y6Z1 — Ariel Conant (@yparielc) October 3, 2014
---
#LoveAndPeace and cross-border cooperation
Old lady offers yellow ribbons to mainland Chinese tourists in Tsim Sha Tsui #OccupyHongKong pic.twitter.com/dKaDybStEv — Richard Frost (@frostyhk) October 1, 2014
---
#LoveAndPeace and diversity
Hong Kong, where the West meets the East, even in protest. #hongkong #UmbrellaMovement #onlyinhk pic.twitter.com/rDKAA38goz — HKDemoNow (@hkdemonow) October 11, 2014
---
#LoveAndPeace and the spotlight
The whole world press is here #OccupyCentral #UmbrellaRevolution pic.twitter.com/bdwvnAaTBe — Freakingcat (@freakingcat) October 2, 2014
---
#LoveAndPeace and taking care
Few hundred protestors gathered outside offices of #CYLeung & one has just offered me a gas mask pic.twitter.com/2mrnuUJpfl — Babita Sharma (@BabitaBBC) October 2, 2014
---
#LoveAndPeace and the yellow umbrella
Umbrella #occupyhk 2 am pic.twitter.com/6kxianOn0F — Julie Makinen (@JulieMakLAT) October 3, 2014
---
#LoveAndPeace and free help with your homework
https://www.facebook.com/photo.php?fbid=10152725748867579
---
#LoveAndPeace and our beloved Chinglish
https://www.facebook.com/photo.php?fbid=10152804559063338
---
#LoveAndPeace and brisk business
In London riot, protesters smash & loot things, a Brit told me. At #OccupyCentral, a jewelry shop in brisk business. pic.twitter.com/h9N1IwnL3v — Alan Wong (@byAlanWong) October 2, 2014
---
#LoveAndPeace and free English tuition
University lecturer joined sit-in and offered free private tuition #OccupyHongKong pic.twitter.com/3FT6GmeX0Q — SpyEast (@SpyEast) October 2, 2014
---
#LoveAndPeace and Fendi first aid
Fendi is a first aid station #OccupyHongKong pic.twitter.com/NEuGrh22QY — Richard Frost (@frostyhk) October 1, 2014
---
#LoveAndPeace with lighting by nature
MT @Joerayment: #HongKong's protests could reach between 100,000-400,000 people in next 2 days http://t.co/UxFPa8E2vk pic.twitter.com/YHr6rgM8S6 — Sylvia Yu (@Light1Candle) September 30, 2014
---
#LoveAndPeace and yoga
In occupied Mong Kok streets, it feels like protesters could erupt into yoga anytime. #OccupyCentral pic.twitter.com/eWkiibgxOb — Alan Wong (@byAlanWong) October 2, 2014
---
#LoveAndPeace and helping hands
Everyone is helping the #UmbrellaRevolution #OccupyCentral pic.twitter.com/Ae91pXBQbI — Freakingcat (@freakingcat) October 1, 2014
---
#LoveAndPeace and flower girls
Two sec. students are supporting the movement after school by sending necessities and giving out yellow flowers. pic.twitter.com/6LLUBXw9AZ — Varsity CUHK (@varsitycuhk) September 29, 2014
---
#LoveAndPeace and colorful barricades
Barricades growing more colourful at #OccupyHongKong #OccupyCentral pic.twitter.com/IMtiVNUpxX — Richard Frost (@frostyhk) October 1, 2014
---
#LoveAndPeace and taking out the trash
Students have had a busy week cleaning up after themselves even recycling rubbish!! #OccupyHK #HKStudentProtest pic.twitter.com/ZuH5ojeuDj — Sarah Clarke (@sarahclarkeabc) October 1, 2014
---
#LoveAndPeace and recycled umbrellas for shade
wider shot #UmbrellaRevolution pic.twitter.com/hNjd1fAahy — Kris Cheng (@krislc) October 3, 2014
---
#LoveAndPeace and apology notes
"Protesters left words of support on bus window on Nathan Rd. pic.twitter.com/at9fHavQFC" via @varsitycuhk — Tesa Arcilla (@TesaArcilla) September 29, 2014
---
#LoveAndPeace and bananas
These guys are making organic cleaning fluid out of decomposing bananas #occupyhongkong pic.twitter.com/fnoUFhRAt2 — Amie Tsang (@amietsang) September 30, 2014
---
#LoveAndPeace and the message mile
messages of support line a section of the highway #OccupyHongKong pic.twitter.com/YNlUkJwyyU — Richard Frost (@frostyhk) October 1, 2014
---
#LoveAndPeace and a music video https://www.facebook.com/video.php?v=10152789329786214
---
#LoveAndPeace and recycling facilities
Rubbish collected by protesters. Divided for recycling #OccupyHongKong pic.twitter.com/EdN2X43eYL — Richard Frost (@frostyhk) October 1, 2014
---
#LoveAndPeace and dreamers
#UmbrellaRevolutionSlogans #OccupyHongKong pic.twitter.com/Buw0keqc0j — Richard Frost (@frostyhk) October 1, 2014
---
#LoveAndPeace and freedom
I really LOVE this pic! Student leaders Lester & Alex back to #OccupyCentral after police arrest via @appledaily_hk pic.twitter.com/cuICsgphFT — Jeffie Lam (@jeffielam) September 30, 2014
---
#LoveAndPeace and a pedestrian zone
Hong Kong island's main highway at 7:05 p.m. Pedestrianized pic.twitter.com/9dccnSCyqW — Richard Frost (@frostyhk) October 1, 2014
---
#LoveAndPeace and sleepovers
temperature is balmy for mass sleep out at #OccupyHongKong #OccupyCentral pic.twitter.com/WHs1OFMujM — Richard Frost (@frostyhk) October 1, 2014
---
#LoveAndPeace and street flowers
#Jasmine. #OccupyCentral #OccupyHongKong. A spirit of generosity -crowds sharing food, drinks, face masks & ponchos. pic.twitter.com/k1pnz1KKXj — Sylvia Yu (@Light1Candle) September 29, 2014
---
#LoveAndPeace and don't insult others
Occupy Central Benny Tai: safety of protesters as priority, don't destroy public facilities, don't insult others pic.twitter.com/3SdxRg04ri — Varsity CUHK (@varsitycuhk) September 29, 2014
---
#LoveAndPeace and cardboard signs
Hong Kong protesters :) pic.twitter.com/q7TfUQKaPf — Ivan Watson (@IvanCNN) September 28, 2014
---
#LoveAndPeace and the city that never sleeps
4.25 am. A lot of people are awake. #OccupyCentral #OccupyHongKong pic.twitter.com/hkQk8RhM4s — Richard Frost (@frostyhk) October 1, 2014
---
#LoveAndPeace and a sea of people
How many people are in the streets tonight? This many. #OccupyCentral #hk926 @mashable pic.twitter.com/4TFxtSctWX — Adam McCauley (@adammccauley) September 30, 2014
---
#LoveAndPeace and relaxed police
relaxed police presence outside the force's HQ #OccupyHongKong pic.twitter.com/jbuLsI1dPE — Richard Frost (@frostyhk) October 1, 2014
---
#LoveAndPeace and clear instructions
The sign reads: Calm down and refrain! this is not a carnival but a civil disobedience movement. #OccupyCentral pic.twitter.com/qyTFEh6hCE — Jeffie Lam (@jeffielam) September 30, 2014
---
#LoveAndPeace and friendly faces
Dozens of vans support protests. Some help transport supplies to Central where they lack supplies #OccupyCentral pic.twitter.com/PyRCwNvfOi — Fiona Law (@law_fiona) September 29, 2014
---
#LoveAndPeace and hugs
BEST PICTURE: Benny Tai and Cardinal Zen at 4am, 29/9, Admiralty. 26 hours after occupy. Credits: Ming Pao's Ring Yu pic.twitter.com/9HDA5FOnDA — Jeffie Lam (@jeffielam) September 29, 2014
---
#LoveAndPeace and the boo boo bus
A bus in Admiralty is being used by protesters and medical staff as a medical station. pic.twitter.com/O6VFM8b7sE — Varsity CUHK (@varsitycuhk) September 29, 2014
---
#LoveAndPeace and Chinese tourists
Chinese tourists at Haiphong Road barricades #OccupyHongKong pic.twitter.com/Q8X8IeP3YM — Richard Frost (@frostyhk) October 1, 2014
---
#LoveAndPeace and role reversal
Another one: On packed #HongKong subway tonight, demonstrators offer seat to a grandma. She refuses: "You students need the rest." — Emily Rauhala (@emilyrauhala) September 29, 2014
---
#LoveAndPeace and school supplies
Many junior, high school students in the crowd, bring supplies. Numbers grew in Central. Lots of onlookers #Occupyhk pic.twitter.com/lu3nEGVNKm — Sylvia Yu (@Light1Candle) September 29, 2014
---
#LoveAndPeace and pedestrians
Closure of streets is an occasion to rethink pedestrian infrastructure & urbanism in HK #hongkong #OccupyCentral pic.twitter.com/Rx7DkQ5ZJK — Melissa Cate Christ (@transverstudio) October 1, 2014
---
#LoveAndPeace and homework
Bless 'em RT @frostyhk: School kids do their homework in the streets at Hong Kong protest pic.twitter.com/m1K7jbqOib — Sofia Mitra-Thakur (@_sofiamt) September 29, 2014
---
#LoveAndPeace and thanks
A driver thx protestors for leaving his bus in perfect condition when he went to pick it up yesterday. #OccupyCentral pic.twitter.com/UfAgD1Zolv — Richard Lai (@richardlai) October 1, 2014
---
#LoveAndPeace and hospitality
Mandarin Oriental #OccupyHK MT @mattfrei Look behind you Mr.Concierge, there is a peaceful revolution! pic.twitter.com/24pefRDv44 — Yenni Kwok (@yennikwok) September 30, 2014
---
#LoveAndPeace and free umbrellas
Ppl being encouraged to take away decorated umbrellas. They will keep painting #occupyhongkong pic.twitter.com/mU6XDKSxhG — Amie Tsang (@amietsang) September 30, 2014
---
#LoveAndPeace and respect
Most peaceful protest ever: demonstrators leave carpark roof after police point out it's private property http://t.co/8AATFr9wtc — James Griffiths (@jgriffiths) September 30, 2014
---
#LoveAndPeace and bankers who bbq
RT @firstwefeast: Bankers in #HongKong cooked 2,000 sausages to feed pro-democracy protesters http://t.co/96qAnoo8DU pic.twitter.com/ElpRnjMbud — Sylvia Yu (@Light1Candle) September 30, 2014
---
#LoveAndPeace and smiling faces
En het zijn echt niet alleen de jongeren.. pic.twitter.com/TtTkEFrxVh — marieke de vries (@MariekeNOS) October 1, 2014
---
#LoveAndPeace and gentlemen
first time seeing such a long queue at men's washroom #OccupyCentral pic.twitter.com/OTSOtWMFhH — Jeffie Lam (@jeffielam) September 29, 2014
---
#LoveAndPeace and the morning after
Admiralty has this Sunday-after-house-party look to it, but like if you had really responsible and organized friends pic.twitter.com/lOVwO6fpa1 — Matthew Sheehan (@mattsheehan88) October 1, 2014
---
#LoveAndPeace and all those plastic bottles
Hong Kong EPA straight stacking bottles here, recycling team is killing it pic.twitter.com/KQcDVvxhqf — Matthew Sheehan (@mattsheehan88) October 1, 2014
---
#LoveAndPeace and a single yellow umbrella
More reason for umbrella ban RT @TheAPJournalist: Local pol raises yellow umbrella at Hong Kong National Day ceremony pic.twitter.com/rKc6xj9k8K — Philip P. Pan (@panphil) October 1, 2014
---
#LoveAndPeace and apologies
Sorry…#hongkong #occupy pic.twitter.com/pASRLRfLvC — marieke de vries (@MariekeNOS) October 1, 2014
---
#LoveAndPeace and inspiration
Manifestantes francophones à Hong Kong. Comment ça va finir ? #OccupyCentral pic.twitter.com/9XZ3WIhf5z — Soulmate (@Kenan_L) September 30, 2014
---
#LoveAndPeace and DIY
Brolly painting for October 1. #UmbrellaRevolution #OccupyCentral pic.twitter.com/6MtV61T68u — Josh Noble (@JoshTANoble) September 30, 2014
---
#LoveAndPeace and family time
Families sit and chat along the highway #OccupyHongKong pic.twitter.com/3Vx16psxgK — Richard Frost (@frostyhk) October 1, 2014
---
#LoveAndPeace and cleanup crews
Civic Party Tanya Chan and other volunteers picked up the rubbish left along harcourt road, Central #OccupyCentral pic.twitter.com/yuABhICT8Y — Jeffie Lam (@jeffielam) September 28, 2014
---
#LoveAndPeace and the necessities
ICYMI Even in Causeway Bay, with 7/11's everywhere, ppl are handing out free necessities #umhk #OccupyCentral pic.twitter.com/Fn5YRWAXAv — Trey Menefee (@trey_menefee) October 1, 2014
---
#LoveAndPeace and options
#Admiralty? #CWB? #Mongkok? #OccupyCentral local eatery menu today seen in FB #UmbrellaRevolution #HK pic.twitter.com/1WffNQHmNu — Miss Vivienne Chow (@VivienneChow) September 30, 2014
---
#LoveAndPeace and waste separation
They're not just litter-picking in #HongKong. They're trying to recycle it all too pic.twitter.com/7q87L0wHVm — James Legge (@James_Legge) October 1, 2014
---
#LoveAndPeace and design
The accidental symbol of these pro democracy rallies #UmbrellaRevolution #HKStudentStrike #OccupyHK pic.twitter.com/3cQUMyszP5 — Sarah Clarke (@sarahclarkeabc) September 30, 2014
---
#LoveAndPeace and crackers
Students handing out food to other protestors. There's a real community feel here #HKStudentStrike #OccupyHK pic.twitter.com/wAtDgEEJ6t — Sarah Clarke (@sarahclarkeabc) October 1, 2014
---
#LoveAndPeace and wedding photos
lovely shot RT @AFP A couple takes wedding photos infront of pro-democracy protesters in #HongKong by @philippe_lopez pic.twitter.com/lwP8dPtxCl — Chua Chin Hon (@chinhon) October 1, 2014
---
#LoveAndPeace and shopping advice
#mongkok poster asks ppl to shop at small local stalls to minimise losses caused by #OccupyHongKong #hongkong pic.twitter.com/abcVLbFlwJ — Young Post (@youngposthk) October 1, 2014
---
#LoveAndPeace and local broadcasting
Protest messages and news of events shared by loud speaker #HKStudentStrike #OccupyHK pic.twitter.com/RIWHyNmFhE — Sarah Clarke (@sarahclarkeabc) October 1, 2014
---
#LoveAndPeace and street smarts
1817 'Mobile Democracy Classroom', protesters attending lectures on the street #HongKong #UmbrellaMovement #umhk pic.twitter.com/mB0EodC4qB — HKDemoNow (@hkdemonow) October 1, 2014
---
#LoveAndPeace and the umbrella video https://www.facebook.com/video.php?v=10152789329786214&set=vb.708946213&type=2&theater
---
#LoveAndPeace and protesting HK style
Doing homework, keeping off the grass and clearing up: Protesting Hong Kong-style http://t.co/5eTxPcF7LA pic.twitter.com/BfgEyI8LTE — BBC World Service (@bbcworldservice) September 30, 2014
---
#LoveAndPeace and manners
The mood in HK is different. It's palpable. HK moves so quickly, people sometimes forget to be considerate of others. Not today though. — Angie Lau (@AngieTVLau) October 1, 2014
---
#LoveAndPeace and helping out
'It's not enough just to sit there': Teacher Deledda Ma & husband help rally by cleaning trash http://t.co/POH6RWvntV pic.twitter.com/M6nqBJ76Fz — SCMP News (@SCMP_News) October 1, 2014
---
#LoveAndPeace and street-cleaning
So called "protestors" who are cleaning our streets in #HongKong. What does that say about hong kong? #OccupyCentralpic.twitter.com/WyfpjgNmZP —Geoffrey Wu (@Geoffrey_Wu) October 1, 2014
---
#LoveAndPeace and taking out the trash Students have had a busy week cleaning up after themselves even recycling rubbish!! #OccupyHK#HKStudentProtestpic.twitter.com/ZuH5ojeuDj — Sarah Clarke (@sarahclarkeabc) October 1, 2014
---
#LoveAndPeace and compliments
Hong Kong protesters are so freaking nice – the most polite we've found anywhere. http://t.co/vqaXBXGdMd pic.twitter.com/NU1g65gJAH — CNNMoney (@CNNMoney) October 1, 2014
---
#LoveAndPeace and best wishes
A housewife collected over seventy umbrellas written with supports and wishes, and gave them to the protestors. pic.twitter.com/VBcrsvx5hq — HKDemoNow (@hkdemonow) October 1, 2014
---
#LoveAndPeace and messages
A bus turns into an #OccupyCentral message board in #HongKong. ("689?" click on to decode it: http://t.co/IxI5Is2mEy) pic.twitter.com/yWLLFiseh5 — Kristie Lu Stout CNN (@klustout) October 1, 2014
---
#LoveAndPeace and gentle reminders
Some protesters at Nathan Road hold up banners to remind others to keep calm. pic.twitter.com/ww6Rb5Wblj — Varsity CUHK (@varsitycuhk) September 30, 2014
---
#LoveAndPeace and innovation https://www.facebook.com/video.php?v=10152784996066214&set=vb.708946213&type=2&theater
---
#LoveAndPeace and a rain dance
Wanchai, near Admiralty. At 7:30pm, it would normally be rush hour here. Single man dancing in the rain. pic.twitter.com/9ydpesJbuV — Tom Grundy (@tomgrundy) September 30, 2014
---
#LoveAndPeace and blue skies
#OccupyCentral has brought blue skies to HK, with a reduction in traffic and pollution. #irony http://t.co/37GYCDYrTX pic.twitter.com/DJRIIO153S — SCMP News (@SCMP_News) September 29, 2014
---
#LoveAndPeace and taking a break
One old fighter has seen it all before. Legislator Leung Kwok-hung takes a break a few metres back from front line. pic.twitter.com/1K0xVIZkWA — Tom Grundy (@tomgrundy) September 28, 2014
---
#LoveAndPeace and keep calm
---
#LoveAndPeace and the news release
Press release from @OCLPHK Full story: http://t.co/oSikYR3J3k pic.twitter.com/BZuqEFzw7M — Tom Grundy (@tomgrundy) September 27, 2014