This week, we are seeing green.
In the city where green is the color of cash, December is high season with registers ringing, coins twinkling and credit cards shining in the hottest consumer spending spree of the year. A relatively recent, imported holiday, Christmas decorations are bright and electronic and plastic. Most will end up in landfills along with mountains of wrapping paper in just a few weeks time.
The smell of pine always gets me into the spirit of the season, but most Christmas trees in local homes and shopping malls will log more air miles than I do. My business joined my conscience in keeping me off planes this year.
The real news this month is that now is the best time of year to eat local. In addition to the garlands popping up all around town, winter is the main growing season in Hong Kong and fresh greens are popping up all over the countryside.
After 23 years in my adopted home, dau miu is the first sign that Christmas is just around the corner. In a world where kale is the green celebrity, these are the 15 minutes of pea shoots. They are packed with nutrients, including folate, vitamins A, C, E, B6, K and high in antioxidants and phytochemicals associated with preventing diseases and reducing decreasing cancer risk. Quick fried with (or without) garlic in a little sesame oil and served up with a few dumplings, they are my holiday convenience food and have grown into comfort food, too.
Even with developers circling and offering thousands of dollars per square foot for land that was recently worth less than HK$1, farming and gardening is taking off in Hong Kong. Local residents are growing aware of food safety and tired of toxic scares. With farmers growing the majority of crops in winter, the fields and markets are bursting with fresh and tasty vegetables ready for harvest. The annual FarmFest next month is a perfect opportunity to see what is available and inspire a few kitchen herbs on a window sill or salad plants on the balcony for those without the luxury of rooftops and gardens.
Get started by joining one of the many meetup groups organizing gardening workshops and regular activities for weekend farmers.
What is your favorite green this season?
Naturally,

Founder & Publisher
www.heartbeat.com.hk
natural life in the fast lane
Listen to your own heartbeat.
For in the true nature of things, if we rightly consider, every green tree is far more glorious than if it were made of gold and silver." Martin Luther
---
Meet our Business Members
Visit our Member Directory and for authentic products, services and programs … naturally.
---
A Conscious Celebration
Join us for a casual evening gathering in Central on Dec 17
The season is upon us. We have begun accepting party invitations, making shopping lists and preparing to host family and friends in celebration of our love and connection. Many travel plans were arranged many months ago and many more are in the works. We invite you to consider some options that will add value to every choice you make as we wind up another year and make preparations for the next. With the a growing awareness of the positive contribution we can make with every purchase we make, we will host heartbeat members who will share their wealth of experience and knowledge about what goes into preparing for a conscious holiday. Gain insights, tips and practical ideas for celebrations that last a lifetime.
DETAILS: A Conscious Celebration
RSVP: events@heartbeat.com.hk
CONTACT: +852 6628 6153 – Kinzie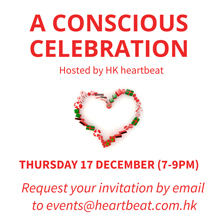 ---
Ecomythic Psychodrama
Authentic Self, Community and Nature
What timeless myths speak to our cross-cultural adventure? What does it mean to be truly responsible in our social and ecological communities? What can we learn from ancient peoples and wild places and add value to contemporary lives? Join an intimate group of explorers in a supportive atmosphere of commitment to your well being and your evolution as a conscious individual. Feel more at home in your body, in your community and on your planet. Ecomythic Psychodrama is a new pathway to deepening our connections to authentic self, community and nature. Participants engage in creative action in an intimate group setting where knowledge and awareness are expanded through the vitality of the psychodrama process. Playback Theatre adds value in enhancing and deepening the workshop experience through open social dialogue and exchange. Advance booking until Dec 31.
DETAILS: Ecomythic Psychodrama
BOOKING: ecomythic-psychodrama-hk.eventbrite.co.uk
CONTACT: Veronica Needa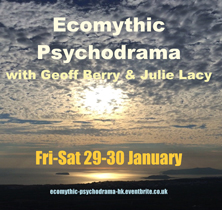 ---
Meet our Business Members
Visit our Member Directory and for authentic products, services and programs … naturally.
---
Events in Hong Kong this week
Featured event listings include a link to details – submit your event
8 (10am-1pm) Healthy Living HK Holiday Social | Healthy Living Asia
8-9 (10am-6:30pm) Gender and Change | contact organizer
8 (11am-12:30pm) Less Stress and More Joy for New Mums | Falguni Mather
8 (7-8pm) Bats and Other Urban Wildlife in HK | Asia Society Hong Kong
8 (7:30pm) Control by Media | Hong Kong Philosophy Café
9 (8-10am) Can HK Become an All-Electric Transport City? | contact organizer
9 (7-9pm) Manifesting with Mantra, Mudra and Mandala | The Sanctuary
10 (6:30-8:30pm) Festive Cooking Class | SOL Wellness
10 (7-10pm) Terra Madre Celebration | Slow Food
10 (7-10pm) Awaken the Love Within | Luminus Link
10 (7:30-9:30pm) Divine Light Sounding | Asha Lam
10 (9am-1pm) Visit to Nim Wan Waste Treatment Facility | contact organizer
11 (9am) Hong Kong Pink Dolphin Boat Trip | Desert Mermaids
11 (4:25-5:25pm) Meditation for Kids | Michelle Harris
11 (6:30-8pm) Sound Bath Evening | Red Doors
11 (6:30-8:30pm) New Moon Meditation | SOL Wellness
11 (7:30-10:30pm) December Festive Feast | contact organizer
12 (9am-5:30pm) The Tipping Point Conference | contact organizer
12 (11am-12:30pm) Yoga Therapy for Your Back | Alive Wellness
12 (12:30-5:30pm) Design and Community Development | contact organizer
12 (2:30-4pm) Sound Bath Workshop| Red Doors
12 (3-5:30pm) Rooftop Farming Workshop | contact organizer
12 (4-5pm) Hula Hoop Workshop | Oasis Dance Centre
12-13 (10am-6pm) Ho'olokahi Numerology Workshop | The Sanctuary
12-13 (9am-5pm) Rising of the Phoenix | Karma Consultants
13 (12am-11:59pm) Country Parks Appreciation Day | contact organizer
13 (9:15am-5pm) Peng Chau Ecotour | Green Peng Chau Association
13 (10am-1pm) The Healing Power of Your Own Voice | Red Doors
13 (2-3pm) Sound & Scent – Journey to Tranquility | Red Doors
13-14 (10:30am-6pm) Christmas City Popup | Jo Soo-Tang
14 (9:30am-12:40pm) Green Deck Conference | contact organizer
14 (7:30-9:30pm) Lovingkindness | Hong Kong Insight Meditation Society
15 (2pm) The True Meaning of Balance | Mindful Wing Chun
15 (6:30-8pm) Well-being with Essential Oils | SOL Wellness
15 (7:30-9:30pm) Singing Bowl Vibration | Greenwoods Raw Café
Coming up
Jan 7-10 (10am-10pm) FarmFest 2016
Jan 16-17 (9am-6:30pm) Children's Yoga Teacher Training
Jan 29-30 (9:30am-5:30pm) Authentic Self, Community and Nature
Jan 21-22 (9am-5pm) Women In Leadership
Submit your event by Friday for next Tuesday's newsletter
Join as a personal member to get your weekly update by email
---
Personal Membership
Clean, green, inspired, sustainable, organic benefits … naturally
HK heartbeat is Hong Kong's first and only natural living community sharing fresh content and local connections since 2001. Our vibrant personal and business network has hundreds of active members making conscious everyday choices and sharing with their friends. Times have changed since we started and it is getting even easier because now we are connected on social media. Discover clean, green, healthy products, services and programs. Get fresh weekly and stay in touch with what's new and what's on. Get a little help from the Natural Concierge to find what you're looking for. Enjoy private offers from our business members and join us at tastings and talks and workshops where you will meet people who share your interest in all things natural.
QUICK LINK : Personal Membership



CONTACT : Kinzie
TEL : +852 6628 6253
EMAIL : getfresh@heartbeat.com.hk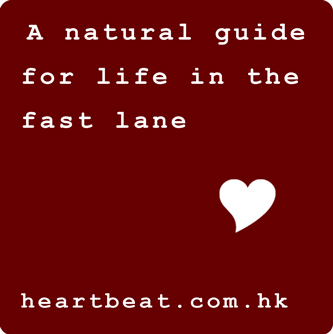 ---
Fresh directory listings
Our Natural Concierge is here to help you find what you're looking for.
AcquaVibe – Water filtration system using natural pressure without electricity
The Chiropractic Centre – Low force wellness based family chiropractic services
Oriental Health – Chinese medicine, lifestyle products, diet, herbal, acupuncture
Hancock & Graham House – agent for holistic professionals; visiting and local practitioners
H3mey – all natural, international vegetarian cuisine for private events or home dining
Mindful Wing Chun – Kung fu for inner health, self-defense, mindfulness and effortless power
---
Fresh content and connections for conscious everyday choices
Hong Kong's first natural network has connected thousands of individuals, businesses and organizations since we launched in 2001, sharing fresh content and authentic connections for clean, green, healthy living products, services and programs. With everything from acupuncture to zero-waste solutions, our members have everything you're looking for — even when you're not sure what you're looking for — chemical-free health and beauty, lifestyle services, whole food, sustainable fashion, eco-style, green gadgets and more … naturally.
Photo by Kinzie