This week, we are spreading joy.
Families are gathering, friends are connecting, colleagues are celebrating and everyone is getting into the holiday spirit.
While we might slip into stress from time to time, it's easy to take a breath and remember why we are doing what we are doing over the next couple of weeks.
It's not about the presents as much as it is about our presence.
Whether we are celebrating Christmas or Hanukkah or simply getting together to enjoy time off work, we are reaching the end of another year and getting ready for A Fresh Start.
Let's be reminded of those less fortunate and at the very least be grateful for everything we have.
How will you have a wonderful time?
Naturally,

Founder & Publisher
www.heartbeat.com.hk
natural life in the fast lane
Everything is connected.
Listen to your own heartbeat.
"The pain of parting is nothing to the joy of meeting again." Charles Dickens
---
---

---
Events in our community this week
Print | Details | Submit Event | Featured Events
---
21 (11:30am-12:45pm) Food Safety for New Moms | Top Tutorials HK | details
24 (10am-4:30pm) Hike & Picnic | Vgirls Club | details
25 (3pm) Kindness Walk in Sham Shui Po | The Guest Room | details
25 Christmas Day
26-27 Public Holidays
28 (11:30am-12:15pm) Eating Safe | Top Tutorials HK | details
30 – 2 Jan (10am-10pm) FarmFest 2017 | HK Vegetable Marketing Organization | details
Coming up
Jan 12 (7-9pm) A Fresh Start
---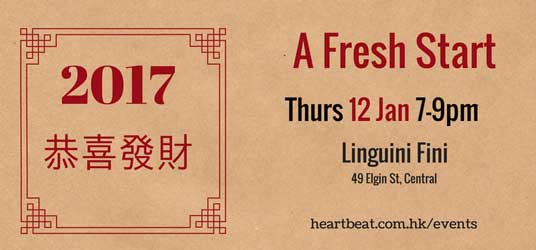 ---
Join as a personal member for fresh content and connections … naturally.
---
Say hello to our new members
dragonfly – A platform for your transformation, synthesizing spirituality with social awareness > details
AcquaVibe – Water filtration system using natural pressure without electricity > details
Wendy Lam – Integrative manual therapist, craniosacral therapist and physiotherapist > details
Dr Tommy Chan – Clinical & Consulting Psychologist with a non-drug approach to psychological health > details
Tian Yan Nei Gong Centre – Classes and private sessions to integrate body and mind; free trial class. > details
More >> Members | Directory | Features | Listings | Guides | Join
---
Fresh directory updates
Here are some of our new and updated listings on the directory …
Integrated Medicine Institute – Integrated medicine, natural and herbal dispensary and holistic therapies > details
The Vitality Center – Holistic healthcare center offering Traditional Chinese Medicine and natural treatments > details
Child Welfare Scheme – Caring for children's lives and calling for improvement through education > details
Global Handicrafts – Products are purchased on fair trade principles from around the world > details
Hancock & Graham House – An organic agent for holistic professionals with visiting and local practitioners > details
Hersha Chellaram – Yoga and meditation classes for beginners to advanced including special needs students > details
Vegware – Compostable packaging made from low-carbon, plastic-free, recycled or renewable plant-based materials > details
A Day With Fé – A versatile clothing line that blends day wear and yoga wear with everyday comfort and elegant style > details
More >> Members | Directory | Features | Listings | Guides | Join
---
Fresh content and local connections for everyday choices since 2001 … naturally
Hong Kong's only natural network connects individuals, businesses and organizations, shares fresh content and authentic connections for clean, green, healthy living products, services and programs. With everything from acupuncture to zero-waste solutions, our members have everything you're looking for — even when you're not sure what you're looking for — chemical-free health and beauty, lifestyle services, whole food, sustainable fashion, eco-style, green gadgets and more … naturally.
Photo by Kinzie