This week, we are living in colour.
As the temperatures rise and the days lengthen, our world is coming to life.
The art world is no match for our natural Hong Kong landscape, as trees burst into bright green and full bloom after a long season of brown and grey.
It is time to hit the beach, hike the hills and plant a tree or two. Aquasana is here to help with clean water and a special gift for HK heartbeat readers.
Red Doors will lift your spirit at a Sound and Energy Concert this Thursday featuring the original Gong Master, Don Conreaux who returns to Hong Kong to inspire and teach.
Meet and mingle at our next SoulFood Social next Thursday at Linguini Fini where our members will share insights, practical tips and contacts for authentic, natural, kind-to-the-planet products, services and happenings.
A perfect example of Hong Kong businesses catching up with the demands of conscious customers is the new Living Lamma charity pot by Lush launched in Hong Kong last week with proceeds to support local projects and raise public awareness.
In a city famous for copycats, we would love to see our leaders copy San Francisco who became the first city to ban the sale of plastic bottles last week or New York who will say goodbye to plastic foam cups, plates and containers this summer.
We may be intrigued by shades of grey, but it is the rainbow that hosts the pot of gold every single time.
What colour is your world?
Naturally,
Founder & Producer
www.heartbeat.com.hk
natural life in the fast lane
Listen to your own heartbeat.
"Beauty without colour seems somehow to belong to another world." – Murasaki Shikibu
---
The newsletter is available weekly or monthly — subscribe here.
---
Go natural at the HK Beach 5s
Visit our healthy lifestyle market in a natural setting
Now in its fifth year, The Hong Kong Beach 5s is a fun-filled family event with a variety of entertainment, music, food and a great atmosphere. Sports include men and women's rugby, netball, dodge ball, beach football, yoga and more. This year, the Beach 5s will focus on personal well-being and the new Health & Wellness Marketplace will feature local health products, organic food & beverages, yoga teachers and studios, active wear, pilates, nutrition, bodywork, integrative healthcare, personal training, life-coaching, TCM … and all things health and well-being, including our own member Body Awakening. Sit back, relax and enjoy the atmosphere, music, tasty food and cool drinks. Free shuttle buses are available every 30 minutes from Admiralty starting at 10am.

QUICK LINK : event details | WEBSITE : beach5s.com

---
SoulFood Social by HK heartbeat
A casual conscious gathering on March 26 in Central
Get together with friends and make new ones who share your interests in all things natural. Our next gathering will be held on Thursday 26 March at Linguini Fini over fresh, delightful treats. Some of our HK heartbeat members will be on hand to share insider tips for conscious lifestyle choices with the least amount of effort. Explore obstacles to the easy life and figure out how to get into the groove where everything seems to happen smoothly. Gain insights and practical ideas. Please RSVP so we can prepare enough delicious food for everyone.
ENQUIRIES : soulfoodsocial at respond123.com | TEL : +852 6628 6153 – Kinzie

QUICK LINK : event details | WEBSITE : heartbeat.com.hk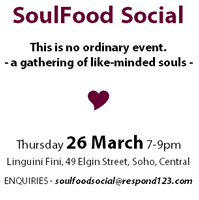 ---
Fresh HK – heartbeat mini-guide
Our favorite tiny guide is now in all your favorite places
The new mini-guide is an instant favorite — cute, clever, convenient — this is how Hong Kong is describing the tiny new publication. Fresh HK is designed for people on the move. Printed on our signature raw-paper, the small format fits into bags and briefcases for easy reference everywhere. Fresh HK features fresh contacts and connections for everything natural in Hong Kong, including popular products, tips and tricks, upcoming events along with contact details for natural choices every day. Pick up your free copy, order one online or join as a personal member to get yours in the post every month. Listings and display advertising is available for natural products, services and programs. Contact us and find out how you can get listed.
ENQUIRIES : connections at heartbeat.com.hk | TEL : +852 6628 6153 – Kinzie


WEBSITE : heartbeat.com.hk
---