This week, we are preparing to unplug.
It is no secret that life in the fast lane takes a lot of energy.
Computers are always on and phones are never off. Lights are decorative and flashing and promotional, offering more return on investment than just keeping workers working longer hours for higher productivity. Television screens morph into tablets. The humble coffee pot has been transformed into a piece of high-tech consuming resources like nobody's business. When we turn in for the night, a forest of twinkling blue and green and red lights reassures us that our convenient life will be ready and waiting when we awake.
As we prepare for the 45th annual Earth Day this Saturday, we are reminded of the  modems and power bars and chargers and speakers whose lights continue pulling power while we are recharging. We are becoming aware of just how many switches we have to turn off in our show of commitment to care for the little blue planet we call home. Run for Change or enjoy a Raw Tapas Dinner in the dark to celebrate the occasion.
For those of us who won't be attending that big sporting event this weekend, opposite options include your choice of a Transformative Meditation or 10-day Vipassana Meditation retreat or a number of other enlightened local activities.
Whatever we are doing in Hong Kong, change is happening around us. Costa Rica is running on renewables. The US is blowing up dams. Residents have stopped an incinerator project in China where air, water and soil pollution inspire public protest.
Here at home, the effort required to reduce our carbon footprint, lighten up our eating habits and get a much-needed break can easily become a heavy burden.
We are ready to lighten your load with some new conscious connections this Thursday at Linguini Fini and we have some lovely lucky draw gifts lined up, thanks to SpiceBox Organics, Maya Cafe, A Day With Fe and Living Alive. Our members and guests will share tips share insights, practical tips and contacts for authentic, natural, kind-to-the-planet products, services and happenings so we can lead our lives in a slightly more natural way.
It is no small challenge, striking a balance while living at the hectic pace our city seems to demand.
How do you switch off?
Naturally,
Founder & Publisher
www.heartbeat.com.hk
natural life in the fast lane
Listen to your own heartbeat.
"If it keeps up, man will atrophy all his limbs but the push-button finger." Frank Lloyd Wright
---
The newsletter is available weekly or monthly — subscribe here.
---
SoulFood Social by HK heartbeat
A casual conscious gathering on March 26 in Central
Get together with friends and make new ones who share your interests in all things natural. Our next gathering will be held on Thursday 26 March at Linguini Fini over fresh, delightful treats. Some of our HK heartbeat members will be on hand to share insider tips for conscious lifestyle choices with the least amount of effort. Explore obstacles to the easy life and figure out how to get into the groove where everything seems to happen smoothly. Gain insights and practical ideas. Please RSVP so we can prepare enough delicious food for everyone.
ENQUIRIES : soulfoodsocial at respond123.com | TEL : +852 6628 6153 – Kinzie

QUICK LINK : event details | WEBSITE : heartbeat.com.hk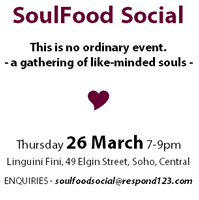 ---
Fresh HK – heartbeat mini-guide
Our favorite tiny guide is now in all your favorite places
The new mini-guide is an instant favorite — cute, clever, convenient — this is how Hong Kong is describing the tiny new publication. Fresh HK is designed for people on the move. Printed on our signature raw-paper, the small format fits into bags and briefcases for easy reference everywhere. Fresh HK features fresh contacts and connections for everything natural in Hong Kong, including popular products, tips and tricks, upcoming events along with contact details for natural choices every day. Pick up your free copy, order one online or join as a personal member to get yours in the post every month. Listings and display advertising is available for natural products, services and programs. Contact us and find out how you can get listed.
ENQUIRIES : connections at heartbeat.com.hk | TEL : +852 6628 6153 – Kinzie


WEBSITE : heartbeat.com.hk
---
This week on the calendar
March 23 (10am) > Nutrition and TCM for Children's Immunity
March 23 (6-9pm) > Creative Discussion
March 25 (7:30-10pm) > Slow Food Hong Kong Dinner
March 26 (7-9:30pm) > SoulFood Social
March 27-29 > Transform Your Life
March 27 > Vipasanna Retreat
March 28-29 > Quantum Touch
March 28 (8:30pm onwards) > Run for Change
March 28 (11am-12pm) > Introduction to Kinesitherapy
March 28 (2-5pm) > Detox and Destress
March 28 (2:30-5:30pm) > Mandala and Yoga
March 29 (6pm and 8:30pm) > Earth Hour Candelight Dinner
March 29 (1-6pm) > Kai Tak Art Picnic
March 30 (7-8:30pm) > Slow Food Chef Talk
March 31 (8-9:30am) > Tax Incentives for Eco-Friendly Activity
March 31 (8-9pm) > Africa Drum Jam
---
Meet our business members
Support HK heartbeat by supporting businesses investing in our growth.
Tian Yan Nei Gong Centre – Classes and private sessions teaching Nei Gong (an internal Qi Gong) to integrate body and mind; free trial class. … get details
Beyond O2 – Alkaline oxygen water filtration systems for home and office … get details
The BodyTalk Clinic – Holistic therapy based on quantum physics and kinesiology to resynchronize the body's systems so they can operate as nature intended. … get details
Mind Body Colon Cleansing Centre – Detox and regain energy in a comfortable, relaxing environment in the hands of experienced I-ACT certified therapist. Prevention is better than cure. … get details
Oxyvital International Ltd – Medical air quality solutions to naturally and safely purify indoor air to WHO standards, removing particulate, microorganic and gaseous pollutants … get details
Red Doors – A platform for complementary practices serving to elevate energy hosting a community of practitioners offering their skills, expertise and energy … get details
Balance Health – Natural health clinic integrating the principles of conventional and complementary medicine for a treatment plan delivering optimal health and wellness … get details
Linguini Fini – Rustic, homemade home-grown, home-cooked Italian cuisine; open for breakfast, brunch, lunch, afternoon bites, dinner, late night drinks and private parties … get details
Charlotte Douglas – Holistic approach to general health and fertility using homeopathy, herbs, flower essences, tissue salts and dietary advice … get details
The Yoga Room – Hatha, Ashtanga, yoga kids, prenatal, yin, pilates and meditation classes for beginners to advanced … get details
Living Alive Conscious PR & Events – Agency spreading conscious capitalism by building and promoting brands using creative public relations and events … get details
Stanley Wellness Centre – Integrative clinic offering allied health disciplines treating newborns to elderly, including pre and antenatal care, sports injuries and chronic conditions … get details
Hersha Chellaram – Yoga and meditation classes for beginners to advanced including special needs students … get details
Maya Cafe – Mediterranean style vegetarian, vegan and raw food based on the Mediterranean diet … get details
SpiceBox Organics – Organically grown specialty food products free of pesticides and harmful chemicals … get details
Berry Time – Shop online for a great selection of high quality foods from around the world at reasonable prices; free local delivery; Online health food store and magazine … get details
Body Awakening – Cleansing and detox kit, probiotics, green food, organic supplements … get details
Aquasana Hong Kong – Water filtration company specializing in drinking, shower and whole house filters … get details
Holistic Pet Help – Online shop providing holistic food, health care and grooming products for companion animals … get details
Sylvia Chan – Certified Law of Attraction Facilitator offering seminars, workshops and one-on-one coaching to get clear on goals and achieve your dreams … get details
Vegware – Compostable packaging made from low-carbon, plastic-free, recycled or renewable materials that can be recycled together with food waste after use … get details
A Day With Fe – A versatile clothing line that blends day wear and yoga wear with everyday comfort and elegant style … get details
Kamalaya Wellness Sanctuary & Holistic Spa – Holistic wellness experience integrating healing therapies from East and West in a breathtaking natural environment; customized wellness programs and retreats … get details
---