I am finally catching up after a couple of intense weeks of trawling the internet for inspired images from Hong Kong to share the love in an effort to balance those few dark images still repeating in the mass media.
Unwilling to undermine their intelligence and fuel rumors of foreign intervention by helping out in person, I ended up spending late nights anonymously supporting our students behind the scenes by sifting through messages, forwarding instructions (and warnings) to each other in real time and quietly spreading positive images and informed stories to media outlets around the world. The experience has been emotionally exhausting and rewarding in equal parts.
Through the experience, I developed a more comprehensive understanding of my home and developed my own new relationship with social media. An unintended outcome of my obsession, I have more clarity than ever about my purpose in promoting positive ecological, personal and social change with tools for connecting and sharing and promoting dialogue.
Everything that has come before is coming together now in ways I could never have imagined. The heartbeat community is simply a reflection of our wider community of people from all walks of life who share a yearning for peace and acceptance and the freedom of a simple life.
Since I arrived here in 1992, I recognized the struggle for a sense of identity among local residents who have lived for a very long time with uncertainty. In one single night, a new identity was born.
Hongkongese are compassionate, original, innovative, respectful, independent, caring, polite, intelligent, strong, thoughtful, determined, supportive, resourceful, ingenious, funny and organized in their own unique way. Out of a spontaneous display of local support for their act of civil disobedience emerged a surprisingly organized model of civic responsibility. They delivered their message to the world with a clarity and consistency that would make any public relations, marketing or branding professional green with envy.
New lines of communication have opened between government and public, businesses and customers, parents and children, locals and foreigners in the digital stream, around kitchen tables and on the street. Relationships are being strengthened with the understanding that we can agree to disagree so long as we constantly remind ourselves of our shared values. Voices have raised, fists have flown, tears have flowed, art was created, magical moments were captured and the birthday song has an entirely new meaning. The change that has happened can never be undone.
While we sit in our cars and taxis complaining of traffic jams while the students continue to sit in the streets, we have a little extra time to reflect on what is important, what we value and what we can live without.
One thing is certain — we will never be the same again.
Hong Kong's heart is opening and I am humbled to be part of it.
What has changed for you?
Naturally,


—
Founder & Publisher
www.heartbeat.com.hk
natural life in the fast lane
Listen to your own heartbeat.
"If we have no peace, it is because we have forgotten that we belong to each other. ~Mother Teresa
---
Lifetime* Personal Membership
HK$1,888 special one-time fee
As an existing subscriber, you are eligible to purchase a lifetime personal membership for HK$1,888 before the membership program is officially launched later this year. This special membership pre-launch promotion will end without notice.
---
Marketplace Listings
Natural lifestyle promotions
---
Learn the Yuen Method
Take this opportunity to transform your life
Easy to learn, the Yuen Method is an energetic technique that retraces and explores the imbalances that create conditions to restore balance with instant results by finding the root cause, identifying and strengthening the weakening influences in layers to become energetically strong. In Level 1 on 16-17 November, learn why we have pains and issues; test for weakness; improve strength with in-depth protocols. Speed up your technique with shortcuts and specific protocols in Level 2 on 18 November. Level 1 – HK$4,800 / HK$3,200 repeat students; Level 1+2 – HK$7,200 / HK$4,800 repeat students; accredited towards Dr Kam Yuen's Practitioner Certification program. HK heartbeat members save 10%.
ENQUIRIES : Julien WIllm
TEL : +852 8193 1868
EMAIL : info at yuen-hk.com
WEBSITE : yuen-hk.com


QUICK LINK : Get more information
---
Made in HK @ PMQ
Local and artisanal foodie market

The Brooklyn edition of Green Queen's Made in HK market will be held on Saturday 11 October from 10am-6pm at PMQ (35 Aberdeen Street, SoHo, HK) and admission is HK$30. Shop for food and more from 3/3rds, Ali Oli, Bee's Nest, Blackshot Coffee, Bread and Beast, Cali-Mex Taqueria, Connoisseur Groceries, Divine Marinade, Eat Fresh, Hapa Food, Happy Cow, Homie Cookies, Il Mattarello, Lola's Ice Pops, Long Valley Eco Rice, Luxe Discret, Moonzen Brewery, Native Essentials, Niche Food, Not Only Olives, PhatRice, Pure Swell, Rad's Organic Kitchen, Schragels, Sote, Street Meat, Sugo Sushi, Swedish Handmade BodyCare, Sweetpea Patisserie, Taboocha, Tai Tai Pies, Veggie Boys HK, Yisheng Organic.
ENQUIRIES : Green Queen HK
EMAIL : getintouch at greenqueen.com.hk



WEBSITE : greenqueen.com.hk
MORE: see details
---
The Stress Myth
Inspired Discussion + Delightful Meal = SoulFooIn our world of fast food and speed dating and 24-hour news, our brains have become hard wired for stress. We're late for yoga, rushed for dinner, squeezing time for family and replacing our body clock with an alarm clock. Our rush to get ahead can leave us in a constant state of anxiety. Our speakers will to give their brief perspective on our topic with moderated discussion and plenty of time for your questions. Join us for inspired conversation over delightful lunch at Maya Cafe aimed to inform, educate, inspire and stimulate ideas – all you need to do is show up. Tickets are available now HK$380 for heartbeat members and HK$480 for guests. Seating is limited to 20 guests.
TEL : +852 8208 7850





QUICK LINK : SoulFood Seminars
---
Fresh Choices – a heartbeat mini-guide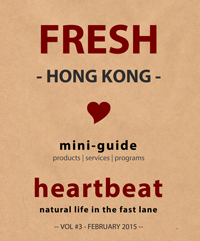 Join to get your free copy of the next edition of Fresh HK
The new mini-guide is an instant favorite — cute, clever, convenient — these are all words used to describe the new publication. Fresh Choices HK is designed for people on the move. Printed on our signature raw-paper, the small format fits into bags and briefcases for easy reference everywhere. Fresh Choices HK features fresh contacts and connections for everything natural in Hong Kong, including popular products, tips and tricks, upcoming events along with contact details for natural choices every day. 10,000 free copies are circulated to our networks and posted to personal members. Listings and display advertising is available for natural products, services and programs. Contact us and find out how you can get listed.
ENQUIRIES : kinzie@heartbeat.com.hk
TEL : +852 6628 6153





QUICK LINK : Fresh Choices HK – a heartbeat mini-guide
---
Calendar Listings
Natural events in the HK heartbeat community this month
---
October 8 (7:30pm) > Working Solutions for Climate Change
October 9 (7:14-9pm) > Circle of Love
October 11 (9am-3pm) > A Course in Meditation
October 11 (10am-4pm) > TEDGlobal2014: Fresh
October 11 (10am-1pm) > Collective Kindness
October 11 (11am-6pm) > Made in HK @ PMQ
October – 29 November 11 (11am-12:30pm) > Mindfulness at Work
October 11 (2-5pm) > Drum For Peace
October 11 (12-3pm) > Deconstructing Cravings
October 13-14 (11:30am-9pm) > Get Redressed Pop Up Shop
October 13 (7-9pm) > Meat Free Hong Kong Monday
October 14 (7-8pm) > Mindful Stress Reduction
October 14 (7:30pm) > Is Climate Science Junk Science
October 14 (7:30-0pm) > Four Noble Truths
October 16 (6-8pm) > CSR Engagement and Middle Management
October 16 (6:30-8:30pm) > Raw Chocolates and Organic Wine
October 20-24 > Work-Life Balance Week
October 30 (12-2pm) > The Stress Myth
Coming Up
Nov 1 > The Shaman's Doorway
Nov 3 > The Moral Imperative of Climate Change
Nov 7 > Product Safety
Nov 11-12 > Diversity & Inclusion
Nov 13 > Wise City Symposium
Nov 14 > Integration Training
Nov 27 > HK Climate Change Forum
Nov 28 > Clockenflap
Nov 29 > Atlantis
Nov 30 > Learn how to Meditate
---
Directory Listings
Fresh contacts and updated connections
---
Hong Kong Youth Arts Foundation – Arts experiences for young people
Aioli Bakery – Handmade bakery and cafe; organic; gluten-free; chemical-free
Hersha Chellaram – Yoga and meditation classes for all levels including special needs
Anything But Salads – Functional snacks and beverages with no fillers or additives
Green Vitamin – Locally grown organic wheatgrass, organic kale, raw granola bites
Spa Retreat – Massage, facial and beauty therapies; plant essences, herbal extracts
---
Lifetime* Personal Membership
HK$1,888 special one-time fee
As an existing subscriber, you are eligible to purchase a lifetime personal membership for HK$1,888 before we launch the new membership program. This special membership pre-launch promotion will end without notice.
---
Fresh content and connections for natural choices every day
At heartbeat, we support positive ecological, personal and social change by sharing information about everything from aromatherapy to yoga — chemical-free health and beauty, lifestyle services, whole food, sustainable fashion, eco-style, green gadgets and more …