This week we are overcoming challenges.
In an effort to reach everyone, I have been developing social media channels to spread the word about what's new and what's on in our thriving community. My intention is to reach everyone and today it paid off.
The website went down this morning and I have been online for the better part of today with the lovely people at tech support who are puzzled by the problem. Therefore, you may not have access to any of the links in this newsletter right away.
In the meantime, I will share updates in our HK heartbeat community group.
I could delay this week's update, but I can't be sure when the site will be fully functioning so I am turning to the Social Media Manager (me) to keep everyone in the loop. All of the hand-coded pages managed by the webmaster (me) are still working and our e-news system is separate from the website, thanks to the forward planning of our email publications manager (me) who values privacy over data collection.
The CTO (me) is looking into a server upgrade so the Sales Manager (me) is reaching out to everyone and asking for a little help in the form of a contribution in exchange for services received. Or you can get in touch about upgrading to paid personal or business membership or running a promotion.
In the meantime, I am reminding myself to breathe and continue to trust.
Fortunately, we have great mindfulness teachers who make it a little easier.
It is with sadness that we say our farewell to Rosina Arquati, a founding member who left her body a few days ago. Like many in our community, I learned a lot from her during our time together and her contributions to animal welfare in Hong Kong will continue through the many students she taught over the years. A light ceremony and meditation will be held for her on Wednesday evening at Alive Wellness.
Rosina is truly a beautiful and loving soul and a shining example of the diversity of our community. It has been an honor and a privilege to share her beautiful wisdom with everyone from the beginning. We remember her in our choices moving forward.
My choice is pretty clear. While I have managed on my own until now, it is going to require a team to see my vision through to the next level and beyond.
There are times (like now) when I realize I need a little help.
How will you share the love?
Naturally,

Everything is connected.
Listen to your own heartbeat.
"Kindness is the language which the deaf can hear and the blind can see." Mark Twain
---
Join us and receive the complete newsletter in your inbox every week.
---
Calendar | Marketplace | Directory
---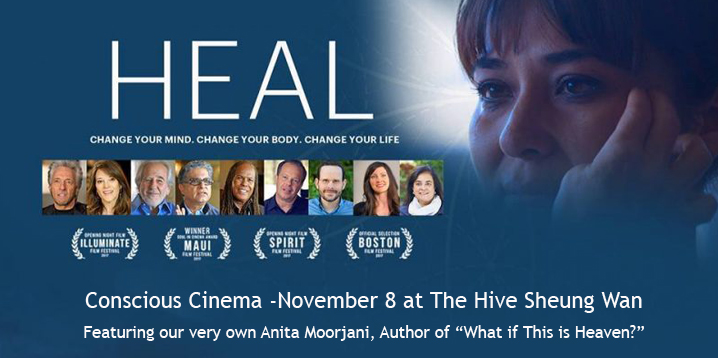 ---
HK heartbeat is produced with the generous support of our personal and business members. If you haven't already done so, please sign up as a Community Member to stay in touch and consider a contribution.
---
Cover photo by Kinzie