Outdoor festival celebrating the spirit of well-being and ecology with live music, DJs, workshops and yoga with optional overnight camping
Shi Fu Miz Festival
DATE : Saturday 27-28 October
TIME : Saturday 1pm-12am; Sunday 10am-11pm
PRICE : HK$400 up
PLACE : Sai Yuen Farm
ADDRESS : Cheung Chau
EMAIL : shifumiz@gmail.com
WEBSITE : shifumiz.com
BROCHURE : book online
LINK : read more
The music and art project created by the Hong Kong based creative agency: FuFu and the music collective La Mamie's from France, in order to offer modern and original cultural activities in Hong Kong, with the support of the Consulat Général de France à Hong Kong et Macao.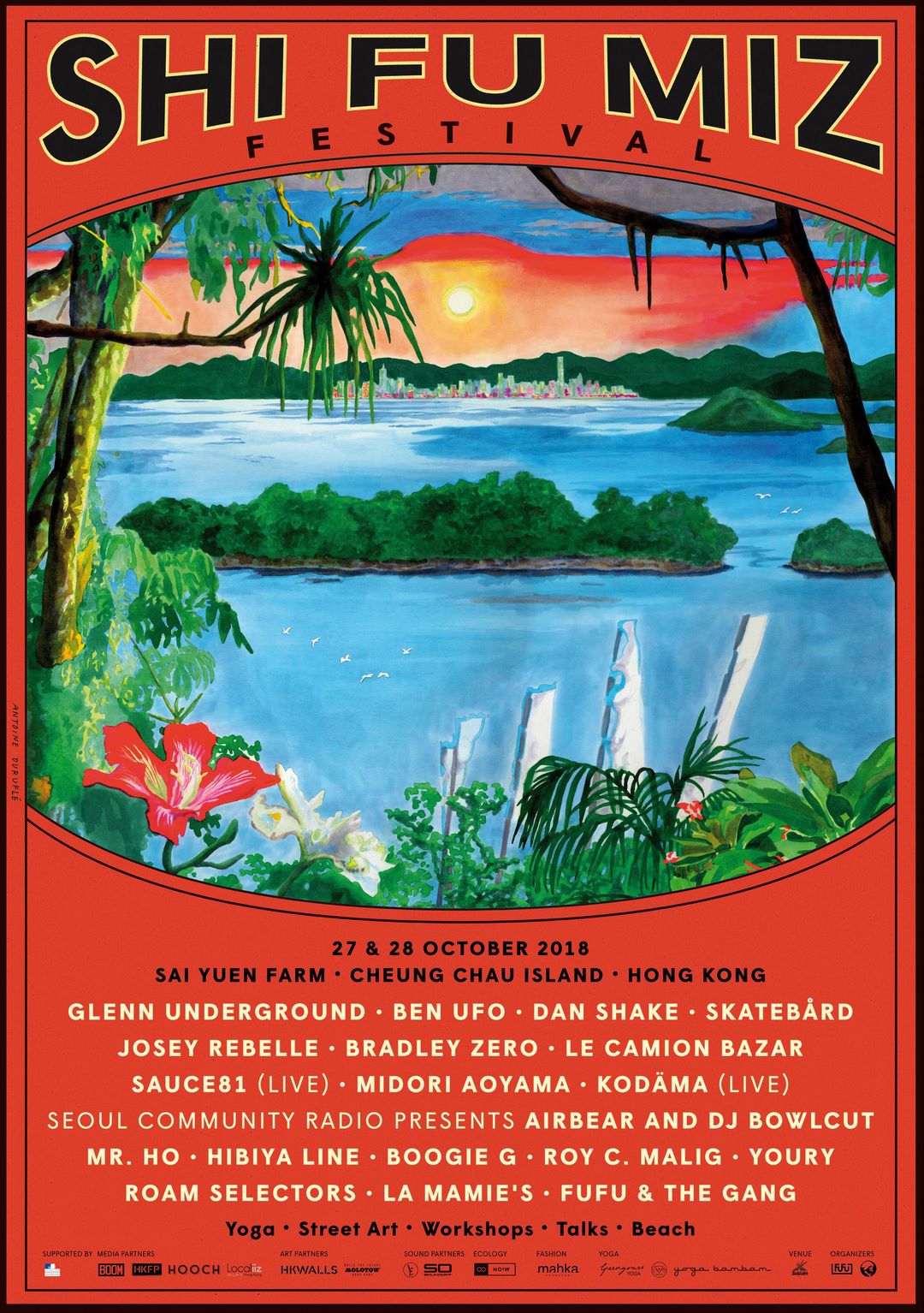 Saturday 27 October 1pm-12am
– Glenn Underground
– Skatebård
– Bradley Zero
– sauce81 (live)
– Seoul Community Radio presents DJ Bowlcut
– Le Camion Bazar
– Boogie G
– Roy C. Malig
– Youry
– Fufu and the Gang
Sunday 28 October 10am-11pm
– Ben UFO
– Dan Shake
– Josey Rebelle
– Seoul Community Radio presents Airbear
– La Mamie's
– Le Camion Bazar
– Midori Aoyama
– Mr. Ho
– ROAM Selectors
– Hibiya Line
Yoga
Yoga BamBam
Greengrass Yoga
Resonant Yoga
Gong Bath Meditation By Nitido
Ecology
Talks, workshops, beach cleaning and farming session
Street Art
HKwalls: Artists tba
Molotow Hk – Write The Future: Artists tba
WIZZARD by Ferdinand Magician
– 1 workshop per day for kids and adults
– Magic shows on chill area
BEACH *Public Area – Not part of the festival*
5 min walking from the venue.
Soccer Tournament
Saturday from 1pm to 5pm
Sunday from 2pm to 4pm
Silent Disco by Sound Off
Sai Yuen Farm
Drum sessions
Handcraft workshops for kids
Tattoo
Temporary and real tattoo by Inked stories Tattoo by VidzuL
Henna and jagua by Malic
Chill Area
Marketplace
Festival Pass 880HKD (+fees)
Day Pass (Saturday or Sunday)
Advance tickets: 380HKD (+fees)
Last Minute Tickets: 480HKD (+fees)
Ticket holders are entitled to bring children (aged 12 years AND under) for FREE.
CAMPING
https://shifumizfestival2018-camping.eventbrite.hk
Information
Camping ticket doesn't include festival ticket.
Sai Yuen Farm, Cheung Chau | Cheung Chau Island | Hong Kong
Saturday 27 October 2018 at 1pm – Sunday 28 October 2018 at 3pm (HKT)
Teepees
5 person (Available 9): 1500 HKD (+ fees)
12 person (Available 2) : 3600 HKD (+ fees)
Provisions: Single folding beds, Sleeping bags with liner, Camping lamp, Mosquito net & Ventilation fan, Outdoor Chaise lounge.
Safari Tents
4 person (Available 4): 1600 HKD (+ fees)
6 person (Available 4): 2400 HKD (+ fees)
9 person (Available 6): 3600 HKD (+ fees)
Provisions: Mozzi guarded door and windows, Double beds and Single beds, Ceiling fan with lamp, Breakfast veranda, Outdoor sink, Picnic table, tent padlock.
A cash deposit of 500 HKD will be asked to get the keys of your teepees or tents
Free showers available on site
Ibnb hotel partner: http://www.ibnb.com.hk
Get 10% discount, please note the following details:
1. Place the booking on or before 1 Oct 2018
2. The Discounted Rate covers from 27 Oct 2018 – 31 Oct 2018
3. Place the reservation directly at info@ibnb.com.hk, discount code: #SHIFUMIZ2018
Access
Sai Yuen Farm, Cheung Chau Island
Ferry from Central Pier 5 to Cheung Chau: http://bit.ly/1BLpdEG
By Foot
Make a right turn towards the Municipal Services Building, walk along the coastal Sai Tai Road (approx. 15 minutes) to Tsan Tuen Road, then walk up the hill until you reach the red entrance gate at Peak Road.
Sampan (10/20 HKD per person)
To take the sampan boat to the western (Sai Wan) pier, upon disembarking from the ferry, look for an inland pier with white canopy roof on the right side of Cheung Chau Pier and ask for Sampan service to Sai Wan. Sampan boats drop off at Sai Wan pier. Turn left onto Tsan Tuen Road and walk up the hill until you reach the red entrance gate at Peak Road.
Local Sampans (Cheung Chau & Sai Wan Pier)
Mr Cheng: +852 9639 2349
Mr Kwok: 852 9170 8836 / 9172 9436
NOTE : Leaving the farm, you must give yourself time to contact local sampan to take you back to Cheng Chau Ferry, otherwise you may walk 20min to Cheng Chau Ferry. Know your ferry time to plan accordingly.
Media Partners
BOOM Online Magazine
Hong Kong Free Press HKFP
Honeycombers Hong Kong
Localiiz Hong Kong
City Nomads
AsiaLive365
Rug Lane
Localiiz Hong Kong
Resident Advisor
Trax Magazine
Ecology Media And Strategy Partner: Green Is The New Black Asia
Ecology Partner: NOW no waste
Fashion Partner: Mahka
Sound Partner
jackrabbit
HK.SolarSoundSystem
---
Visit the calendar to find out what's on in Hong Kong … naturally
Join HK heartbeat and be the change … naturally
POSTED : 06-Aug-18