We are getting ready for our favorite — the Mid-autumn Festival.
Since 2014, the EPD has published green tips for the festival and this year Green Power is predicting mass quantities of waste from mooncakes and glow sticks.
We see health warnings urging people pay attention to labels for mooncakes with high levels of sugar, fat or sodium. Some local products contain up to 47 grams of sugar per 100 gram serving. For those of us who love them, Sesame Kitchen and Green Common are a few local businesses offering healthy options.
Still, more than 60% of local residents don't want to receive any mooncakes and this leads to mountains of food waste, not just in the cakes themselves but the enormous amount of packaging associated with the popular gift items. Fortunately, there are people who are happy to receive unwanted mooncakes and they are those most likely to find a new use for the packaging as well.
And then there are the lanterns … today's plastic products sold by commercial brands are packaged in more plastic. Less about the festival and more about promoting other products, those that don't wash away into the sea are destined for the landfill before the sun comes up.
Traditional lanterns are made from paper, lit with candles and carried on wooden sticks so care is required but the rewards are great.
Recent additions to the celebration, disposable glowsticks are perhaps the least essential and most harmful to the environment as they cannot be recycled. Designed to be disposable, they are filled with toxic chemicals and encased in plastic and used for just a few hours. The best solution is to simply avoid them entirely.
The festival is a wonderful time to gather and celebrate the abundance of harvest in one of the highlights of the Chinese festival season.
Let's focus on family and friends and appreciate the time together without the extras … naturally.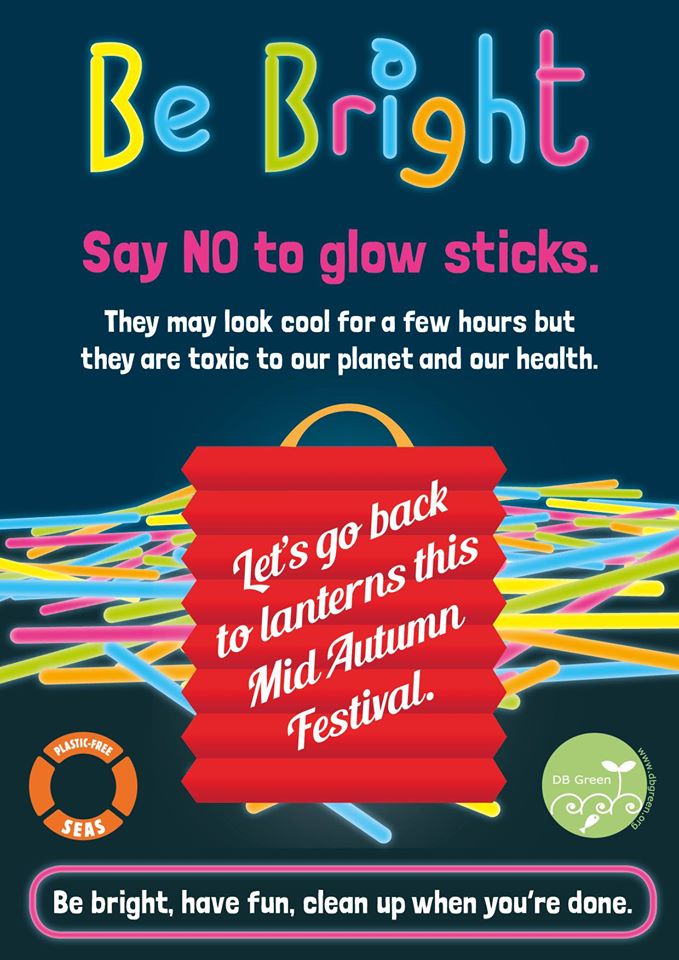 ---
Contact the following organizations to address food waste issues in Hong Kong.
Sai On Centre – Providing street sleepers and people living in poverty with temporary free food assistance donated by benefactors > details
Feeding Hong Kong – Registered charity with a mission to reduce hunger along with amount of quality food being sent to Hong Kong landfills > details
Foodlink – Registered Hong Kong charity dedicated to addressing hunger while simultaneously reducing food wastage; founded in 2001 and registered in 2010 > details
A Drop of Life – Providing disaster relief and poverty alleviation; visiting and distributing supplies to elderly and disadvantaged in Hong Kong > details
Bo Charity Foundation Limited – Conserving the environment and caring for underprivileged communities, reducing food waste, alleviating hunger and poverty in Hong Kong > details
Food Grace – Food recovery organization aiming to help workers improve their situation through education and training with employment support services > details
Hong Kong Women Development Association Limited – Established to create self-confidence, self-esteem, self-reliance, self-reliance and advancement of women; women and children's rights; advocacy services, promoting women's work > details
Tuen Mun District Woman's Association Limited – Creating employment opportunities for women; providing social services including development and support of women, elderly care, youth and child development > details
LEAP – Life Education Activity Programme – Working in partnership with schools, teachers, parents, government and agencies to prevent substance abuse; providing positive health-based education programs > details
---