On 10 September 2001, I sent this postcard to my parents from JFK airport.
A lot happened below on the ground while I was up in the air on that flight. Shortly after landing Hong Kong, I heard a fellow passenger on their mobile asking if it was on CNN. When I got home and switched on the news, it was still yesterday at home and I suddenly realized that I needed to let everyone know I had arrived safe and sound so I started writing a quick email and it turned into this …

From: Kinzie
Sent: Wed, 12 Sep 2001 12:03:55
To: undisclosed recipients
Subject: I am home
I flew in from New York City last night.
I have never felt so lucky to be home.
Join me in prayers for patience and understanding
as we all recover from the shock of this tragedy.
Join me in celebration of the power of community as we witness the
spirit of the people coming together to help each other in recovery.
Join me in prayers for compassion and strength of the human heart.
Join me in prayers for understanding in our world community in the
coming days as our leaders try to make sense of why this has happened.
Join me in prayers to move forward in love not fear or anger.
Join me in prayers that the world will see this opportunity
to come together to support peace in a spirit of cooperation.
Join me in prayers of understanding for those who see terrorism as a solution.
Join me in celebration of the strength of humanity shown in
acts of heroism on the streets of America and around the world.
Join me in prayers of gratitude for all that I have and help me
to see ways that I can share what I have where it is needed.
Join people everywhere in our belief in tomorrow as we choose to see this
as a reminder of how fragile our life is on this planet we all call home.
Join me as I light a candle for friends and family everywhere
to help us to help each other heal from this tragic awakening.
Love,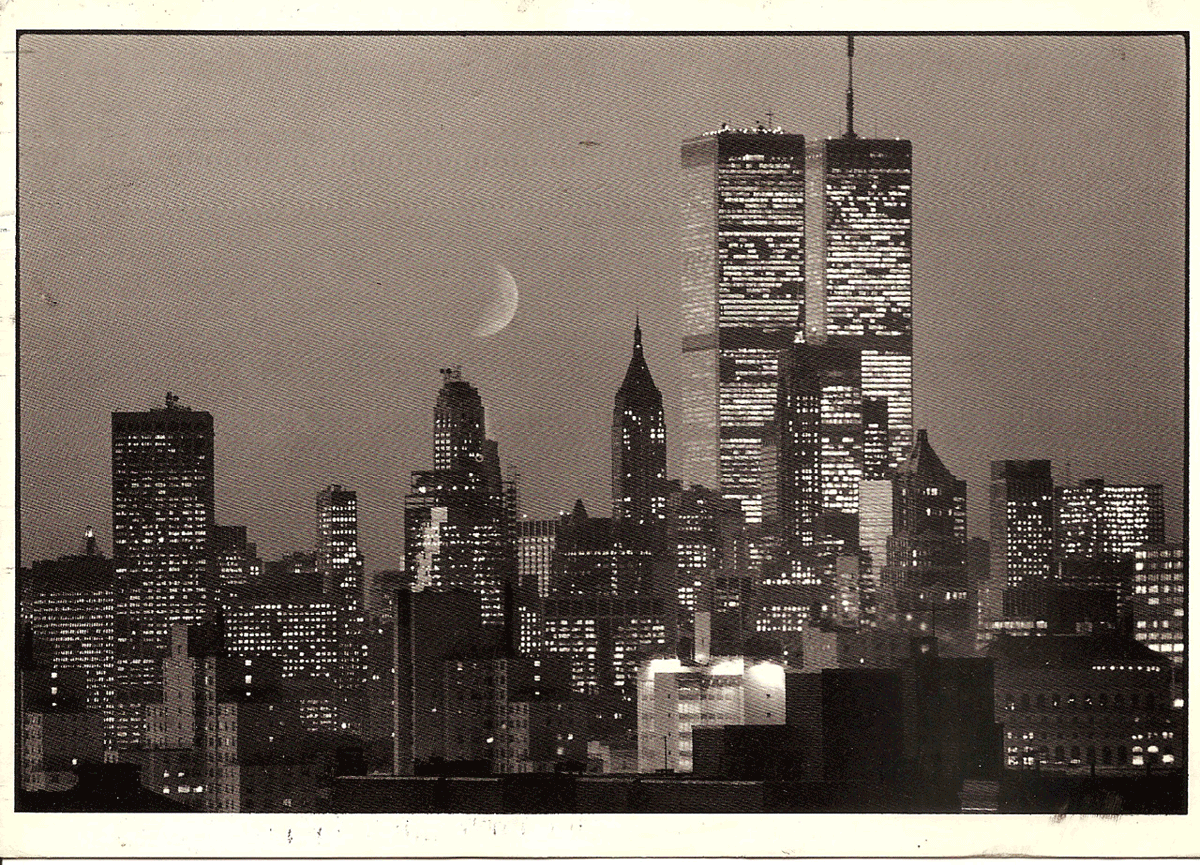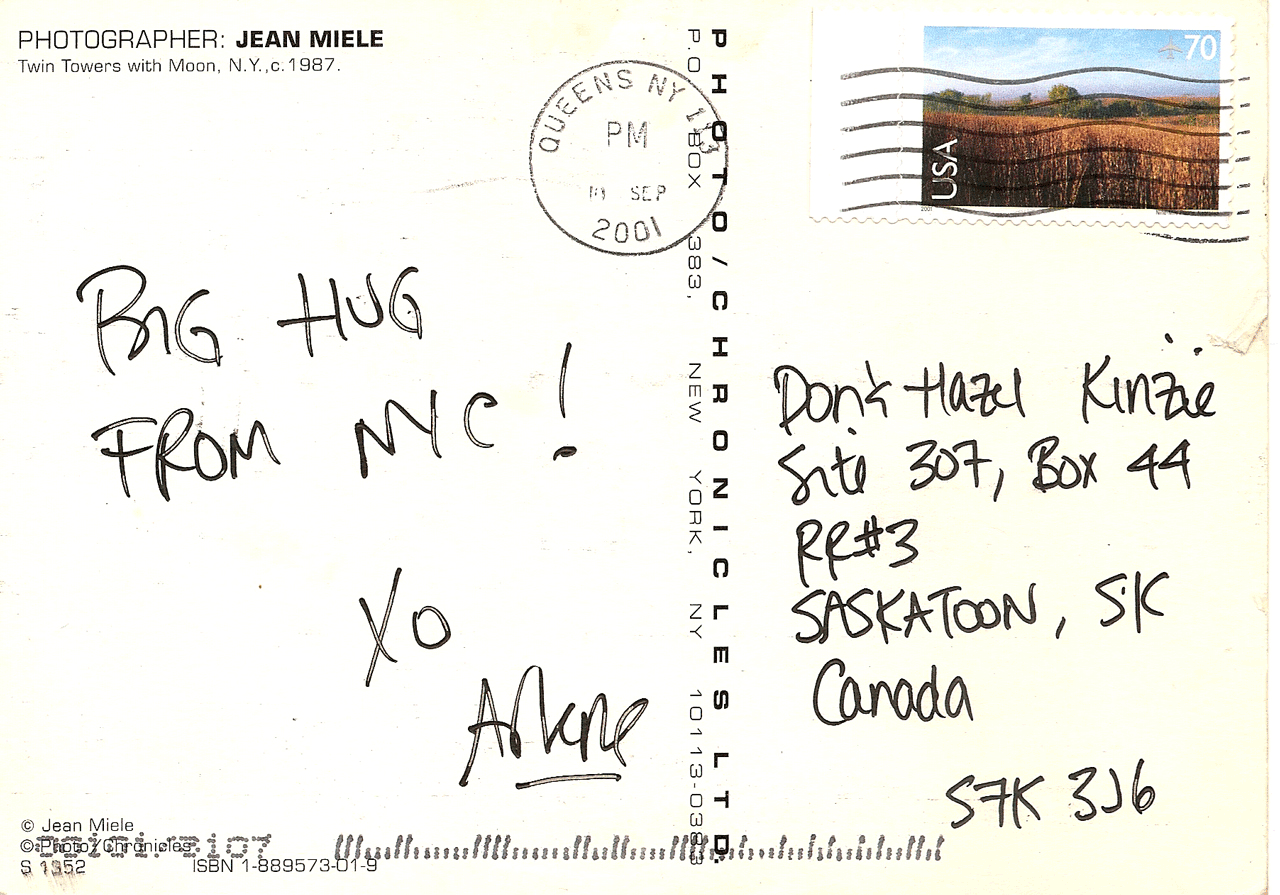 And heartbeat started … naturally.

I had spent the summer of 2001 in Canada with friends and family before flying off for my first visit to New York City. It was a short business trip and I hadn't finalized a date for my return to Hong Kong. At our first meeting, I asked for tourist tips and my clients advised giving the World Trade Centre a miss — saying it was highly over-rated. I had no idea what they were talking about so I followed the advice. My week was spent exploring the city with my trusty Pentax K1000 loaded with black & white film. The weather had been perfect and I fell in love with the city.
When I got my first glimpse of the towers from a boat tour late Sunday evening, my last night in the city, I realized I had discovered the best vantage point for views of the entire city. I immediately started thinking of how I could reschedule my flight so I could take a trip to the viewing deck.
With clear blue morning skies, I imagined the shots I could get from the top of the city in the early morning hours. I realized, however, that I would have to miss my 7am flight the next morning to call the airline and try to reschedule for Wednesday morning and, since I would be on the phone Monday morning, that would leave Tuesday morning, 11 September 2001 to could go to the Top of the World for my early morning photo shoot.
After lots of back and forth, I decided that it wasn't worth the risk of not getting the flight on Wednesday morning. By then I was really missing my own pillow at home in Hong Kong and I would be back. At 2am, I began packing my bags for the airport.
I flew out of JFK in the early hours of 9/10 and was on the plane just hours from Chek Lap Kok when the towers fell. By the time I arrived in my flat, CNN had just completed the final edit of the famous footage and I was stunned – my brain struggled with the fact that the scenes in front of me were news and not just another Hollywood action movie.
I started writing a short email to let everyone know I was home safe and this the message seemed to come through me more than it actually came from me.

The First Email | Launch Notice | aZenGuide | HK heartbeat