Each walk includes a map along with description covering the route and aspects of interest, including history, culture and wildlife plus photos.
The Best 25 Day Walks in Hong Kong by Dr Martin Williams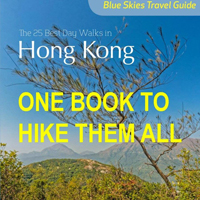 The Best 25 Day Walks in Hong Kong
CONTACT : Martin Williams
TEL : +852 2981 3523
EMAIL : martin@drmartinwilliams.com
WEBSITE : hkoutdoors.com
Available for purchase at Bookazine
Hong Kong's dense urban area is matched by areas of great wilderness, villages, mountains and long coastlines. Martin Williams's day walks allow you to discover the best Hong Kong has to offer at a moment's notice. With decades of experience wandering the trails and his photographer's eye for details, this book is a great source for your next hike.

POSTED : 05-Oct-18
---
Join HK heartbeat and be the change … naturally.
---