Breathable, antimicrobial, cotton masks — 100% biodegradable

Our lightweight mask is machine-washable and reusable and the Silverplus® protective antimicrobial nanofibre is woven directly into the fabric, providing active protection for 100 washes.
The mask then functions as a regular, comfortable cotton mask suitable for wearing where physical distancing is possible as the antimicrobial protection begins to wear.
---
---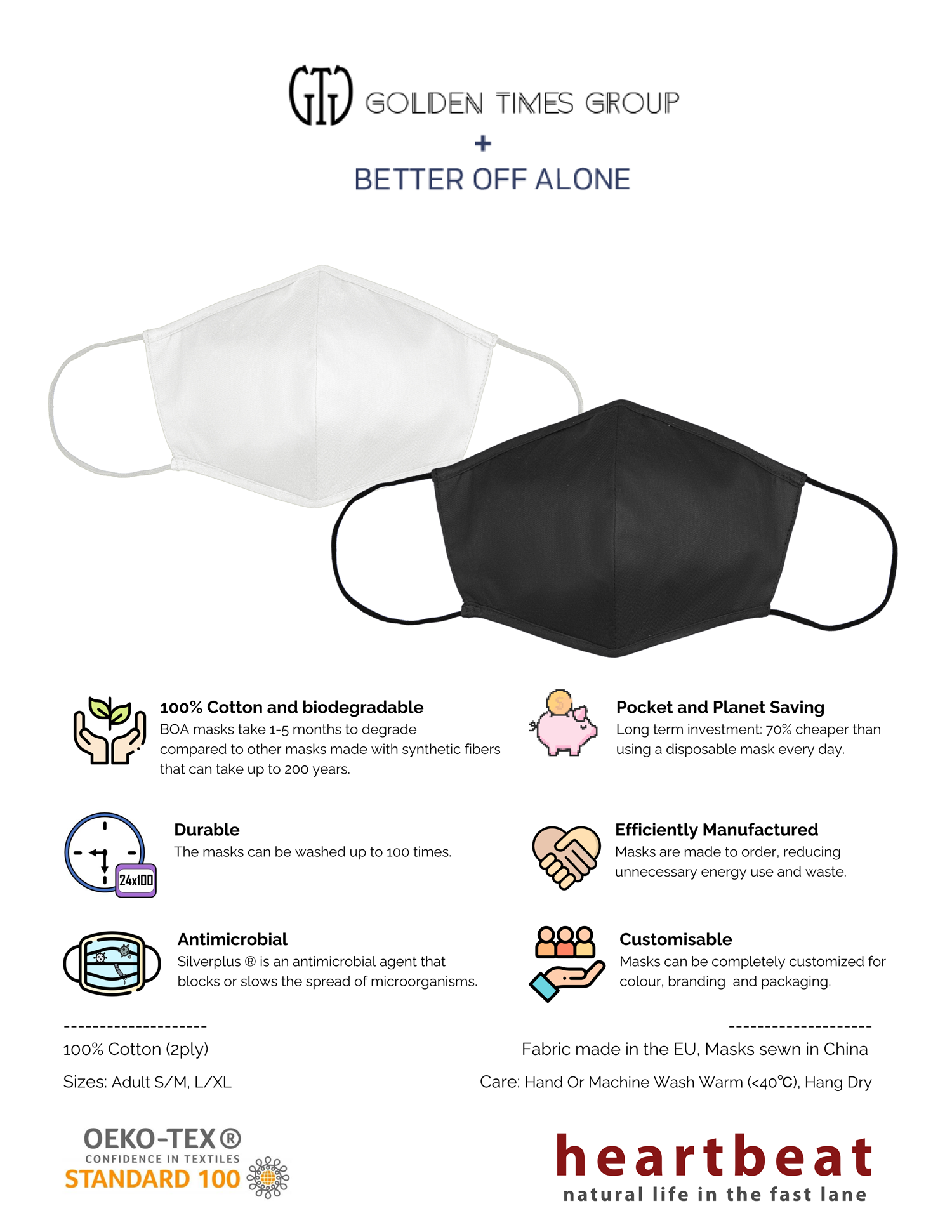 ---
Our lightweight, breathable, antimicrobial, cotton masks feature Silverplus® protective antimicrobial nanofibre woven directly into the fabric for durable, reusable, machine-washable, 100% biodegradable, active protection for 100 washes until transforming into an ordinary cotton mask for everyday use in low-risk situations.
This product is 
a game changer.
We love everything about this story — from how the Egyptian cotton is sourced to the award-winning nano technology weaving Silverplus® into the biodegradable fabric produced by one of the finest mills in Italy to the way factory workers across the border are paid a fair living wage — to the look and the feel of the lightweight, durable mask and the gazillions of masks that won't end up in the landfill or find their way to waterways when people everywhere begin to recognize the value of making the choice of durable over disposable in a gesture of love for our little blue planet.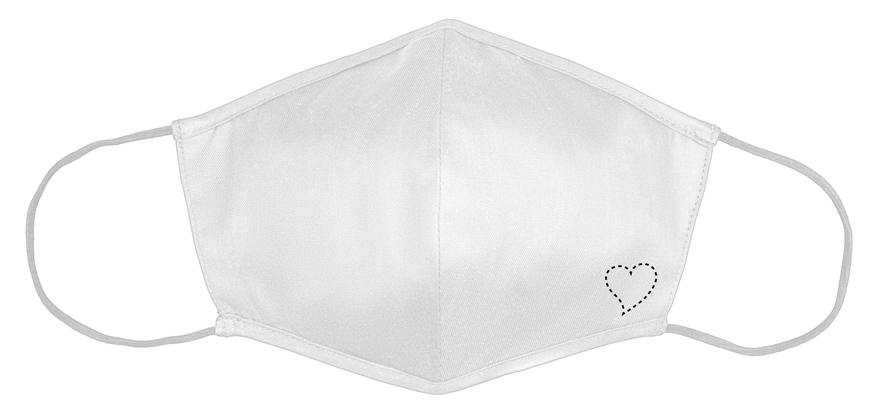 ---
Our durable face mask is made from two layers of Silverplus® treated, ethically sourced soft cotton and even the elastic ear loops are 100% biodegradable. Don't ask what went into this piece of the puzzle.
The design features a center flat seam to ensure a close fit and the comfortable fabric is light and breathable.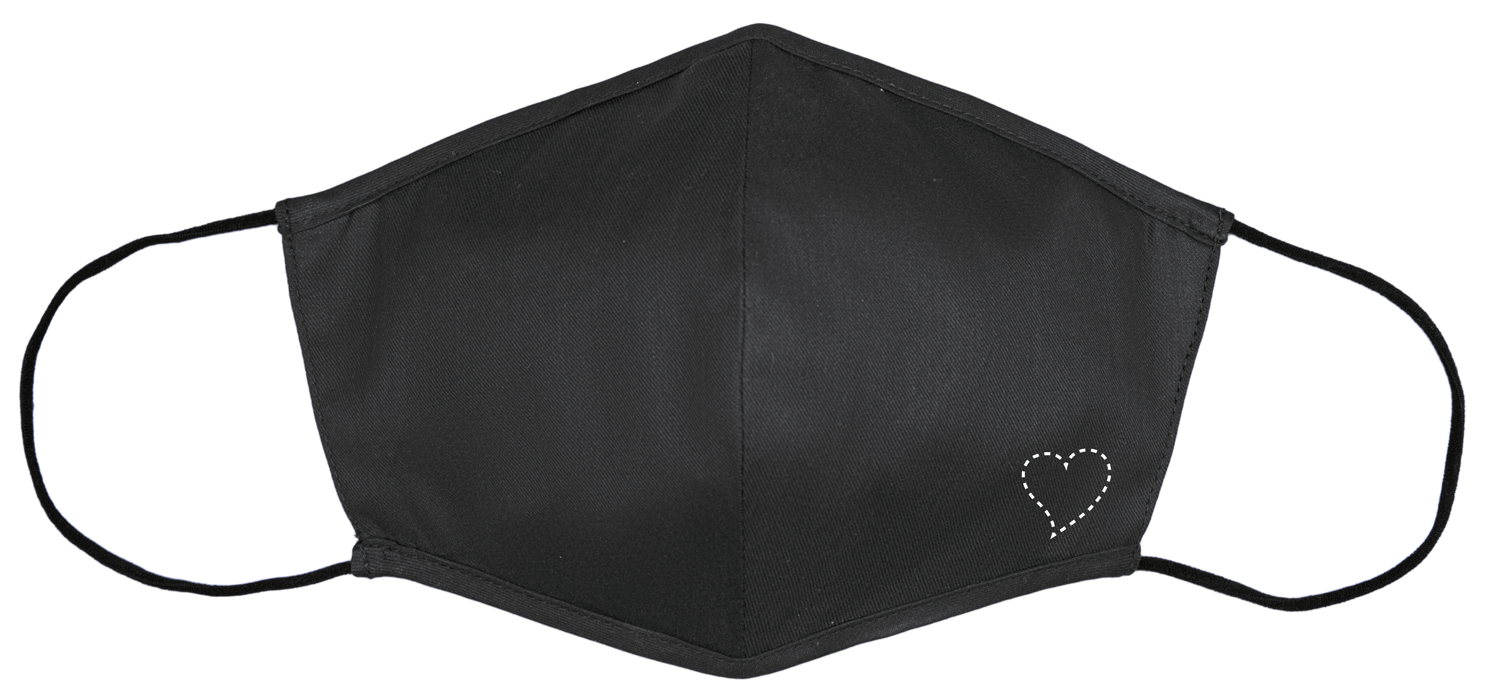 ---
Antimicrobial (adjective): destructive to or inhibiting the growth of microorganisms, including bacteria, viruses and fungi
Silverplus® is an antimicrobial treatment used in fabrics to stop the growth of microbes, including the SARS-CoV-2 virus that causes Covid-19.

---
Heartbeat is the first to offer pre-market online retail sales of the next generation smart mask destined to replace billions of disposable masks piling up in landfills and leaking into waterways around the world.
Click here to buy more than one.
Please note — we are the first online retail store for this product and the first order may take a bit of time while we work out the kinks and get everything working smooth like silk. Thanks for your patience.
Get in touch for information about bulk orders.

---
We're just getting started …
Visit our new online shop to buy more than one.
Additional colors (lavender, light blue, light pink), custom embroidery/screening and children's sizes available with custom orders.
CONTACT: Kinzie
EMAIL : nextgenmask@heartbeat.com.hk
---
We are working on partnerships with ImpactHK, Food Angel and OceansAsia to donate masks and cash in service to the most vulnerable among us under our our Social Sponsorship Program.
---
Details
• Two layers of 100% cotton fabric
• Produced with Silverplus® technology
• 100% biodegradable elastic ear loops
• Flat center seam in the front for comfort
• Washable and reusable (active to 100 washes)
• Zero-waste packaging from recycled envelopes
Please note
These masks are not meant to be used as medical equipment
Due to the personal nature of the product, returns are not accepted
Care
Hand wash with simple soap and lukewarm water
Machine wash cold in a mesh bag for longer life
Hang dry to dry — our masks love sunshine
---
All prices in Hong Kong dollar — convert here.
View Cart
Product successfully added to your cart.
100% biodegradable protection with lightweight, breathable, antimicrobial mask made from ethical Egyptian cotton and nanotech SilferPlus

Successfully Added to your Shopping Cart